FIRST RETROSPECTIVE OF MAURIZIO CATTELAN – SOLOMON R. GUGGENHEIM MUSEUM | NY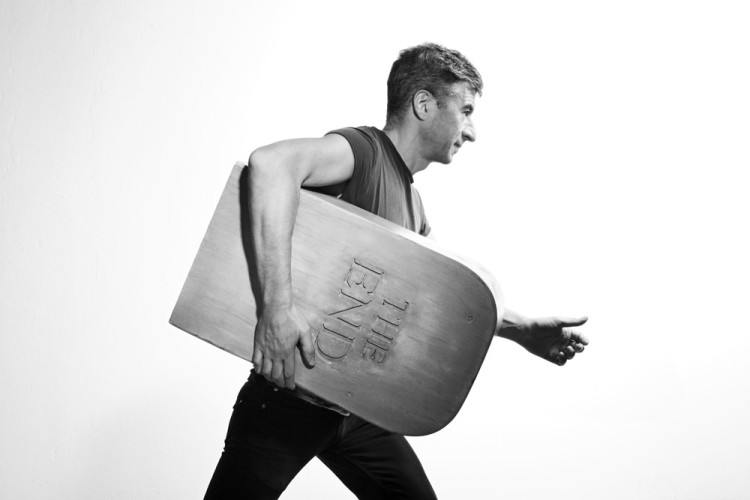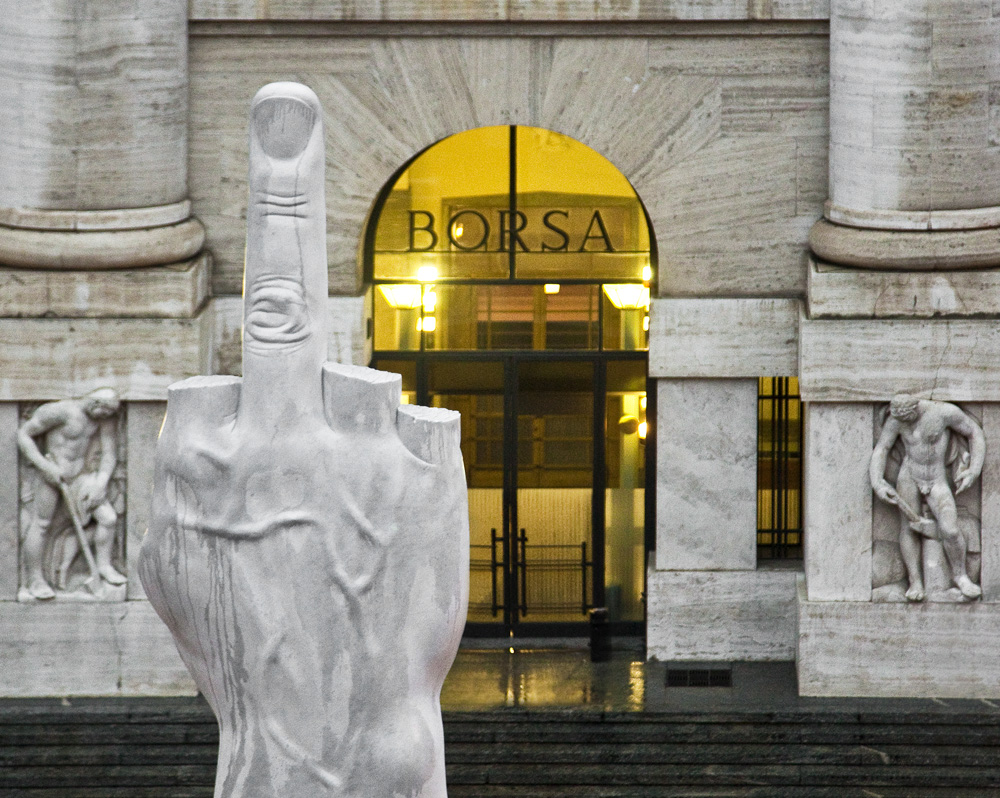 First Retrospective of Maurizio Cattelan Opening November 4 at the Guggenheim
Entire Body of Work Suspended in Guggenheim Rotunda as a Site-Specific Installation
Exhibition: Maurizio Cattelan: All
Venue: Solomon R. Guggenheim Museum, 1071 Fifth Avenue, New York
Dates: November 4, 2011 – January 22, 2012
Media Preview: November 3, 10 am – 1 pm
(NEW YORK, NY – October 3, 2011). The Solomon R. Guggenheim Museum presents Maurizio Cattelan: All, the first retrospective of the internationally acclaimed artist's work, from November 4, 2011, to January 22, 2012. Hailed simultaneously as a provocateur, prankster, and tragic poet of our times, Maurizio Cattelan (b. 1960) has created some of the most unforgettable images in recent contemporary art. His source materials range widely, from popular culture, history, and organized religion to a meditation on the self that is at once humorous and profound. Working in a vein that can be described as hyperrealist, Cattelan creates unsettlingly veristic sculptures that reveal contradictions at the core of today's society. While bold and irreverent, the work is also deadly serious in its scathing cultural critique. Maurizio Cattelan: All brings together some 130 works—examples of virtually everything the artist has produced since 1989—and presents the works en masse, strung seemingly haphazardly from the oculus of the museum's rotunda in a site-specific installation. An interactive, multimedia mobile app—the first the Guggenheim has ever produced—will offer both museum visitors and users off-site an enhanced experience of the exhibition that includes images, texts about the works, and video commentary by many of the artist's key collaborators. In addition to a fully illustrated catalogue, a new edition of Cattelan's magazine Toilet Paper, featuring images conceived and photographed by Cattelan and Pierpaolo Ferrari, will be presented on the occasion of the exhibition. Maurizio Cattelan: All is organized by Nancy Spector, Deputy Director and Chief Curator, Solomon R. Guggenheim Foundation.
The Leadership Committee for Maurizio Cattelan: All is gratefully acknowledged.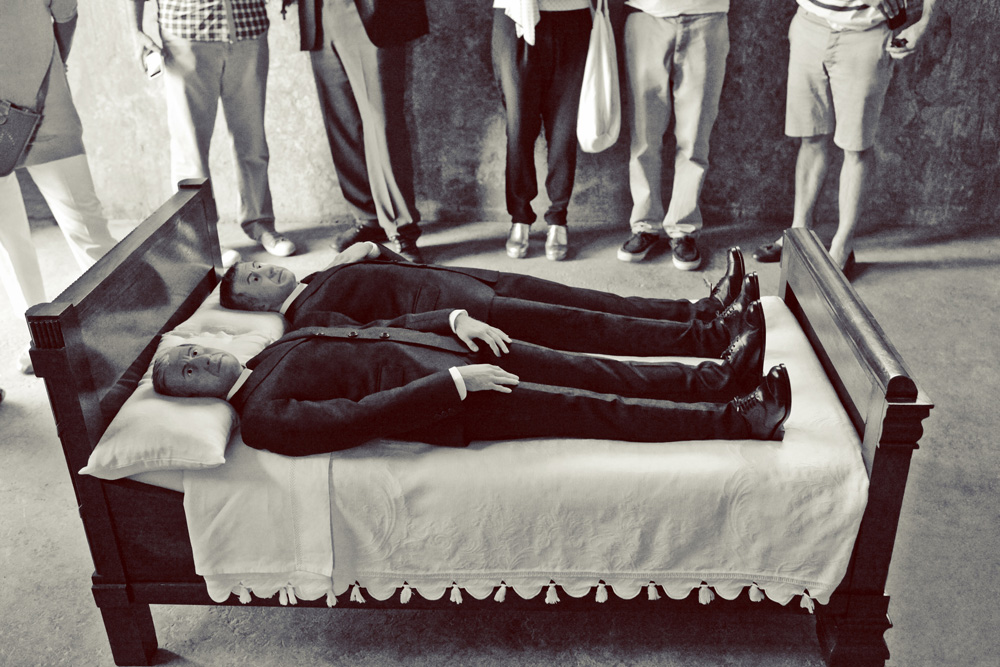 Exhibition Overview
"Cattelan's career resists summation by any traditional exhibition format," said Spector. "Many of his early, action-based meditations are impossible to reconstruct, and his singular, iconic objects function best in isolation. Maurizio Cattelan: All is thus a full-scale admission of the inadvisability of viewing his work within the context of a conventional chronological retrospective. The artist has resisted this model, creating instead a site-specific installation that cunningly celebrates its futility. Perversely encapsulating Cattelan's career to date in an overly literal, three-dimensional catalogue raisonné, the installation lampoons the idea of comprehensiveness."
Cattelan's youth in the Italian city of Padua was marked by economic hardship at home, punishment at school, and a string of unfulfilling, menial jobs. These early experiences instilled in him an abiding mistrust of authority and a disdain for the drudgery of labor that haunts much of his early production. He describes his work from the late 1980s and early 1990s as being "about the impossibility of doing something…about insecurity, about failure." His pronounced anxiety about not succeeding was manifested in a series of performative escape routes from his artistic obligations. Bereft of ideas for his first solo exhibition in 1989, Cattelan simply closed the gallery and hung up a sign reading Torno subito, or "Be back soon." His early contributions to group shows were equally delinquent: in 1992, his participation in an exhibition at the Castello di Rivara near Turin consisted of a rope of knotted bed sheets dangling from an open window (Una Domenica a Rivara [A Sunday in Rivara]), while his response to the pressure of exhibiting at the Venice Biennale was to lease his allotted space to an advertising agency, which installed a billboard promoting a new perfume (Working Is a Bad Job, 1993).
Cattelan's disruptive and disrespectful gestures have at times taken the form of creative theft and even overtly criminal activity. For an exhibition at the de Appel arts center in Amsterdam, he stole the entire contents of another artist's show from a nearby gallery with the idea of passing it off as his own work (Another Fucking Readymade, 1996), until the police insisted he return the loot on threat of arrest. Cattelan's anarchist streak extends to works that revolve around issues of his Italian identity and the tensions of the country's ever-shifting political landscape. In response to a wave of xenophobic sentiment, he formed a soccer team composed entirely of North African immigrants who played in both outdoor competitions and in exhibition settings on an elongated foosball table (Stadium, 1991). Their uniforms bore the emblem Rauss, which recalled the Nazi phrase Juden raus, or "Jews get out."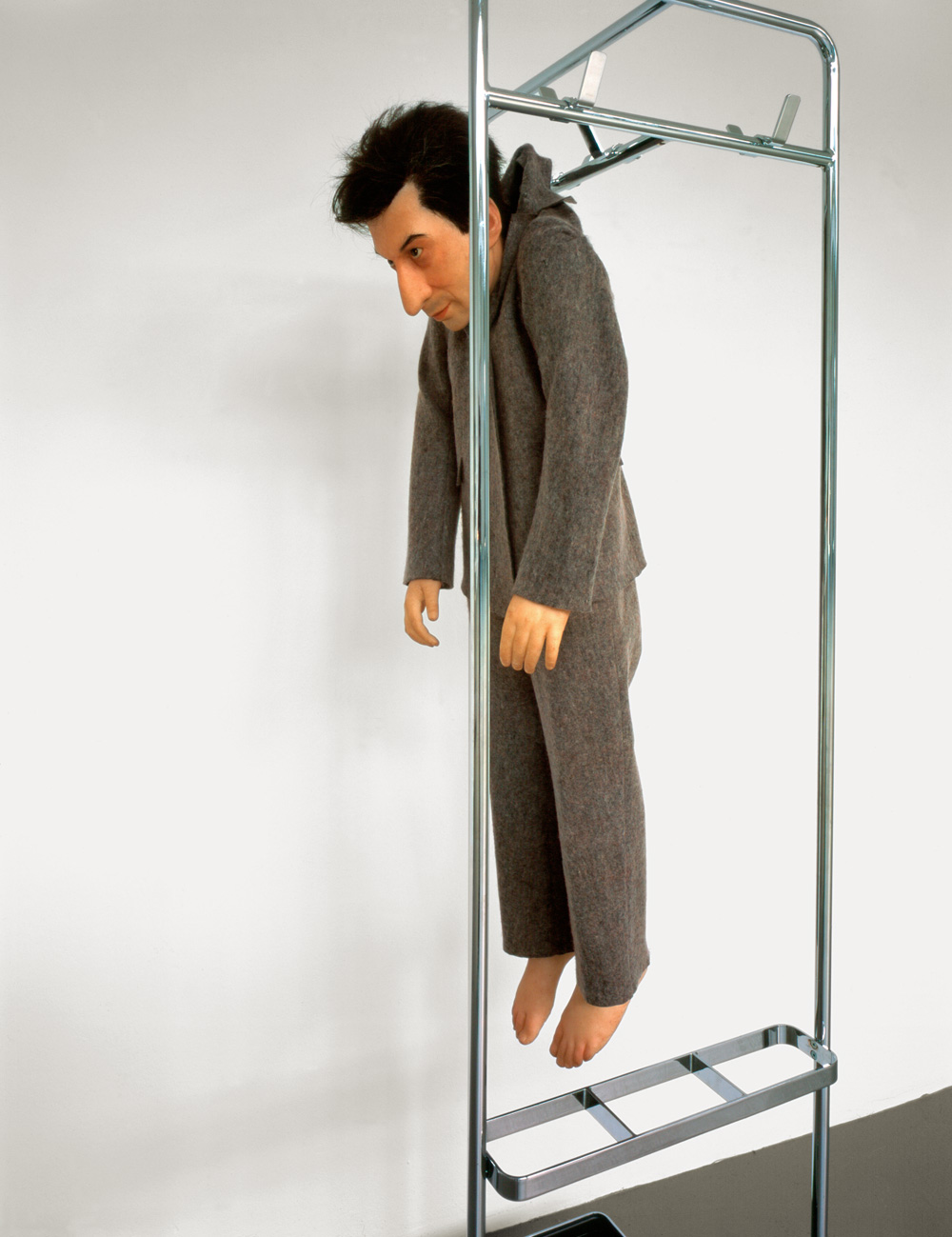 Cattelan has also turned to his own distinctive features as a mainstay of his iconography, constructing a series of sculptural vignettes that promote his image as an Everyman, playing the part of the fool so that we don't have to. Notable examples include La Rivoluzione siamo noi (We are the revolution, 2000), which presents a diminutive Cattelan dangling by his collar from a metal coat rack, impudently dressed in the signature felt suit of German artist Joseph Beuys, and a 2001 installation created for the Museum Boijmans Van Beuningen in Rotterdam that depicts the artist peering mischievously from a hole in the floor at a gallery of Old Master paintings. Some of Cattelan's surrogates have been more allusive, such as the 2008 work Daddy Daddy, an installation first shown in the fountain on the Guggenheim's rotunda floor, that depicts the puppet Pinocchio—another rebellious Italian boy with an oversized nose—floating facedown as if the victim of a tragic tumble from the ramps above.
Although an ironic humor threads much of his work, a profound meditation on mortality forms the core of Cattelan's practice. His recurring use of taxidermy, which presents a state of apparent life premised on actual death, is particularly apt for exploring this thematic concern. Perhaps the most poignant of his anthropomorphic animal scenes is Bidibidobidiboo (1996), in which a despairing squirrel has committed suicide in his grimy kitchen. Death stalks the artist's psyche and creeps into all manifestations of his production. With All (2007), he created what he described as a "monument to death," a sculpture that would commemorate its unrelenting presence. Derived from ubiquitous media imagery of fallen bodies, and carved from traditional marble, the nine shrouded figures appear as victims of some unnamed trauma, silently recalling the unconscionable realities of our present-day world.
Among Cattelan's most startling projects is a cycle of lifelike waxworks that portray and contest iconic authority figures. The most incendiary of these works comprise La Nona Ora (The ninth hour, 1999), his notorious sculpture of Pope John Paul II felled by a meteorite, and Him (2001), a rendering of Adolf Hitler in the scale of a young boy, kneeling preposterously in a pose of supplication. Also included is the sculpture Frank and Jamie (2002), in which two New York City policemen are turned upside down and propped against a wall in a posture that has been interpreted as a visual parallel to the sense of vulnerability that permeated the country in the wake of the terrorist attacks of September 11, 2001. A more overtly elegiac scene is constructed by Now (2004), an effigy of a serene and barefoot John F. Kennedy lying in state, a martyr to a shattered American idealism seen from the perspective of a disillusioned present.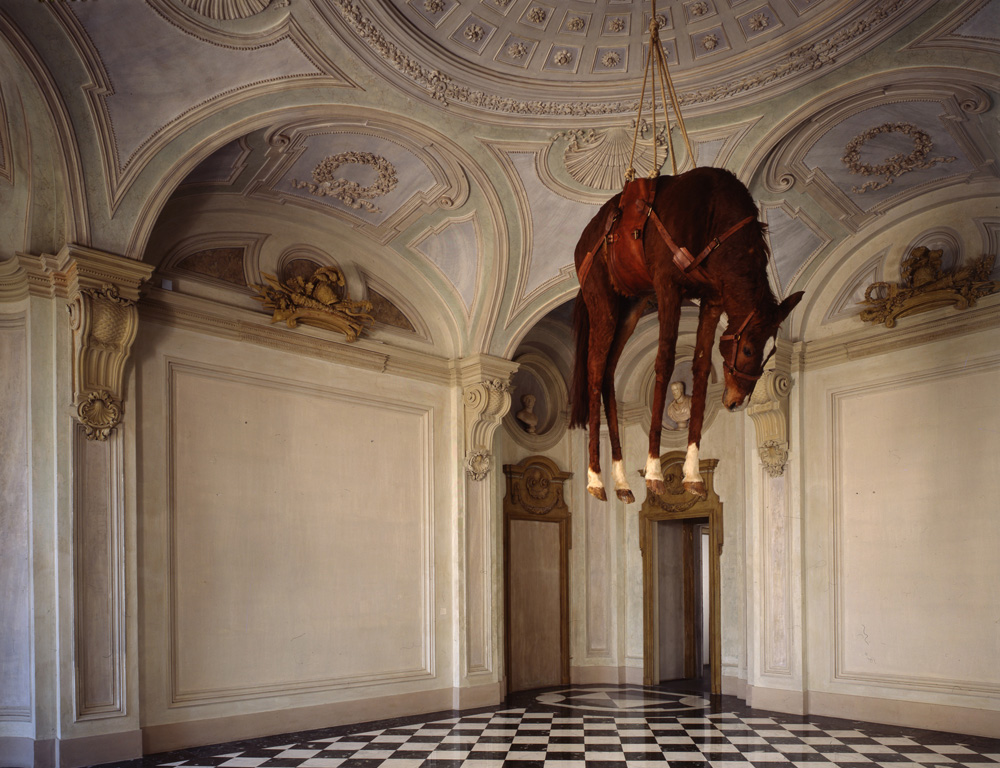 The Installation
The dramatic site-specific installation is visible to visitors on the ground floor and on each ascending ramp at varied heights. Hoisted by rope as if on a gallows, the objects explicitly reveal the undertone of death that pervades the artist's work. The exhibition is an exercise in disrespect: the artist has hung up his work like laundry to dry. Like all of his individual objects, the new installation resonates with multiple interpretive valences. Cattelan has certainly used the motif of suspension before, most notably in the poetically elongated sculpture created from a taxidermied horse, Novecento (1997), but here it takes on epic proportions. In total, the installation looks like a mass execution – and will, for the duration of the exhibition, constitute an overarching, tragic artwork in its own right.
Artist's Retirement
More than just a powerful culmination of a career, this exhibition signifies its end. With the opening of Maurizio Cattelan: All, Cattelan has announced his retirement from the art world. What this means precisely remains to be defined by the artist. Over time we expect to see a continuation of his work with the publication Toilet Paper as part of his fascination with print media. But the rest is anyone's guess.
Exhibition Funding
The Leadership Committee for Maurizio Cattelan: All is gratefully acknowledged.
Founding Members: Steven A. and Alexandra M. Cohen Foundation; Amalia Dayan and Adam Lindemann; Massimo De Carlo; Danielle and David Ganek; Judie and Howard Ganek; Marian Goodman; The Mugrabi Collection; Gael Neeson and Stefan Edlis; Galerie Perrotin; Amy and John Phelan; Samantha and Aby Rosen; Fondazione Sandretto Re Rebaudengo, Turin; Beth Swofford; Lisa and Steven Tananbaum; David Teiger; and those who wish to remain anonymous.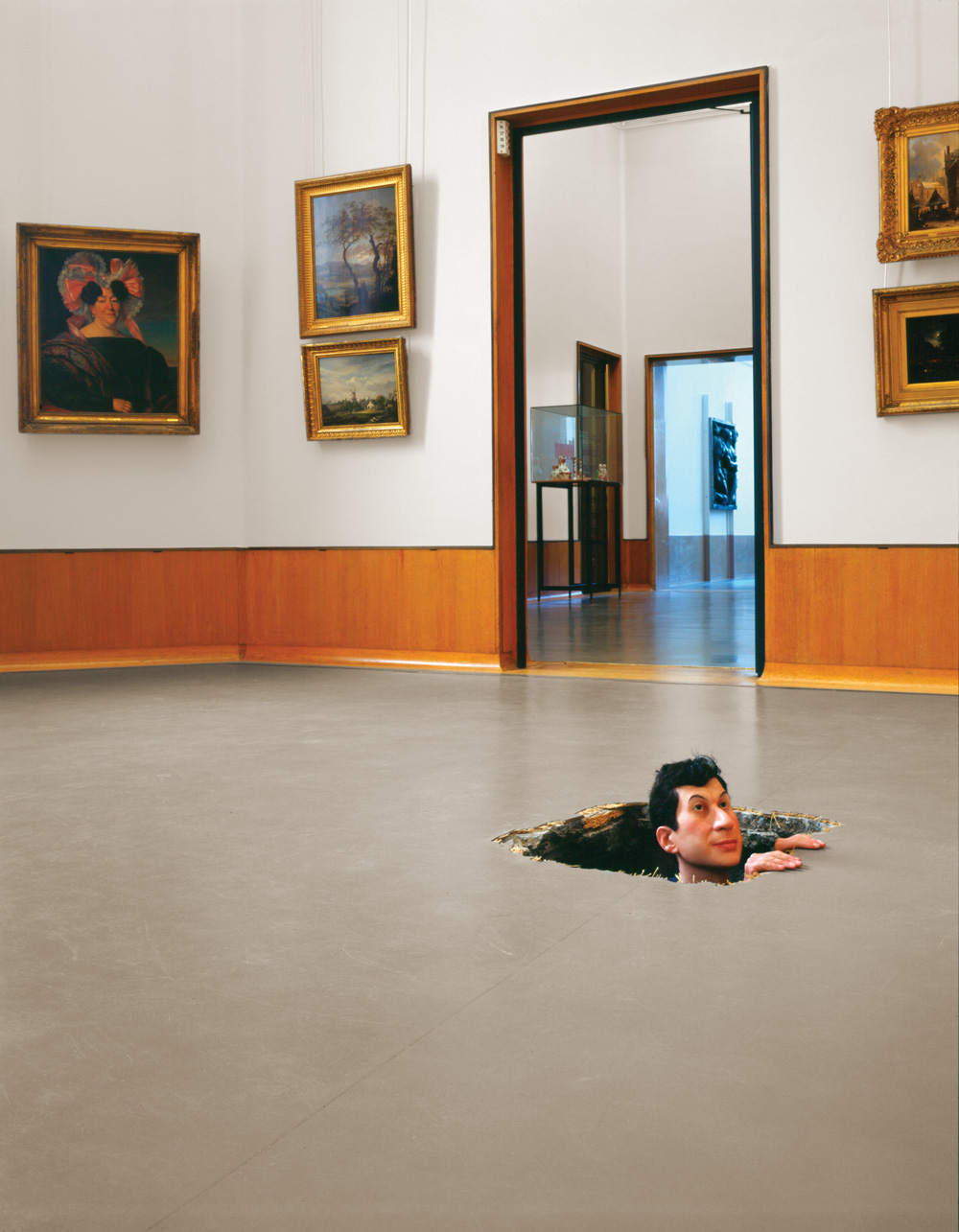 Mobile App
For the first time in its history, the Guggenheim has produced a mobile app to accompany an exhibition—the interactive, multiplatform Maurizio Cattelan: All. The app features dramatic views of the Guggenheim installation and provides extensive documentation of Cattelan's artworks, actions, and other projects, both enriching the experience of visiting the exhibition and offering a dynamic exploration of it outside the museum's walls.
In short videos, filmmaker John Waters introduces the app and its sections. Exhibition curator Nancy Spector presents an illuminating examination of Cattelan's oeuvre, while exhibition engineers and artwork conservators offer a behind-the-scenes look at putting the show together. In more than 20 video interviews—some shot by the subjects themselves—a career's worth of Cattelan's friends and associates speak about the artist and his creative process. Contributors include critic Vince Aletti; artist Carsten Höller; curators Francesco Bonami, Germano Celant, Bice Curiger, Massimiliano Gioni, and Chrissie Iles; and gallerists Marian Goodman, Massimo De Carlo, and Emmanuel Perrotin. Listen to audio clips of Cattelan's own reflections on his works read by Waters, and enjoy additional highlights including images from issues of the artist's new magazine, Toilet Paper, plus a special preview of its latest edition, created on the occasion of the retrospective. The app will be available on iPhone, iPad, and Android at $3.99 for phone and $5.99for tablet at guggenheim.org/cattelan-app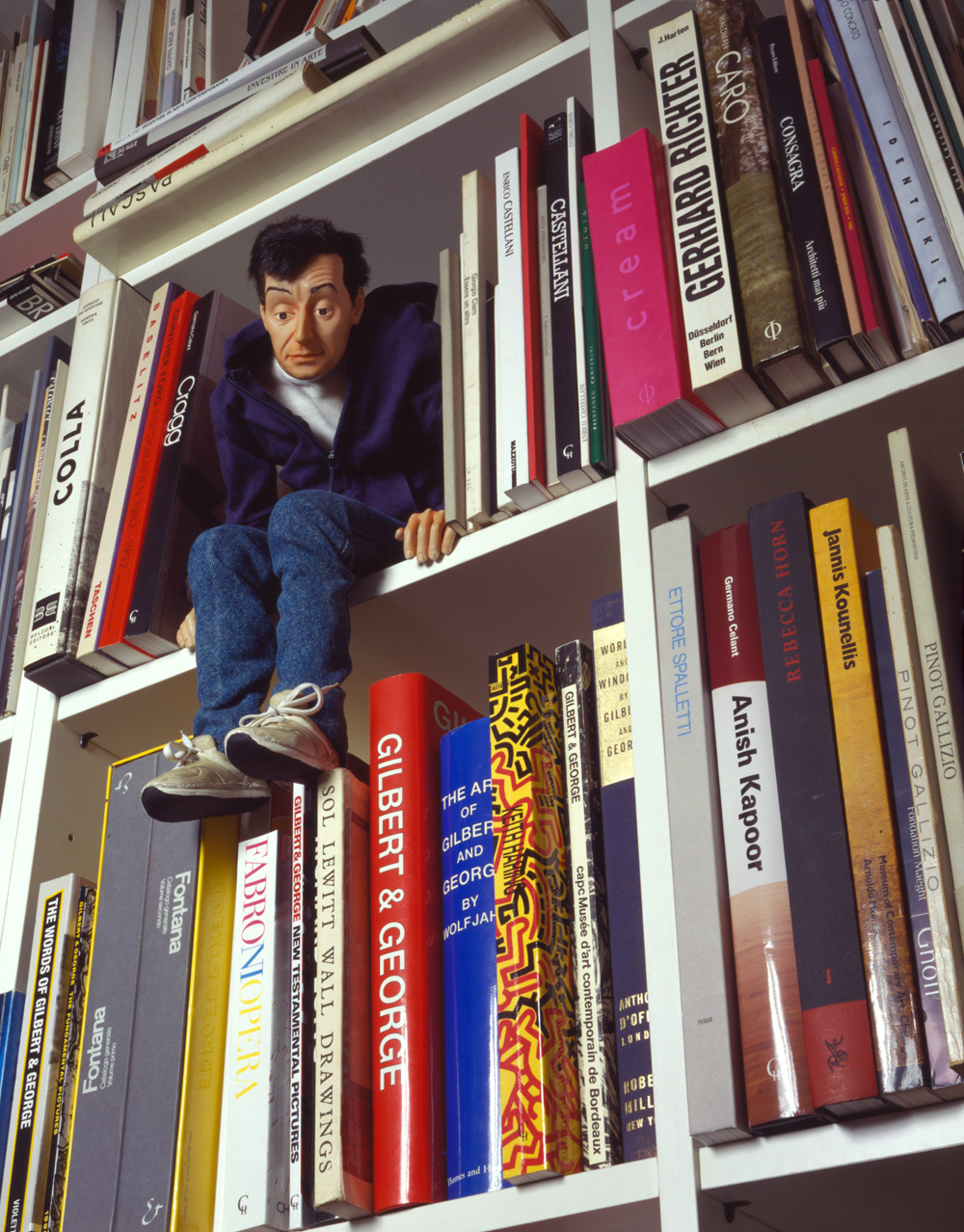 Catalogue
The retrospective will be accompanied by a fully illustrated catalogue conceived as a play on the traditional catalogue raisonné, featuring nearly every work of Cattelan's from the late 1980s to the present, with accompanying interpretive entries. The volume includes a detailed critical overview by Nancy Spector, documenting not only Cattelan's artistic output but also his ongoing activities as a curator, editor, and publisher, as well as a comprehensive exhibition history and bibliography. The catalogue will be available in hardcover and e-book editions for $45 and $19.99 at the Guggenheim Store (hardcover only) or online at guggenheimstore.org.
Education and Public Programs
A range of public programs will be presented in conjunction with Maurizio Cattelan: All and details will be posted on guggenheim.org/publicprograms. Highlights include:
Workshop for Educators : Maurizio Cattelan: All Sat, Nov 19, 10 am–1 pm Through encounters with Maurizio Cattelan's unique sculptural installation in the museum rotunda, educators engage in conversations and activities that focus on how the artist's work can be used in the classroom. $20 includes curriculum materials. Registration required by calling 212 423 3637.
.-.-..-.
Guggenheim International Gala to be Held on November 10 in Celebration of the Maurizio Cattelan Retrospective
Featuring a Unique Musical Performance by MGMT
Maria Baibakova, Alberto Mugrabi, Amy Phelan, Kara Ross, and Jennifer Blei Stockman to Serve as Gala Chairs
November 7 Auction at Phillips de Pury & Company to Benefit Guggenheim Foundation
New York, NY – The Guggenheim Museum will host the annual Guggenheim International Gala on Thursday, November 10, at the Solomon R. Guggenheim Museum, in celebration of the exhibition Maurizio Cattelan: All. Cocktails begin at 7 pm on the rotunda floor. Dinner is at 8 pm followed by an after-party with the premiere of a unique musical performance by MGMT.
Chairs of the event include Maria Baibakova, Alberto Mugrabi, Amy Phelan, Kara Ross, and Jennifer Blei Stockman.
In association with the Guggenheim International Gala, a benefit auction will be held on the evening of Monday, November 7, at Phillips de Pury & Company, 450 Park Avenue, New York, immediately preceding the Contemporary Art Part I sale. Works to be auctioned include pieces by Cai Guo-Qiang, Maurizio Cattelan, George Condo, Hans-Peter Feldmann, Subodh Gupta, Jenny Holzer, Idris Khan, Bharti Kher, Lee Bul, Lee Ufan, Nate Lowman, Adam McEwen, Richard Phillips, Rob Pruitt, Sterling Ruby, Doris Salcedo, Richard Serra, Francesco Vezzoli, Lawrence Weiner, and Haegue Yang.
Funds raised from the gala and auction will support the Solomon R. Guggenheim Foundation.
2011 Guggenheim International Gala
DATE:    Thursday, November 10, 2011
TIME:
7 pm Cocktails on the rotunda floor
8 pm Dinner in the rotunda galleries
9:30 pm After-party with a unique musical performance by MGMT
PLACE:  Solomon R. Guggenheim Museum, 1071 Fifth Avenue at 89th Street, New York
For information on gala tickets or the auction, contact Maela Jones at 212 360 4309 or mjones@guggenheim.org.
Tickets to the after-party with a unique musical performance by MGMT will go on sale Thursday, October 13, for Guggenheim Museum members and Friday, October 14, for the general public and will be available at guggenheim.org. Tickets to the after-party are $150 for members and $200 for nonmembers.
Position the cursor on the images to view captions, click on images to enlarge them. 

Posizionare il cursore sulle immagini per leggere le didascalie; cliccare sulle immagini per ingrandirle.
About the Solomon R. Guggenheim Foundation
Founded in 1937, the Solomon R. Guggenheim Foundation is dedicated to promoting the understanding and appreciation of art, primarily of the modern and contemporary periods, through exhibitions, education programs, research initiatives, and publications. Currently the Solomon R. Guggenheim Foundation owns and operates the Guggenheim Museum on Fifth Avenue in New York and the Peggy Guggenheim Collection on the Grand Canal in Venice, and provides programming and management for the Guggenheim Museum Bilbao. The Deutsche Guggenheim in Berlin is the result of a collaboration, begun in 1997, between the Guggenheim Foundation and Deutsche Bank. The Guggenheim Abu Dhabi, a museum of modern and contemporary art designed by Frank Gehry on Saadiyat Island, adjacent to the main island of Abu Dhabi city, the capital of the United Arab Emirates, is currently in progress. More information about the foundation can be found at guggenheim.org.
VISITOR INFORMATION
Admission: Adults $18, students/seniors (65+) $15, members and children under 12 free. Admission includes an audio tour of highlights of the Guggenheim's permanent collection, as well as of the Building, available in English, Spanish, French, German, and Italian.
Museum Hours: Sun–Wed, 10 am–5:45 pm; Fri, 10 am–5:45 pm; Sat, 10 am–7:45 pm; closed Thurs. On Saturdays, beginning at 5:45 pm, the museum hosts Pay What You Wish. For general information, call 212 423 3500 or visit the museum online at: guggenheim.org