YAYOI KUSAMA – TATE MODERN – LONDON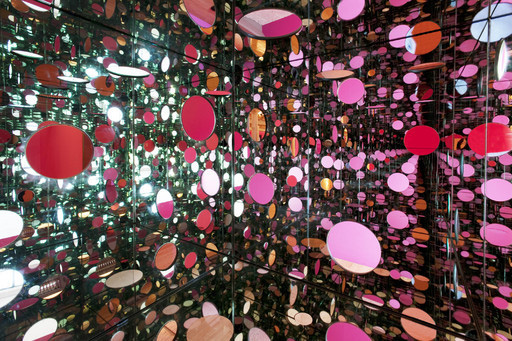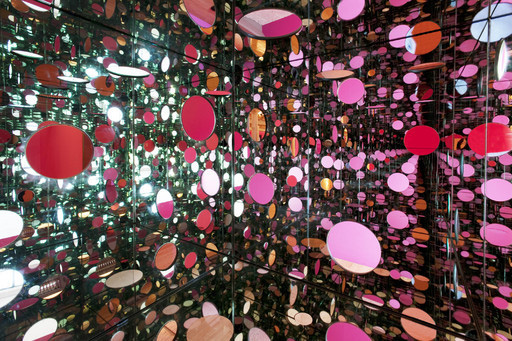 Yayoi Kusama
Thursday 9 February – Tuesday 5 June 2012
9 February – 5 June 2012
Tate Modern, Level 4
Supported by Louis Vuitton
Open every day from 10.00 – 18.00 and late night until 22.00 on Friday and Saturday
For public information number please print 020 7887 8888
Yayoi Kusama's (b.1929) pioneering work spans over six decades and this exhibition will highlight the artist's moments of most intense innovation. Kusama is one of Japan's best-known living artists and since the 1940s she has developed an extensive body of work. From her earliest explorations of painting in provincial Japan to new unseen works, the exhibition will reveal a history of successive developments and daring advances, demonstrating why Kusama remains one of the most engaging practitioners today.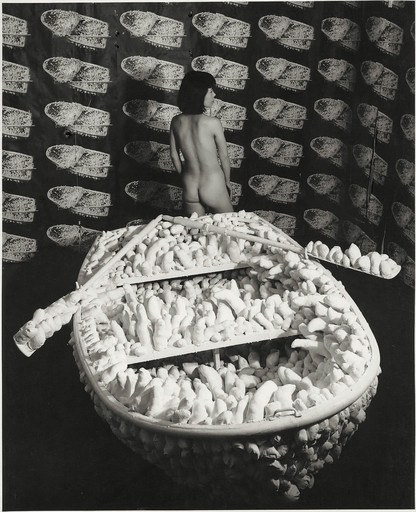 Conceived as a series of immersive environments, the exhibition will unfold in a sequence of rooms, each devoted to the emergence of a new artistic stance. Much of Kusama's art has an almost hallucinatory intensity that reflects her unique vision of the world, whether through a teeming accumulation of detail or the dense patterns of nets and polka dots that have become her signature. She is renowned for her 'environments', large-scale installations of dazzling power that immerse the viewer. A highlight of the exhibition will be a new installation conceived especially for the show, Infinity Mirrored Room – Filled with the Brilliance of Life 2011, Kusama's largest mirrored room to date.
Yayoi Kusama was born in Matsumoto, Japan in 1929. In her early career she immersed herself in the study of art, integrating a wide range of Eastern and Western influences, training in traditional Japanese painting while also exploring the European and American avant-garde. In the late 1950s, Kusama moved to the United States and during her time there worked tirelessly to position herself at the epicentre of the New York art scene. The exhibition will include a group of Kusama's first 'Infinity Net' paintings from her early years in New York, canvases covered in endlessly-repeated, scalloped brushstrokes of a single colour. Kusama forged her own direction in sculpture and installation, adopting techniques of montage and soft sculpture which historians have seen as influencing artists such as Andy Warhol and Claus Oldenburg. The exhibition will include Aggregation: One Thousand Boats Show 1963, her first room installation, and a significant selection of her classic 'Sex Obsession' and 'Food Obsession' Accumulation Sculptures dating from 1962-68.
As the 1960s progressed, Kusama moved from painting, sculpture and collage to installations, films, performances and 'happenings' as well as political actions, counter-cultural events, fashion design and publishing. The exhibition will include Kusama's iconic film Kusama's Self-Obliteration 1968, capturing this period of performative experimentation, and an extensive selection of archive material that reveal how Kusama's artistic activity extended beyond the bounds of the gallery.
In 1973 Kusama returned to Japan where she continues to live and work today. The exhibition will include vibrant and evocative collages she created on her return, during a period in which she was also forging a parallel career as a poet and novelist. Major sculptural installations will be featured including The Clouds 1984, comprising one hundred unique black and white sprayed sewed stuffed cushions, and Heaven and Earth 1991, which features snake-like forms emerging from forty boxes. The exhibition will conclude with a series of works from the last decade including I'm Here, but Nothing 2000 -, in which a darkened domestic space is covered with fluorescent polka dots.
Yayoi Kusama is curated by Frances Morris, Head of Collection, International Art, Tate with Rachel Taylor, Assistant Curator, Tate Modern. The exhibition has been organised by Tate Modern in collaboration with the Museo Nacional Centro de Arte Reina Sofia, Madrid; Centre Pompidou, Paris and the Whitney Museum of American Art, New York. The exhibition will be accompanied by a major new catalogue and the first English translation of Yayoi Kusama's autobiography Infinity Net.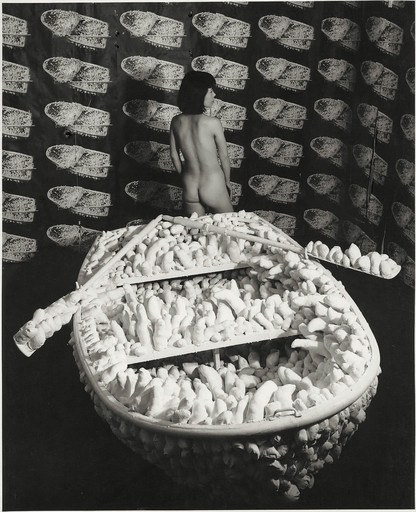 For further information please contact Duncan Holden / Rose Dahlsen, Tate Press Office
Call 020 7887 4939/8731     Email pressoffice@tate.org.uk     Visit www.tate.org.uk