LEE JIN WOO – WALL-MUR – GALERIE MARIA LUND – PARIS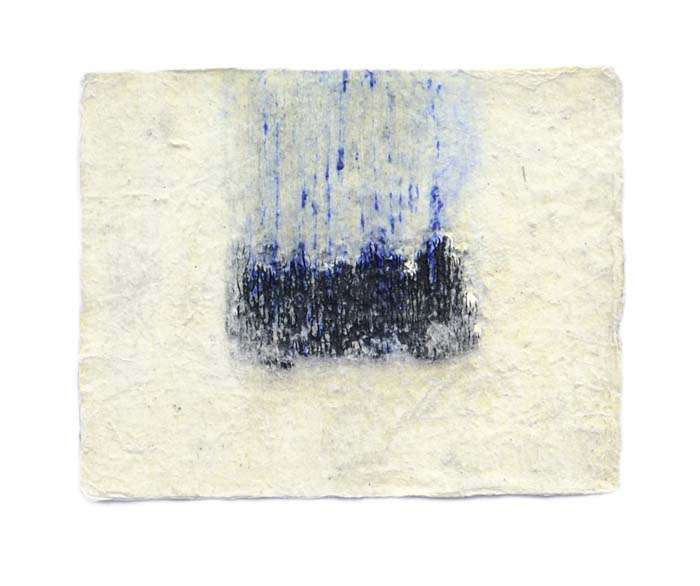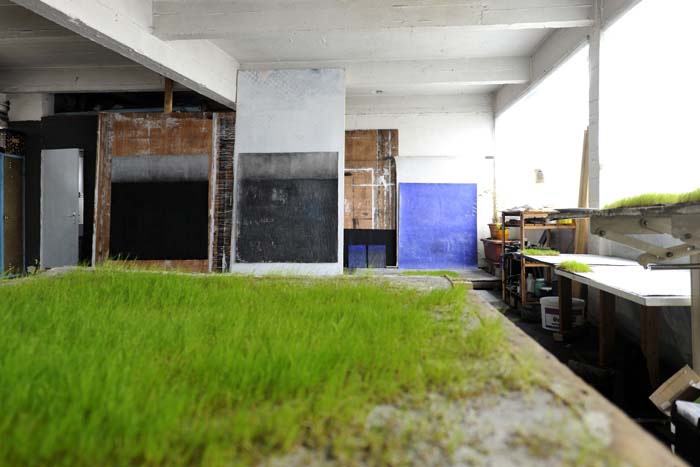 LEE JIN WOO
Wall – Mur
painting                                                                                                                    
5.05 – 23.06.2012
GALERIE MARIA LUND – Paris
OPENING: Saturday 5th May 2012 from 5pm to 8pm, the artist will be present.
The exhibition ends Saturday 23rd June 2012.
EXCEPTIONALLY the gallery will be open Sunday 6th May 2012 from 11am to 6pm for the "Sainte Prudence", in collaboration with the galleries Eric Mircher, Anne Barrault, Marie Cini, Alberta Pane, Polaris and Jeanroch Dard.
In the first instance, figures fill the surface; one silhouette after another begins to exist in an empty light space; bit by bit it gets crowded. Later on, a veil appears, wrapping up the crowd and the black sets in: darkness becomes denser, deeper, the outlines of the figures merge into one another and finally integrate the body of black matter. The crowd disappears into a wall. We can only see the wall where the light settles, gleaming or absorbed by the relief cavities. The noise of the silent crowd gives way to the obstacle that reveals nothing of what is hidden behind. The matter imposes a stop that seen from a close hold seems insurmountable. It's the great calm…
Wall
Confronted with the wall erected in front of him, Lee Jin Woo has chosen to grow grass. Over the winter months, he has sown seeds on a huge taught canvas. Upon layers of Hanji paper he has grown both small and big lawns in his workshop. He has continued to water whilst painting and constructing with charcoal on the surfaces: nature, in its cultivated state and the artistic process meet. Artworks have been created in a fusion between material, gesture and time.
The wall motif systematically comes back in Lee Jin Woo's new body of works: be it in the shape of a solitary, rectangular construction situated in a larger expanse or, in its massive version entirely covering the pictorial surface apart from the upper third. In some works a staircase takes off from the top of the construction ending its stretch in the void. The role given to matter, the apparent simplicity of the compositions and the sophisticated exploitation of fullness and emptiness, defy perception: the eye is continuously moving between surface and depth passing from one point of view to another. The idea of abstraction replaces that of representation, the shapes seem to move along a perspective line that then vanishes into the surface. Be they concrete art, symbolism, figuration or abstraction these works simultaneously work on several registers where image, shape and matter are indivisible. The sky could be the sea and the wall an ocean at night. Only the grass with its roots well anchored on the other side is definitely grass. Its green light filled colour will fade one day and the growth will in turn become part of the great calm. Lee Jin Woo's present desire is that his contemplative world can lead to experiencing the temporality of grass growing, almost conferring to the silence of the on-going process an auditory quality.
Process
Painting, relief or rather relief-painting, these three dimensional pictures are born from an invisible and titanic labour where numerous layers of traditional Korean Hanji paper* have been superimposed to form strata on which Lee Jin Woo intervenes by painting and burying substances (charcoal, earth, pigments) and by brushing. A bark with a more or less pronounced relief is formed allowing the artist to work on its surface or to explore and unveil elements buried in the mass of translucent sheets.
Publishing: Facing the wall
In a text published for the exhibition, the art historian Selina Ting investigates the hybrid dimension in the work of Lee Jin Woo.
Background
Since 1986 Lee Jin Woo (born 1959) exhibits regularly in Korea and France. In 2006, Galerie Manes in Prague welcomed a very important show of his work. Wall – Mur will be his third solo show at the GALERIE MARIA LUND following exhibitions in 2007 and 2009. The gallery has also presented his works at the KIAF fair in Seoul (2008, 2009, 2010 and 2011). In 2008, Lee Jin Woo participated in the Holland Paper Biennal at the Rijswijk Museum, Holland.
*Hanji paper is made from mulberry fiber.
For further information and visuals please contact: Maria Lund or Deborah Fruchter
GALERIE MARIA LUND     
48 rue de Turenne – 75003 Paris    
Tuesday – Saturday 12-7pm – tel. (+33) 01 42 76 00 33     
mobile (+33) 06 61 15 99 91 – fax (+33) 01 42 76 00 10 – e-mail: galerie@marialund.com – www.marialund.com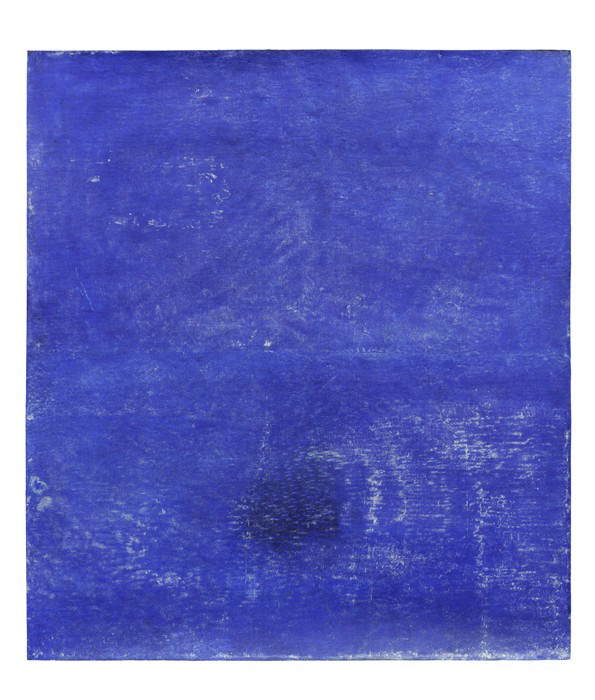 LEE JIN WOO
Wall – Mur
peinture
5. 05 – 23. 06. 2012
GALERIE MARIA LUND – Paris

VERNISSAGE: samedi 5 mai 2012 de 17h à 20h en présence de l'artiste.
L'exposition se termine le samedi 23 juin 2012.
OUVERTURE EXCEPTIONNELLE: dimanche 6 mai 2012 de 11h 18h à l'occasion de la Sainte Prudence en collaboration avec les galeries Eric Mircher, Anne Barrault, Marie Cini, Alberta Pane, Polaris et Jeanroch Dard.

Au commencement la surface se peuple; une silhouette après une autre prend existence dans un espace vide et clair; petit à petit il y a foule. Plus tard un voile se crée; il enveloppe la foule et le noir s'installe: l'obscurité se densifie, s'épaissit, les contours des figures se fondent et finissent par faire corps avec la matière noire. La foule disparaît dans un plan qui se fait mur. Nous ne voyons plus que le mur où la lumière se pose luisante ou absorbée par les creux du relief. Le bruit de la foule silencieuse cède la place à l'obstacle ne révélant rien de ce qui se cache derrière. La matière impose un arrêt qui, vu de tout près paraît insurmontable. C'est le grand calme…
L'herbe pousse sur les tableaux de Lee Jin Woo, peintre coréen, installé à Paris depuis une dizaine d'années. Ses œuvres végétales sont une réponse au mur érigé devant lui. Le motif du mur revient fréquemment dans ses grandes compositions.
Pour les réaliser, il utilise des feuilles de papier traditionnel coréen, le hanji – créé à partir des fibres du mûrier – qu'il superpose par dizaine.
La surface ressemble alors à une écorce sur laquelle il intervient en y incorporant toutes sortes de matériaux, pigments, encre, charbon, cendres, terre, graines, herbe…Progressivement, au gré de ses interventions, il fait disparaître une multitude de personnages dessinés au commencement de sa peinture.
Lee Jin Woo, explique, qu'«une fois face à ma peinture, je deviens un bras qui peint. Ma main étant le prolongement de mon cerveau… je ne pense plus, mon travail est intuitif». Né en 1959, il expose régulièrement en Corée et en France. "Mur" est sa troisième exposition personnelle à la Galerie Maria Lund.
Mur
Confronté au mur qui s'est érigé devant lui, Lee Jin Woo a choisi de faire pousser de l'herbe.
Pendant l'hiver il a semé des graines sur une immense toile tendue et sur des épaisseurs de papier Hanji et des pelouses – petites et grandes – ont poussé dans son atelier. Il a poursuivi l'arrosage tout en entamant un travail de peinture et de construction avec du charbon de bois sur les surfaces: la nature cultivée et le processus plastique se sont rencontrés et des œuvres sont nées d'une fusion entre matières, gestes et temps.
Le motif du mur revient systématiquement dans ce nouvel ensemble de Lee Jin Woo : soit sous la forme d'une construction rectangulaire solitaire placée dans une étendue soit dans sa version massive où le champ pictural est entièrement rempli à l'exception du tiers supérieur. Dans certaines œuvres un escalier part du sommet de la construction pour se terminer dans le vide. La place laissée à la matière, l'apparente simplicité des compositions et l'exploitation sophistiquée du plein et du vide défie la perception: le regard se déplace dans un aller-retour entre surface et profondeur passant d'un point de vue à un autre. L'idée d'une représentation cède à celle d'une abstraction, les formes se déplacent dans une perspective qui se constitue pour ensuite disparaître dans la surface. Art concret, symbolisme, figuration ou abstraction, ces œuvres jouent simultanément de plusieurs registres où image, forme et matière sont indissociables. Le ciel peut aussi être la mer et le mur un océan nocturne. Seule l'herbe est bien de l'herbe, avec ses racines qui sont bien ancrées de l'autre côté. Sa couleur verte lumineuse fanera un jour et les pousses vivantes intégreront à leur tour le grand calme. Pour l'heure, Lee Jin Woo a souhaité que son monde contemplatif présente la possibilité de mesurer par le silence la temporalité de l'herbe qui pousse.
Procédé
Peinture, relief ou plutôt peinture-relief, ces tableaux tridimensionnels sont nés d'un travail invisible et titanesque où de nombreuses couches de papier traditionnel coréen le Hanji* sont superposées pour constituer des strates sur lesquelles Lee Jin Woo intervient en peignant, en enterrant la matière (charbon de bois, terre, pigments) et en brossant. Une écorce avec un relief plus au moins prononcé se forme permettant à l'artiste de travailler sur sa surface ou d'aller explorer et dévoiler des éléments laissés dans la masse des feuilles diaphanes.
Edition: Face au mur
Dans un texte qui accompagne l'exposition, l'historienne de l'art Selina Ting se penche sur la dimension hybride de l'œuvre de Lee Jin Woo.
Parcours
Depuis 1986 Lee Jin Woo (né en 1959) expose régulièrement en Corée et en France. En 2006, la Galerie Manes à Prague a accueilli une très importante exposition de son œuvre. Mur sera sa troisième exposition personnelle à la GALERIE MARIA LUND précédée par des expositions en 2007 et 2009.  La collaboration a également emmené la galerie à présenter les œuvres de Lee Jin Woo à la KIAF à Seoul (2008, 2009, 2010 et 2011).
En 2008 Lee Jin Woo a  participé à la Holland Paper Biennial au  Musée Rijswijk aux Pays-Bas.

*Le Hanji est créé à partir des fibres du murier.
Pour un complément d'information ou la mise à disposition de visuels, merci de contacter:
Maria Lund ou Deborah Sigsgaard Fruchter
GALERIE MARIA LUND – 48 rue de Turenne – 75003 Paris     mardi – samedi 12h-19h
tél. (+33) 01 42 76 00 33  –  port. (+33) 06 61 15 99 91  –  e-mail: galerie@marialund.com  – www.marialund.com