JEAN-MICHEL ALBEROLA – GALERIE DANIEL TEMPLON – PARIS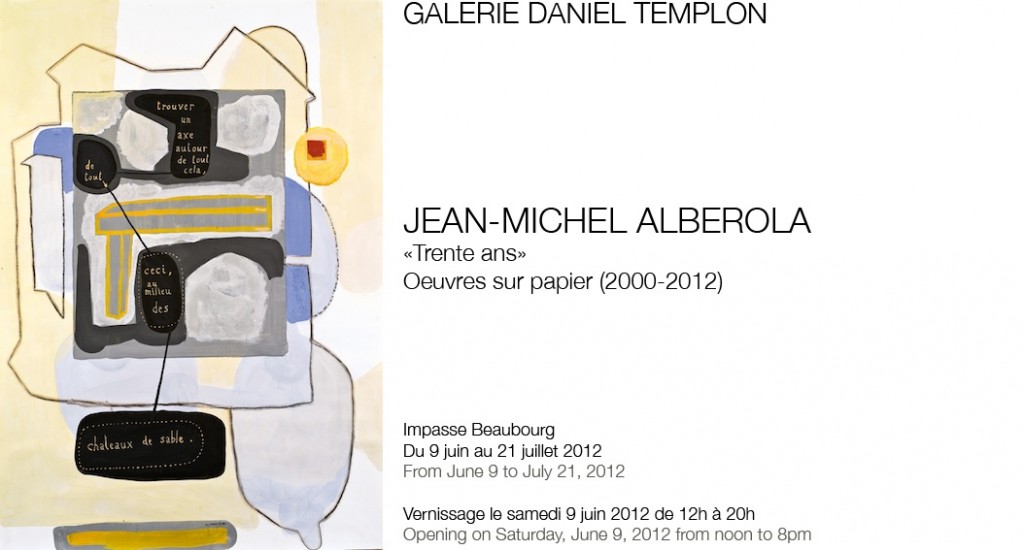 A l'occasion de l'anniversaire de sa première exposition à la Galerie Templon en 1982, Jean-Michel Alberola propose "Trente ans", une installation mêlant peintures sur papier, mur peint et néon. Cette exposition d'œuvres inédites répond à la grande "Salle des instructions" réalisée par l'artiste, récemment dévoilée au nouveau Palais de Tokyo à Paris. Figure inclassable de la scène artistique française, Jean-Michel Alberola poursuit depuis trente ans une œuvre protéiforme qui navigue entre figuration, abstraction et conceptualisme. Peintures, gouaches, néons, sculptures, mur peints, livres d'artistes, films en sont les différentes facettes.
To mark the anniversary of Jean-Michel Alberola's first show with the gallery in 1982, the French visual artist presents "Thirty Years", an installation consisting in works on paper, a wall painting and one neon work. This  new exhibition echoes the recently unveiled "Room of instructions" created by the artist for the new Palais de Tokyo in Paris. Jean-Michel Alberola has been pursuing his vision for almost thirty years, working beyond the precepts of any school or theoretical movement, to create a unique and protean oeuvre combining figurative, abstract and conceptual art.
GALERIE DANIEL TEMPLON
30 rue Beaubourg, 75003 Paris / T: +33 (0)1 42 72 14 10 / info@danieltemplon.com / www.danieltemplon.com
Lundi-samedi 10h-19h / Monday-Saturday 10am-7pm