INVISIBLE CITIES FESTIVAL. A COSMOGRAPHY SMCA / MMCA – THESSALONIKI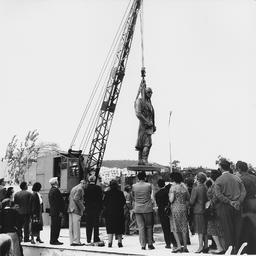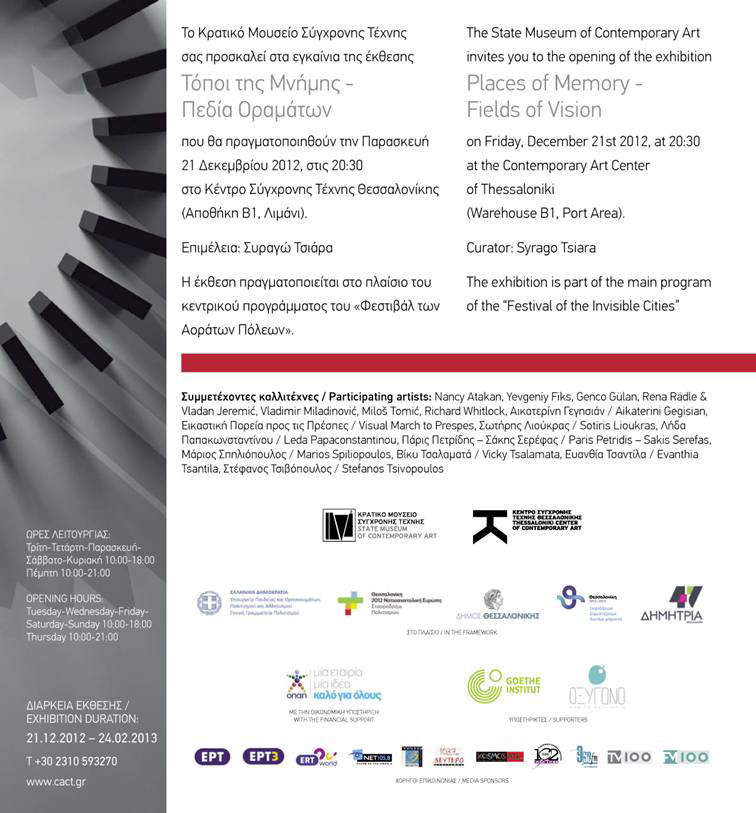 INVISIBLE CITIES FESTIVAL.
A COSMOGRAPHY
SMCA / MMCA
09.2012-02.2013
Thessaloniki, December 14, 2012
Exhibition "Places of memory – Fields of vision"
Contemporary Art Center of Thessaloniki (Warehouse 1, port)
December 21, 2012 – February 24, 2013
Opening: Friday, December 21, 2012, 20:30*
The memory of Thessaloniki and other neighboring cities, such as Istanbul or Belgrade, the individual outline of each place through testimonies, overlaps, remnants and revelations, and the city itself as a mnemonic space and psychic landscape, comprise the basic axes of the exhibition "Places of memory – Fields of vision", organized by the Contemporary Art Center of Thessaloniki (SMCA) at the Warehouse 1, port area, from December 21, 2012 to February 24, 2013 (Opening: Friday, December 21, 2012, 20:30*. Opening hours: Tuesday-Wednesday-Friday-Saturday-Sunday 10:00- 18:00, Thursday 10:00-21:00).
Sixteen paintings, prints, photographs, videos and installations –some older productions of the Contemporary Art Center of Thessaloniki, as well as new productions that will be presented for the first time– intertwine and focus on the city's experienced memory, the imagining of its past life and its dynamic projection in the future; they put on the map different regions from those usually celebrated through official, commemorative practices.
The exhibition is part of the main program of the "Invisible Cities Festival. A Cosmography" co-organized by the State Museum of Contemporary Art and the Macedonian Museum of Contemporary Art. There will be also parallel events, educational programs and guided tours.
*After the opening the SMCA-CACT will celebrate upcoming holidays along with friends, wine and music by dj ELIAS (Elvis).
Syrago Tsiara, art historian and curator of the exhibition, mentions in her curatorial text: "[…] Small, personal, unknown and long forgotten stories mingle with grand, national or universal narratives and form the core of artistic quests which do not embellish nor deny the innate contradiction of the ambiguous and potentially controversial narratives. […] Time and human action alter the image of a place.
Remembrance always has a distorting effect on the existing urban landscape by adding or removing older layers of representations, usages and experiences, rearranging and signifying the place over again on an emotional basis.
Topoi do not always have realistic references; they may consist of imaginary inventions, remnants of previous urban life patterns which ceased to exist, scenes which didn't have the time to be recorded down or were thrown out of the great narratives. They are places that may attract or repel the passerby, suggesting an alternative network of relationships.
Emotionally charged testimonies, realistic documentations, imaginary architectural concepts, visual, acoustic and verbal evidence of a rapidly changing city landscape, digital dystopias, and nightmarish paintings unfurl the experienced memories' palimpsest and the traces left by the bodies shifting between existing or imagined places. These places-objects are individually claimed, recalled, desired and rescued from oblivion due to a conscious decision, methodical research or even random discovery. And when identified, they trigger new intervening collectivities attempting to define anew the meaning of precariousness, urgency and creativity, in today's contradictory and odd times.
Participating artists: Nancy Atakan, Yevgeniy Fiks, Genco Gülan, Rena Rädle & Vladan Jeremic, Vladimir Miladinovic, Miloš Tomic, Richard Whitlock, Aikaterini Gegisian, Visual March to Prespes, Sotiris Lioukras, Leda Papaconstantinou, Paris Petridis – Sakis Serefas, Marios Spiliopoulos, Vicky Tsalamata, Evanthia Tsantila, Stefanos Tsivopoulos
The exhibition will be accompanied by a program of parallel events (book presentation, educational programs, guided tours etc). For more information, contact (+30) 2310593270.
Evanthia Tsantila's work was realized with the kind support by the Goethe Institut Thessaloniki.
The video subtitling of Marios Spiliopoulos' work was made n a voluntary basis by the students of the Audiovisual translation and subtitling seminar realized in OXYGONO in 2012. Coordinator: Katerina Gouleti. Team: Ilectra Athanasiou, Nicoletta Karida, Theodore Markoglou, Christina Pessiou, Anatoli Stavroulopoulou, Nina Zwe
OXYGONO (<oxygene in english / www.oxygono-metaixmio.gr) is a space inaugurated in 2012 by METECHMIO Publications in Thesslaoniki. OXYGONO organises seminars and workshops for adults related to books, education and culture, reading clubs and various events for young and mature booklovers.
INFO
HELLENIC MINISTRY OF RELIGIOUS AFFAIRS AND EDUCATION, CULTURE AND SPORTS
STATE MUSEUM OF CONTEMPORARY ART
21 Kolokotroni str. Stavroupoli, GR 56430, Thessaloniki, Greece: +30 2310 589140-1 & 3, F: +30 2310 600123
www.greekstatemuseum.com, info@greekstatemuseum.com
CONTEMPORARY ART CENTER OF THESSALONIKI
Warehouse B1, port are, PO BOX 107 59, GR 54110, Thessaloniki, Greece: +30 2310 593270 & 2310 546683, F: +30 2310 593271
www.cact.gr, info@cact.gr , www.myspace.com/cact_
SMCA PR and Communication Department
press@greekstatemuseum.com, pr@greekstatemuseum.com / : +30 2310 589152
The "Festival of Invisibles Cities" is included in the program of events undertaken by the Municipality of Thessaloniki celebrating its 100 years of liberation and the 47th DIMITRIA; it is also part of the "Thessaloniki. Cultural Crossroads" run by the Hellenic Ministry of Education Religious Affairs, Culture and Sports and supported financially by the OPAP SA.