JAN FABRE – GISANTS – GALERIE TEMPLON – PARIS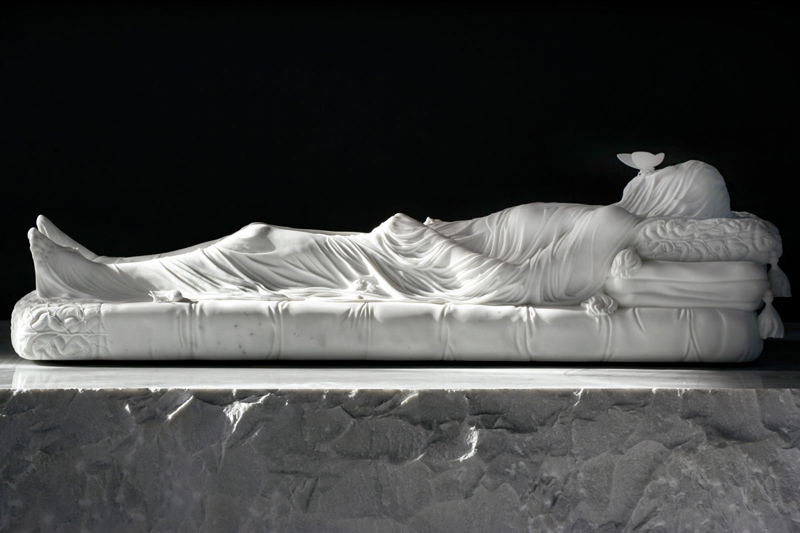 JAN FABRE
Gisants (Hommage à E.C Crosby et K.Z Lorenz)
Galerie Daniel Templon – Paris
28 février – 20 avril 2013
Vernissage: jeudi 28 février de 17h à 20h
Deux ans après le succès de Piètas à la Biennale de Venise, Jan Fabre transforme la Galerie Templon en chambre funéraire. Les espaces de la galerie accueillent un couple de gisants en marbre de Carrare accompagné de sculptures de cerveaux habités d'insectes et de plantes. Après s'être emparé du thème de la pièta, Jan Fabre se confronte à la tradition séculaire de la mise en scène de la mort.
L'artiste rend hommage à deux personnalités dont les découvertes ont éclairé le siècle passé: Elizabeth Caroline Crosby (1918-1983), neuro-anatomiste américaine et Konrad Lorenz (1903-1989), biologiste et zoologiste autrichien. Fervent défenseur du dialogue entre les champs de la connaissance, Jan Fabre a déjà travaillé sur les neurosciences, notamment avec le film Is the brain the most sexy part of the body?
Si les sculptures funéraires invitent à la méditation sur la vanité de l'existence, la mise en scène de Jan Fabre questionne les liens de l'homme avec la nature et sa propre nature. Le cerveau, siège de l'intelligence et de la créativité, apparaît comme un protecteur, un guide possible dans l'au-delà. Les insectes – papillons, abeilles, araignées, scarabées – adoptent la fonction traditionnellement dévolues aux chiens ou aux lions des sépultures royales, posés aux pieds des gisants: celle de la résurrection.
Né en 1958 à Anvers, Jan Fabre est reconnu depuis la fin des années 1990 pour son œuvre d'homme de théâtre et de plasticien. Il s'intéresse depuis 1976 à l'art de la performance, et se lance en 1980 dans la mise en scène et la chorégraphie. Depuis, il a réalisé une trentaine de pièces mêlant danse et théâtre, dont la radicalité déclenche régulièrement la polémique, comme Je suis sang (2000) ou L'Orgie de la Tolérance (2009). En mai 2013 il présentera au Théâtre de la Ville à Paris The Tragedy of a Friendship consacré à la relation entre Nietzsche et Wagner.
Dessinateur invétéré, Jan Fabre crée des sculptures, modèles et installations qui font vivre ses grands thèmes de prédilection tels que la métamorphose ou l'artiste comme guerrier de la beauté. Parmi ses expositions personnelles les plus marquantes on peut citer celle du Museum voor Hedendaagse Kunst à Anvers en 2006 et du Musée du Louvre en 2008. Récemment, l'artiste a fait l'objet d'expositions au Kröller-Müller Museum d'Otterlo au Pays-Bas (Hortus/Corpus, 2011), au Kunsthistorisches Museum de Vienne et au Musée d'art moderne de St Etienne (Jan Fabre. Les années de l'heure bleue, 1986 – 1991, 2011).
Le catalogue bilingue anglais/français de l'exposition, avec des textes de Marie Darrieussecq, Vincent Huguet et Bernard Marcelis, sera disponible à la mi-février 2013.
Adresse: Galerie Daniel Templon, 30 rue Beaubourg et Impasse Beaubourg, 75003 Paris
Horaires: du lundi au samedi de 10h à 19h
Contact presse: Victoire Disderot victoire@danieltemplon.com – tel 01 42 72 14 10
.-.-.
Two years after the success of Piètas at the Venice Biennale, Jan Fabre is transforming Galerie Templon into a funeral parlour. The gallery space will play host to a pair of effigies in Carrare marble accompanied by sculptures depicting brains inhabited by insects and plants. Having previously tackled the subject of pièta, Jan Fabre now turns his attention to the secular tradition of displaying death.
Fabre pays homage to two figures whose discoveries enlightened the 20th century: Elizabeth Caroline Crosby (1918-1983), an American neuro-anatomist, and Konrad Lorenz (1903-1989), an Austrian biologist and zoologist. As a fervent advocate of inter-disciplinary dialogue, Jan Fabre has already addressed the neurosciences, primarily in his film Is the brain the most sexy part of the body?
Position the cursor on the images to view captions, click on images to enlarge them. 

Posizionare il cursore sulle immagini per leggere le didascalie; cliccare sulle immagini per ingrandirle.