LUMINOUS WORDS BY KOREAN ARTIST AIRAN KANG – BRYCE WOLKOWITZ GALLERY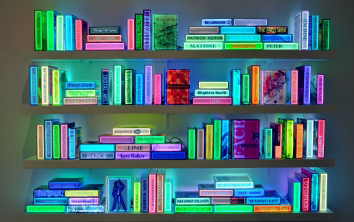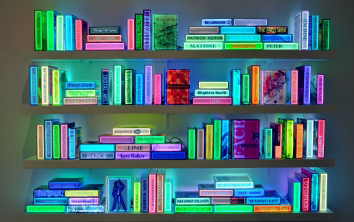 Airan Kang
Luminous Words
February 28 – April 6
Opening Reception: Thursday, February 28, 6-8 pm
Bryce Wolkowitz Gallery
505 W24th Street, New York, NY 10011
brycewolkowitz.com
Bryce Wolkowitz Gallery is pleased to present its second solo exhibition of Korean artist Airan Kang. Featuring an ambitious installation of over one hundred digital lighting books and new LED paintings, Luminous Words furthers Kang's exploration into the ontology and evolution of the book as a source of knowledge in the digital era.
Since her earliest sculptures of fabric wrapped books cast in aluminum, she has embraced a diverse range of artistic and philosophical practices. The writings of Western philosophers such as Michel Foucault and Immanuel Kant in particular have profoundly influenced Kang's approach to art making. In her new body of work, Kang has merged the tradition of painting with digital technology. These photorealist paintings of books on shaped canvases with LED marquees signify both her persistence of theme and desire to investigate new materials.
In addition to the paintings, Luminous Words includes Kang's digital lighting books – electronically luminescent sculptures cast from transparent synthetic resin. By introducing light from within the sculpture, Kang removes the association with the object as an actual book, asking the viewer to contemplate the subject matter conveyed by the book's title.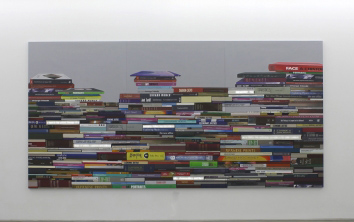 Airan Kang (b. 1960) lives and works in Seoul, Korea where she is a professor at Ewha Woman's University. She has been exhibiting her work since 1985 including exhibitions at the National Library of Korea, Korea; Tokyo Metropolitan Museum of Art, Japan; Taipei Fine Art Museum, Republic of China; Seoul Art Center, Korea; Bienal de Arte Contemporaneo de Sevilla, Spain; and gallery shows at White Box, New York, NY; Prestel Gallery, Frankfurt, Germany; and Gallery Simon, Seoul, Korea.