NAGASAWA. OMBRA VERDE – MACRO – ROME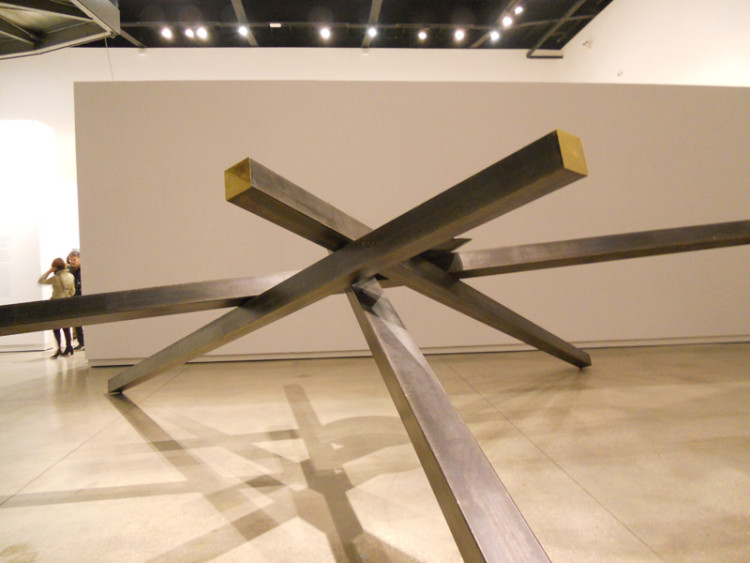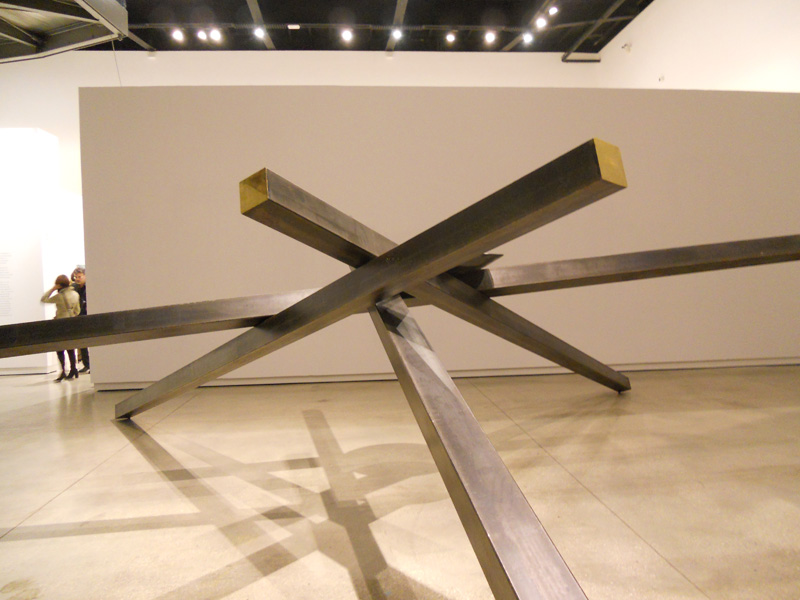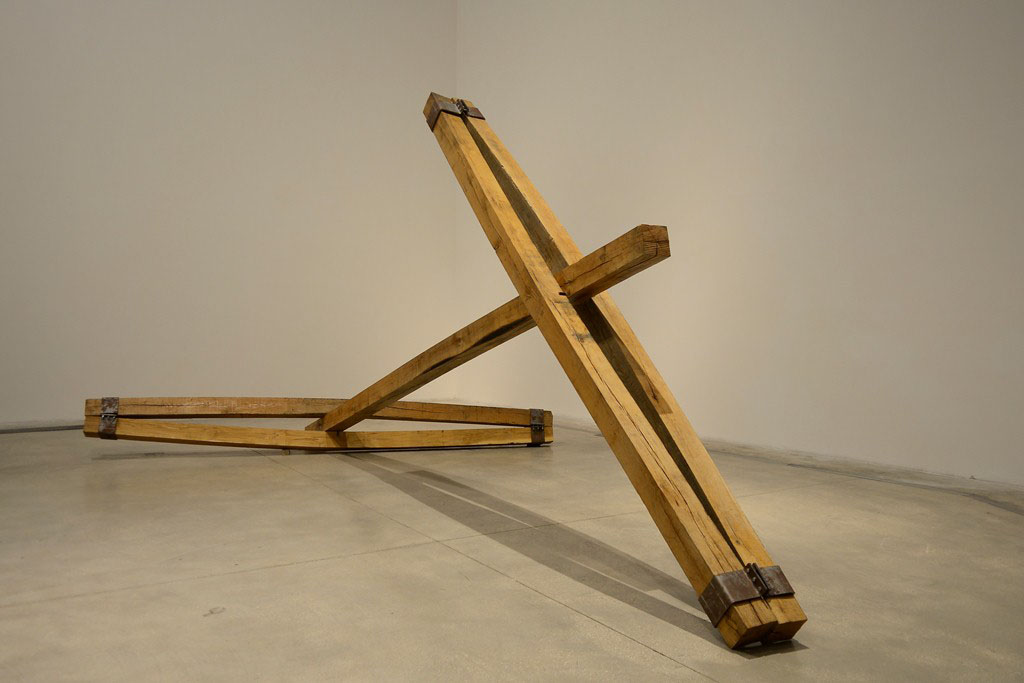 Nagasawa. Ombra verde
by Bruno Corà and Aldo Iori
Opening: Monday 22nd April 2013, 7 p.m.
Period: 2013, April 23rd – September 1st
MACRO Sala Enel – via Nizza 138
The exhibition of Hidetoshi Nagasawa at MACRO marks the return to Rome of the Japanese artist, permanently living in Italy since 1967.
The exhibition, expressly designed by artist and by Bruno Corà, will host 7 sculptures in the large indoor and outdoor spaces of MACRO.
The personal experience of the artist is directly related to his artistic research. His extraordinary life combines art and life in a unique and extraordinary manner. Hidetoshi Nagasawa's works are characterized by the constant presence of two poles, East and West, not opposed but shared definition of accuracy due to the balance between the parties which compose it. This is returned to the role of paradigmatic form of thinking of the world and, at the same time, harmony generator element within the complexity of human life, constantly divided between tradition and innovation.
The works of Nagasawa define a particular space reminiscent of Western history and zen culture: the space of ' Ma ' represents the mental and physical threshold where focus the energies of matter, the look and thought of beholders. Even the bigger ones always retain a simple load of ideality in the gesture that brings the centrality of the man, model and the beginning of every primary meter element altogether.
From 1972 he is interested in sculpture, producing art works using materials such as gold, marble and bronze. His plastic language acquires its own character, an originality that takes the strength from the merge of mythical and religious elements, derived from its original culture, the Orient, and from that one adopted in Europe. In the eighties, a change occurs, which leads the artist to create environments on the border between sculpture and architecture. The idea of the suspension becomes the core of his research with the concept of anti-gravitational art works. Starting in the nineties, becomes preponderant the garden, the natural element. The themes of the fence and the crossing are at the center of his poetic for creating "places".
The artist has recently made a series of large retrospective exhibitions in major museums in Japan: sculpture at the Museum of Modern Art, Saitama, Kawagoe and at the National Museum of Art in Osaka, the Museum of Modern Art, Kamakura and Hayama and Nagasaki Prefectural Art Museum.
He exhibits all over the world for important national and international events. He has participated in many editions of Biennal of Venice and at the 9th edition of "Documenta" in Kassel. His art works are in many national and international public and private collections. Various are his permanent landscape installations.

works on display
Work intside
Voluta, 1993, marble, 128 x 1252 x 458 cm.
Iride, 1993, marble, iron, brass and copper, 550 x 500 x 500 cm.
Ombra verde, 2000, iron, baked clay, water, 200 x 400 x 400 cm.
Yugao Jole, 2005-2013, copper, alluminium, steel cable, 150 x 400 x 400 cm.
Tate no me, 2007, wood and iron, 320 x 700 x 700 cm.
Selinunte Dormiveglia, 2009, marble, 135 x 70 x 80 cm.
Epicarmo, 2012, marble and steel, 230 x 230 x 230 cm.

Work outside
Aquila, 1989 iron and brass 650 x 120 x 300 cm.
Artist: Hidetoshi Nagasawa
Project exhibition: Bruno Corà and Hidetoshi Nagasawa
Place: Rome, MACRO
Period: 2013, April 23rd – September 1st 
Catalogue texts: Bruno Corà, Aldo Iori, Jole De Sanna, oshiaki Minemura and Bartolomeo Pietromarchi
Organization: Giacomo Guidi Arte Contemporanea Gallery – Rome
In collaboration with Italy-Japan Foundation
Under the patronage of The Province of Rome, Embassy of Japan in Italy, The Japanese Cultural Institute in Rome
Biography
Hidetoshi Nagasawa was born in 1940 in Tonei, in Manchuria, where his father served as medical officer of the Imperial Army. In 1945 following the invasion of the Soviet Union, the family, forced to leave the country along with all the Japanese civilian residents, embarks on a difficult journey half a year to Japan, just came out defeated by war and in deep economic and social crisis.
Living in the rural village of Kawashima, not far from the capital Tokyo, Nagasawa continues his studies with passion approaching already at the age of fifteen, to art and avant-garde trends. Graduated in 1963 in architecture and Design, find work in one architectural firm, but would like to devote exclusively to artistic activity. In 1966 he married Kimiko Ezaki and, six months after the marriage, the Japan cycling heading towards West: through Thailand, Malaysia, India, Pakistan, Afghanistan, Persia, Iraq, Jordan, Lebanon, Syria and Turkey, and Greece from Brindisi and dates back to the future visiting Naples, Rome and Florence.
In August 1967 arrives in Milan, where he concludes his trip due to the theft of a bicycle. Find a studio worker in Sesto San Giovanni and comes into contact with a group of artists including Castellani, Fabro, Nigro, Trotta and Ongaro; attracted by the many stimuli that offers him the Milan environment, decides to remain and reach by Kimiko. In 1968 that the artistic activity of Nagasawa acquires continuity and awareness; participates in the Festival of Anfo, on Lake ldro, and in February the following year he exhibited for the first time in Brescia at the Gallery Sync.
By 1970 his conceptual work is divided between verbal games engraved on metal plates, actions and video; in this year he presented his first personal exhibition at the galleria in Milan François Lambert and participates in an exhibition on contemporary Japanese art at the Solomon r. Guggenheim Museum in New York. In 1971 he exhibited at the Gallery Toselli in Milan and Rome, rooftop and starts its production disculture. In 1972 participated for the first time at the Venice Biennale and a fruitful working relationship with the gallerist Ardemagni that gave him the opportunity to realize important sculptural works using materials such as gold, bronze and marble.
In 1976 he exhibited alongside Luciano Fabro and Antonio Trotta in the exhibition 'Haptic. The meaning of the sculpture', curated by Jole De Sanna in Verbania-Pallanza. In the 1980s the work of Nagasawa undergoes a widening scale which leads him to create environments at the boundary between sculpture and architecture; his works become and antigravitation reactions, able to defy the laws of physics and gravity. In 1988 he exhibited at the PAC in Milan.
In the 1990s Nagasawa and present throughout the world in important national and international events: in Kassel, Documenta IX, full edition of the Venice Biennale in 1993 with a personal room in the Italian Pavilion and at Bologna in the Villa delle Rose of the Galleria d'Arte Moderna. In the same year, in Japan, inaugurates a retrospective at the Museum of myth and in 1996 he exhibited in a personal exhibition at the Miro Foundation in Palma de Malloca. Milan hosts Nagasawa's work again in 2001 at the Palazzo della Triennale and in 2002 at the Palazzo delle Stelline; the same year at the Palazzo Pretorio, Certaldo is presented the exhibition of the Garden and tea house in Modena in 2003 exposes at the literary Café, Garden Palace Agazzotti.
In 2006 participated in the 12TH International Biennial of sculpture in Carrara and the following year he exhibited at the Tower of Guevara in Ischia. In 2008 the opera Garden toppled Park-Museum of Villa medicea La Maggia, Quarrata (Pistoia). its work and now present in numerous important public and private collections in America, Belgium and Japan, including: FRAC, Fontevraud; Solomon R Guggenheim Museum, New York; Middelheim Museum, Antwerp; The National Museum of Modern Art, Osaka; Museum of Contemporary Art, Hiroshima; Town Hall, Adachi-ku, Tokyo; Art Tower, Mito; Contemporary Art center, Mito.

Curators
Bruno Corà (Rome, 1943). Art critic and historian, was one of the founders (in 1970) of the International Meetings of Art of Rome. From 1979 to January 1999 is Professor of art history at the Academy of fine arts in Perugia. From 1999 to 2006 is Professor in contract discipline contemporary art history at the University of Cassino. From 2005 to 2007 he has been teaching contract of the discipline of restoration of surfaces decorated monuments at the Faculty of architecture of the University of Florence.
Founder and Director of the quarterly periodical Anoir, contemporary art, Eblanc rouge, Uvert, Obleu: (22 numbers published from 1980 to 1988), which have contributed the greatest contemporary artists and art scholars. In 1986 he was elected for a three-year period, a member of the Board of Directors of the Centre d'Art Contemporain in Grenoble and of the Technical Committee of the Fonds Regional Art Contemporain of Rhône-Alpes region. The Magazin of Grenoble on the Foundation and starting de l'Ecole du Centre National d'Art Contemporain de Grenoble. From 1993 to 2001 is responsible for programming of Contemporary Visual Arts Palazzo Fabroni in Pistoia, a position bestowed by the Municipality of the city.
From October 1995 to 2002 he is Director of the Centro per l'arte Contemporanea Luigi Pecci in Prato.
Since October 2001 he was appointed Scientific Advisor of the Committee on the implementation of the Centro Arte Contemporanea, former Leader of Florence Rifredi. In 2002 he was appointed scientific curator responsible for the European Biennial Visual arts prize of the Gulf of La Spezia, where will the editions 2002, 2004 and 2006. Since 2003 is called to design the new center of modern and contemporary art, which opened in May 2004 and runs until the end of 2007. In 2005 is charged by the Comune di Carrara's design of the polo museale of that city. The project, completed in 2007, is made together with the arch. M. De Vita and Economist p. l. Lot. In 2006 is in charge of the 12TH International Biennial of art in Carrara and provide sorting and the opening of the Museum of Sculpture (CAPIC) that starts both in July of that year.
From January 2008 to June 2010 is Director of the Museum of art, Coordinator of the cultural center and Director of the Ministry of culture of the city of Lugano.
Since 1976 is journalist enrolled publicists. He is the author of numerous monographs and essays on contemporary art (some 400) published in books, catalogues and magazines. Lives and works in Umbria and Rome.
Aldo Iori (Crema 1954) has conducted studies of architecture, restoration and history of ancient art and contemporary art in Italy and abroad. Since 1983 he is a professor for the disciplines of art history at the Academy's 'Pietro Vannucci in Perugia and in recent years a lecturer at the University of Perugia. As curator of exhibitions or scientific texts on their work is concerned with the work of numerous national and international artists attending exhibitions for the municipality of Perugia, the Centro per l'arte contemporanea Luigi Pecci Prato', Galleria Nazionale dell'Umbria, Centro Arte Moderna e Contemporanea della Spezia and the Foundation Apulia Casentino of Catania. Currently collaborates with several private galleries including Gallery James Guidi & MG contemporary art of Rome and the Gallery Maria Grazia Del Prete di Roma and the magazine International Letter (Rome, Paris, Berlin). Among the numerous catalogues and books has published monographs Diego Esposito (Shin, Brescia, 2009), ' Eugenio Giliberti (Gli Ori, Prato, 2008), 'Simona Frillici, (ed. Damiani, Bologna, 2008) 'Gianfranco Chiavacci' (Settegiorni, Pistoia, 2007), 'Karpüseeler' (with m. Scotini, Gramma, Perugia, 2005) is Cardinal Saurian' (Gramma, Perugia, 2001). Lives and works in Rome and Perugia.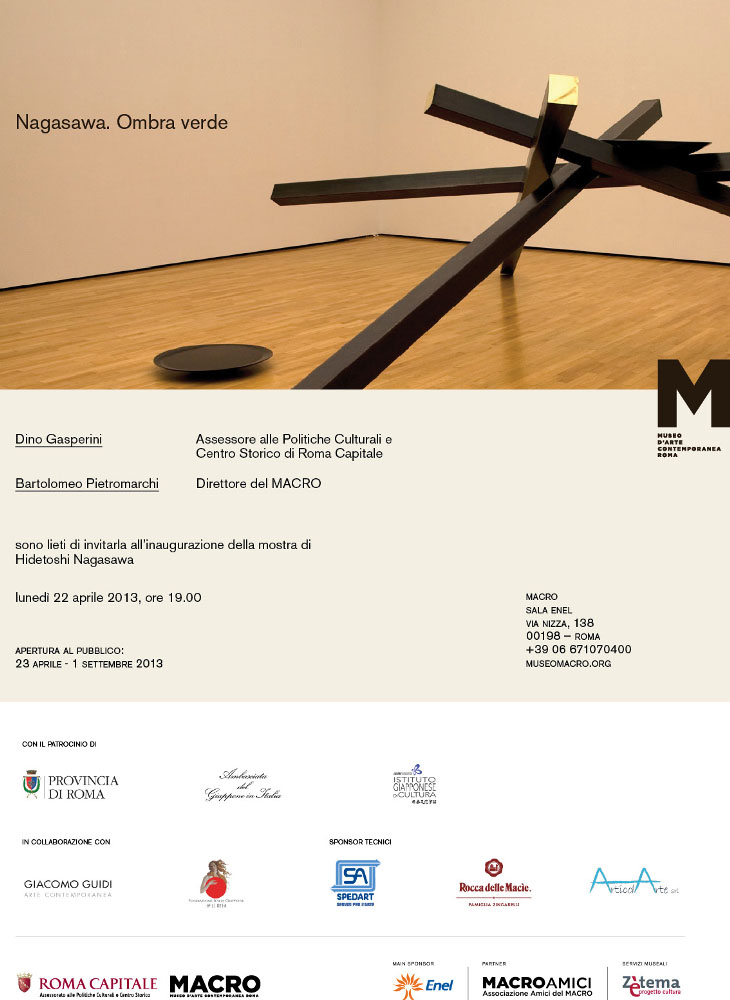 Nagasawa. Ombra verde
a cura di Bruno Corà e Aldo Iori
Inaugurazione: lunedì 22 aprile 2013, ore 19.00
Apertura al pubblico: 23 aprile – 15 settembre 2013
MACRO – Sala Enel – via Nizza 138 – Roma
Il MACRO – Museo d'Arte Contemporanea Roma presenta, dal 23 aprile al 15 settembre 2013, la mostra personale di Hidetoshi Nagasawa, a cura di Bruno Corà e Aldo Iori, per celebrare la lunga carriera dell'artista giapponese, nato in Manciuria nel 1940 e stabilmente in Italia dal 1967.
La mostra gode del Patrocinio della Provincia di Roma, dell'Ambasciata del Giappone in Italia e dell'Istituto Giapponese di Cultura a Roma.
Dopo la sua ultima apparizione romana nel 1997 – in occasione della quale aveva realizzato Il giardino di Abeona nel parco regionale dell'Appia Antica – questa nuova grande mostra, presentando un nucleo di opere rappresentative degli sviluppi più recenti del suo lavoro, intende essere un importante riconoscimento a uno dei protagonisti della scultura internazionale contemporanea.
La sua ricerca, inserita dalla fine degli anni Sessanta nel solco dell'arte concettuale con opere concentrate su giochi verbali, azioni e video, negli anni Ottanta subisce un cambiamento di scala, concretizzandosi in ambienti immersivi al confine tra scultura e architettura e in opere capaci di sfidare le leggi della fisica e la forza di gravità.
Le sue opere rivelano la costante compresenza di due poli, Oriente e Occidente, che partecipano alla definizione delle forme in un'esattezza dovuta all'equilibrio tra le parti. Inoltre l'artista, avvicinandosi alla ricerca di maestri come Lucio Fontana, conserva nei suoi lavori di maggiore dimensione un semplice carico di idealità nel gesto che riconduce alla centralità dell'uomo, modello primario di ogni inizio ed elemento misuratore del tutto.
In mostra sette grandi gruppi plastici, realizzati in materiali come marmo, legno e metallo, tra cui anche un'opera totalmente inedita, Epicarmo (2012).
Iride (1993), Ombra verde (2000), Yugao-Jole (2005 – 2013), Tate no me (2007), Selinunte – Dormiveglia (2009), rivelano l'abilità dell'artista nel relazionarsi con la monumentalità dello spazio espositivo, instaurando un dialogo con le grandi dimensioni della Sala Enel.
La mostra inoltre esce dallo spazio propriamente espositivo con l'installazione Aquila (1989) che, esposta nella Hall, interagisce così con gli spazi esterni del Museo.
La mostra sarà accompagnata da un ampio catalogo – pubblicato durante il periodo di apertura della mostra – che raccoglie, oltre un ampio apparato iconografico, i testi dei curatori, Bruno Corà e Aldo Iori, e i contributi critici di Jole De Sanna, Toshiaki Minemura e Bartolomeo Pietromarchi.
Il progetto è realizzato in collaborazione con Giacomo Guidi Arte Contemporanea e con la Fondazione Italia Giappone.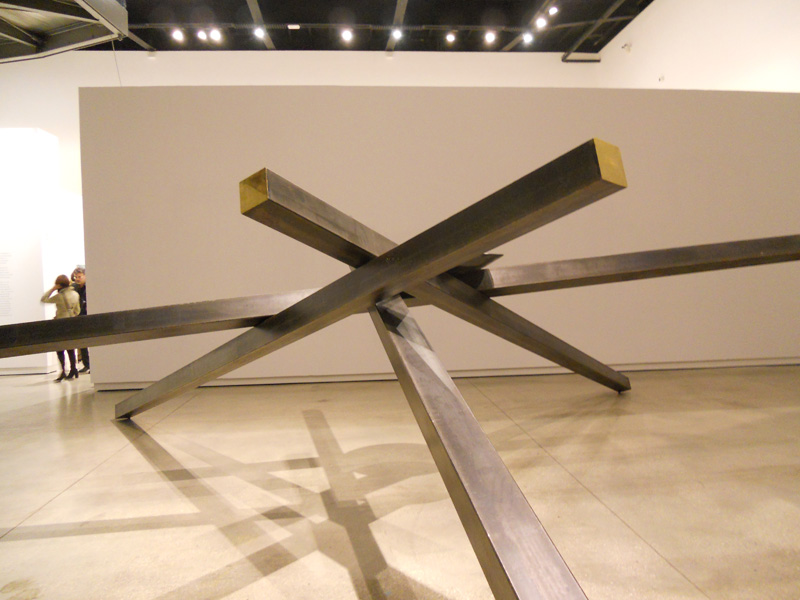 Biografia
Hidetoshi Nagasawa è nato nel 1940 a Tonei (Manciuria) da una famiglia giapponese, attualmente vive e lavora a Milano. Dopo la laurea in Architettura e Design, nel 1966 parte dal Giappone in bicicletta dirigendosi verso Ovest attraverso Thailandia, Malesia, India, Pakistan, Afghanistan, Persia, Iraq, Giordania, Libano, Siria, Turchia e Grecia. Nell'agosto del 1967 arriva a Milano, dove, a causa del furto della bicicletta, si conclude il suo viaggio. Dopo aver stabilito il proprio studio nel quartiere operaio di Sesto San Giovanni, entra lì in stretto contatto con il gruppo di artisti formato da Castellani, Fabro, Nigro, Trotta e Ongaro, e a partire dal 1968 si dedica all'attività artistica con continuità e consapevolezza, esponendo nel febbraio dell'anno successivo per la prima volta a Brescia presso la Galleria Sincron. Nel 1970 presenta la sua prima personale alla galleria milanese François Lambert e partecipa a una mostra collettiva sull'arte contemporanea giapponese presso il Solomon R. Guggenheim Museum di New York. Nel 1971 avvia la produzione di sculture, mentre nell'anno seguente partecipa per la prima volta alla Biennale di Venezia. Particolarmente significativo è il sodalizio con Luciano Fabro e Jole De Sanna; avviato nel 1976 con la mostra 'Aptico' il senso della Scultura, il rapporto di collaborazione durerà ininterrottamente fino alla scomparsa dei due grandi protagonisti del gruppo formatosi attorno alla Casa degli Artisti di Milano. Nel 1988 espone presso il PAC di Milano, nel 1992 alla IX edizione di Documenta (Kassel) e nel 1993 alla Biennale di Venezia, con una sala personale all'interno del Padiglione Italia, e a Bologna nei locali di Villa delle Rose della Galleria d'Arte Moderna. Nello stesso anno inaugura in Giappone una mostra antologica presso il Mito Art Museum e nel 1996 espone in una personale alla Fondazione Mirò di Palma de Malloca. Milano ospita nuovamente il lavoro di Nagasawa nel 2001 al Palazzo della Triennale e nel 2002 a Palazzo delle Stelline; nello stesso anno a Palazzo Pretorio di Certaldo viene presentata la mostra Il giardino della casa da tè e nel 2003 a Modena espone presso il Caffé letterario, Giardino Palazzo Agazzotti. Nel 2006 partecipa alla XII Biennale Internazionale di Scultura di Carrara e l'anno successivo espone presso la Torre di Guevara di Ischia. Nel 2008 realizza l'opera Giardino rovesciato per il parco-museo della Villa medicea La Maggia a Quarrata (Pistoia). I suoi lavori figurano in importanti collezioni pubbliche e private negli Stati Uniti, in Belgio e in Giappone, tra cui: FRAC, Fontevraud; Solomon R Guggenheim Museum, New York; Middelheim Museum, Anversa; The National Museum of Modern Art, Osaka; Museum of Contemporary Art, Hiroshima; Municipio Adachi-ku, Tokyo; Art Tower, Mito; Contemporary Art center, Mito. Nagasawa ha di recente presentato una serie di grandi mostre antologiche nei principali musei di scultura del Giappone: al Museum of Modern Art di Saitama e di Kawagoe, al National Museum of Art di Osaka, al Museum of Modern Art di Kamakura e di Hayama e al Nagasaki Prefectural Art Museum.

INFO PUBBLICO
MACRO
via Nizza 138, Roma
Orario: da martedì a domenica, ore 11.00-19.00 / sabato: ore 11.00-22.00 (la biglietteria chiude un'ora prima)
Da martedì a domenica dalle ore 11.00 alle ore 21.00 apertura dei cancelli (via Nizza 138 e via Reggio Emilia 54) per accedere agli spazi liberi: foyer, Hall, ristorante, caffetteria, terrazza e spazio Area.
INFO: +39 06 67 10 70 400 – www.museomacro.org
Join us on Facebook and Twitter: MACRO – Museo d'Arte Contemporanea Roma
INFO STAMPA
Ufficio Stampa MACRO
T. +39 06 67 10 70 443 / stampa.macro@comune.roma.it
Maria Bonmassar / M. +39 335 49 03 11 / maria.bonmassar@tiscali.it
Ufficio Stampa Zètema Progetto Cultura
Patrizia Morici / T. +39 06 82 07 73 71 / M. +39 348 54 86 548 / www.zetema.it