PHOTOGALLERY-JILL ROCK @ STUDIO.RA ROME – PSYCHOGEOGRAPHICAL WANDERINGS IN THE CAFFARELLA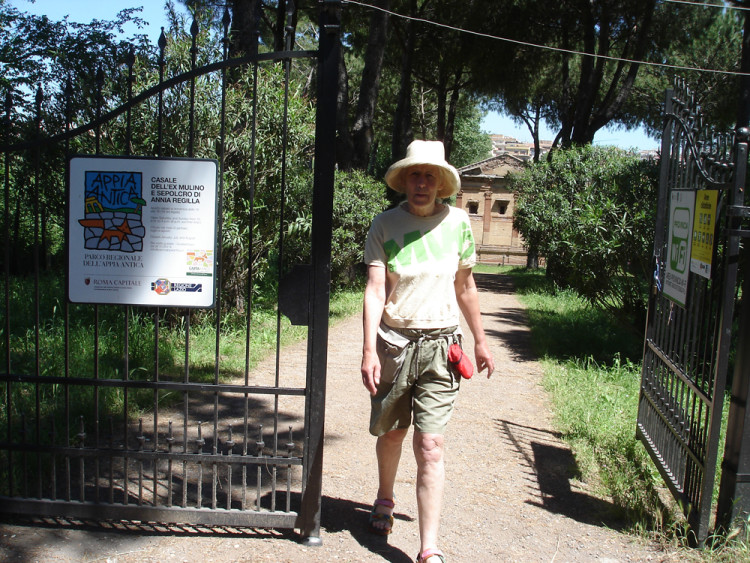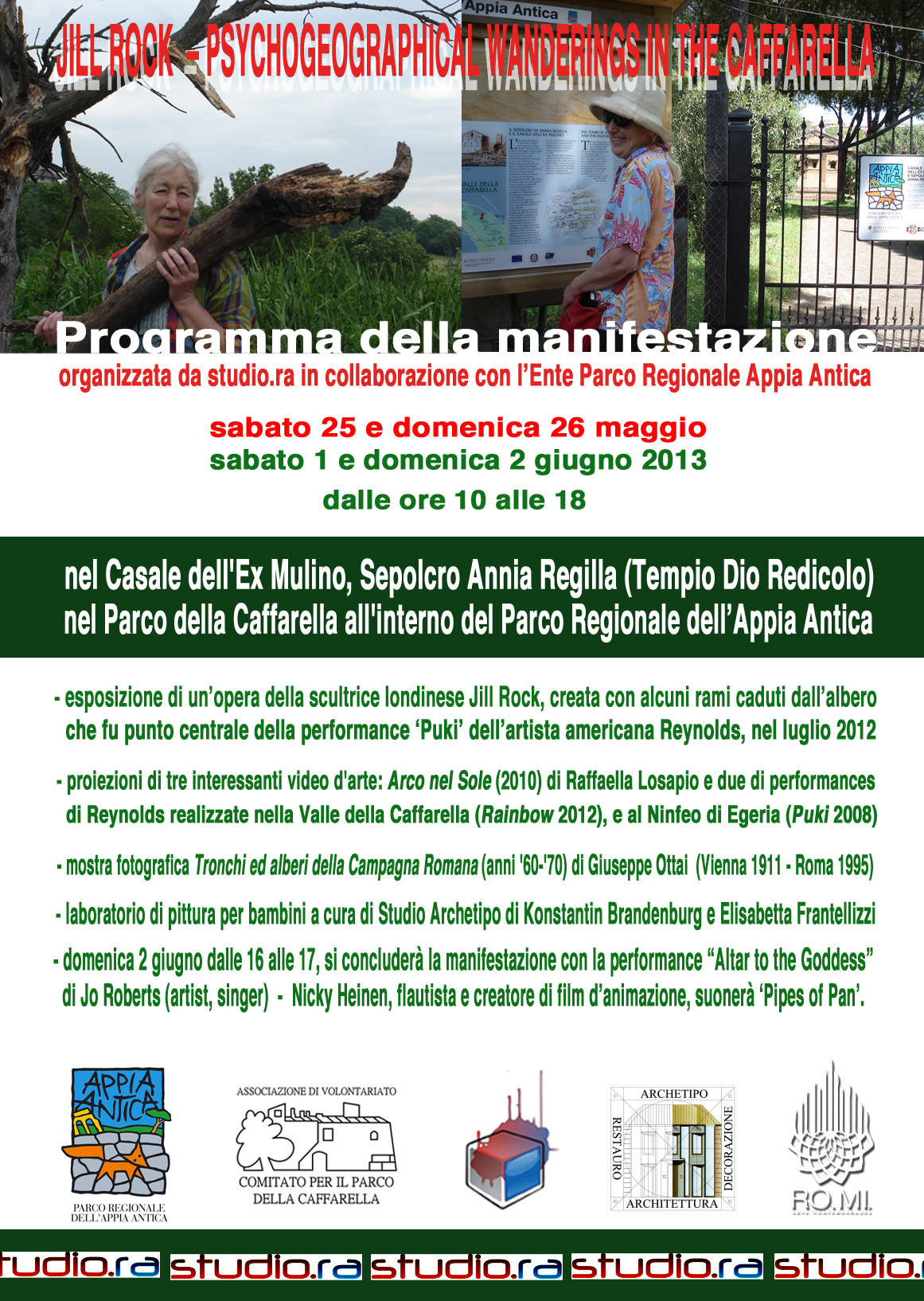 Jill Rock @ studio.ra – Psychogeographycal Wanderings in the Caffarella, Rome
UNITEVI A NOI AL WORK IN PROGRESS DEL PROGETTO ARTE BIOLOGICA DI JILL ROCK PRESSO STUDIO.RA
Info: 3491597571.
Programma conclusivo della manifestazione
organizzata da studio.ra in collaborazione con l'Ente Parco Regionale Appia Antica
Sabato 25 e domenica 26 maggio
sabato 1 e domenica 2 giugno 2013
dalle ore 10 alle 18
presso il Casale dell'Ex Mulino, Sepolcro Annia Regilla (Tempio Dio Redicolo) nel Parco della Caffarella all'interno del Parco Regionale dell'Appia Antica
Jill Rock presenterà all'Ex Mulino un'opera creata con alcuni rami caduti dall'albero che fu punto centrale della performance 'Puki' dell'artista americana Reynolds, nel luglio 2012
saranno proiettati tre video d'arte: Arco nel Sole (2010) di Raffaella Losapio e due di performances di Reynolds realizzate nella Valle della Caffarella (Rainbow, luglio 2012), e al Ninfeo di Egeria (Puki, agosto 2008)
verrà allestita la mostra fotografica 'Tronchi ed alberi della Campagna Romana' (anni '6o-'70) di Giuseppe Ottai  (Vienna 1911 – Roma 1995).
laboratorio di pittura per bambini a cura di Studio Archetipo di Konstantin Brandenburg e Elisabetta Frantellizzi
sabato 25 maggio, alle ore 17,30, Poetica D'Annunzio e D'Artisti (Goethe, Piranesi, Stendhal) su La Caffarella di Maurizio Sinibaldi con musiche di Carlo Leoni
http://www.urbanexperience.it/eventi/walk-show-di-psicogeografia-urbana-dal-cinema-airone-di-libera-al-tempio-di-dio-rediculo-ascoltando-la-danza-delle-api/
domenica 2 giugno dalle 16 alle 17, al Casale dell'Ex Mulino si concluderà la manifestazione con la performance "Altar to the Goddess"
Joanne Roberts: Artist, singer, performance artist
Nicky Heinen, flautista e creatrice di film d'animazione, suonerà 'Pipes of Pan' .
Per persone od artisti interessati ad aderire all'evento:
Facebook events: https://www.facebook.com/events/626735544006559/?context=create

Sabato 25, ore 16, da Ex Cinema Airone, Via Lidia 44 (Appio Latino)

Cineairone e Urban Experience invitano al Walk Show di psicogeografia urbana: dal Cinema Airone di Libera al Tempio di Dio Rediculo, ascoltando la danza delle api.
Un'occasione per fare di un'esplorazione urbana (psicogeografica, secondo l'accezione situazionista di attenzione creativa erratica) un'esperienza performativa basata sull'ascolto via radio di particolari paesaggi sonori e sulla conversazione nomade durante una passeggiata radio e web assistita.
Si partirà dall'Ex Cinema Airone, un emblematico capolavoro dell'architetto razionalista Adalberto Libera (noto anche per la Casa Malaparte a Capri), realizzato tra il 1952 ed il 1956, abbandonato ed ora oggetto di un coraggioso intervento di recupero. Si prevede di trasformarlo in uno spazio polifunzionale per cinema, teatro, performance e multimedialità. In questo luogo incredibilmente dimenticato sarà possibile ammirare gli affreschi di Giuseppe Capogrossi che adornano l'ingresso e ascoltare voci che ne descrivono l'attività di restauro.
Dal cortile del Cineairone si entrerà nel Parco dell'Appia Antica, conversando con i protagonisti di quell'avventura di recupero e ascoltando "alberi parlanti" e guardiaparco che si curano delle arnie.
In radiocuffia ascolteremo la danza delle api, quella del falcetto e quell'addome, un armonico ronzio che traccia i percorsi per il nettare migliore, esprimendo l'intelligenza organizzativa dello sciame delle api.
Si raggiungerà la Valle della Caffarella fino al Tempio di Dio Rediculo (detto anche cenotafio di Annia Regilla) dedicato al dio protettore di coloro (rediculi, dal latino "redire": ritornare) che ritornavano a Roma dopo essere stati a lungo lontani.
Qui si concluderà la passeggiata nella mostra della scultrice londinese Jill Rock "PSYCHOGEOGRAPHICAL WANDERINGS IN THE CAFFARELLA", un titolo emblematico, chiude il cerchio.
Rounding off the Project
Saturday 25 May and Sunday 26 May
Saturday 1 June and Sunday 2 June 2013
from 10 am to 6 pm
at site of the Casale dell'Ex Mulino (Old Mill Barn) in the Sepolcro Annia Regilla (Annia Regilla Cenotaph), (also called the Temple of the Dio Redicolo or god of returning Romans), in the Caffarella Park, which is part of the Appia Antica Regional Park
• Jill Rock presents a work especially created for the Casale Ex Mulino with fallen branches from the tree which formed the centre-piece of the 'Puki Performance' by Reynolds in July 2012
• three videos will be screened: Arco nel sole (2010) by Raffaella Losapio and two of performances in the Caffarella Valley (Rainbow in July 2012), and at the Nympheum of Egeria (Puki in August 2008) by US performance artist Reynolds
• an exhibition of photographs: 'Boughs, Trunks and Trees in the Roman Countryside' (photographs from the 196os and 1970s) by photographer Giuseppe Ottai (born Vienna 1911 – died Rome, December 1995)
• http://www.urbanexperience.it/eventi/walk-show-di-psicogeografia-urbana-dal-cinema-airone-di-libera-al-tempio-di-dio-rediculo-ascoltando-la-danza-delle-api/
• Altar to the Goddess – Casale Ex Mulino – Caffarella
An improvised performance on the theme of Gods e Goddess's in the landscape 2nd June, Sunday – 4:00-5:00 pm – Casale Ex Mulino – Caffarella
Joanne Roberts: Artist, singer, performance artist
Nicky Heinen – Flautist e player of the "Pipes of Pan"
A performance to mark the finale of "Jill Rock @ studio.ra – psychogeographical wanderings in the Caffarella – Rome"
Saturday and Sunday, June 1st-2nd from 2:00pm – 5:00 pm Joanne Roberts will create the altar to the Goddess using stones collected in the Caffarella printed with Botanical specimens by herself and people who have joined her in the workshops on Saturday and Sunday – June 1st- 2nd from 2 pm-5 pm.
Any artists who have an interest in participating:
Facebook events: https://www.facebook.com/events/626735544006559/?context=create
Link correlato: https://www.1fmediaproject.net/2013/05/28/jill-rock-studio-ra-rome-psychogeographical-wanderings-in-the-caffarella/
L'acqua sarà gentilmente offerta da Egeria – Acqua Santa di Roma s.r.l. Via dell'Almone 111, Roma – www.egeria.it
I confetti per i bambini saranno gentilmente offerti da OG creazioni di Orietta Greci Via Segesta, 14/18/20, Roma – www.ogcreazioni.com Tel. 06.789000 – info@ogcreazioni.com

Position the cursor on the images to view captions, click on images to enlarge them. 

Posizionare il cursore sulle immagini per leggere le didascalie; cliccare sulle immagini per ingrandirle.