"HAPPY BIRTHDAY, GALERIE PERROTIN / 25 YEARS"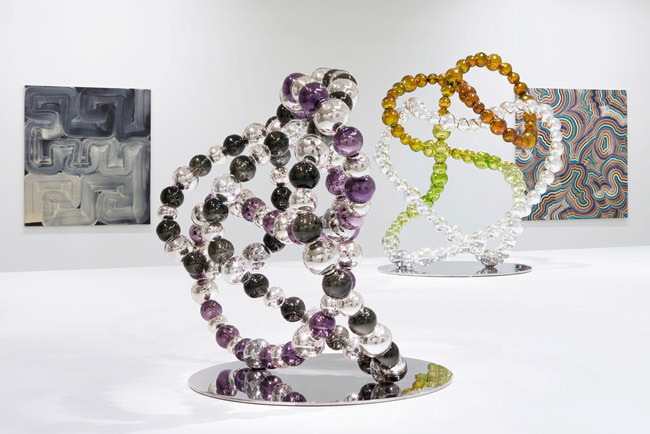 "HAPPY BIRTHDAY, GALERIE PERROTIN / 25 YEARS"
Tripostal, Lille
11 October 2013 – 12 January 2014
www.perrotin.com/ – www.lille3000.eu/collector/fr/tripostal
Continuing in its series of invitations to large collections lille3000 has invited the Galerie Perrotin to take over the spaces of the Tripostal in Lille. This exhibition is an opportunity to take stock of the vision of Emmanuel Perrotin, through a selection of works by artists whom he has exhibited all through his 25-year career, works that for the most part are held in public or private collections.
The large open spaces of the Tripostal accommodate 50 works by 81 artists: sculptures and monumental installations by Wim Delvoye, Daniel Firman and Tatiana Trouvé, mobiles by Lionel Estève, "La Filature" and "Vingt ans après" by Sophie Calle, the famous horse INRI by Maurizio Cattelan and works specially designed for the venue by Gelitin, Guy Limone and Pieter Vermeersch. Other rooms feature works by Japanese artists such as Aya Takano, Mr. and Chiho Aoshima. Many French artists are represented, including Bernard Frize, JR, Kolkoz, Ange Leccia, Jean-Michel Othoniel, Philippe Parreno, Claude Rutault, Xavier Veilhan and Jean-Luc Vilmouth. Visitors will also discover two sculptures by the Scandinavian artists Elmgreen & Dragset as well as a film by Jesper Just projected onto a large screen.
"It's sad to have to organise your own birthday. So when Martine Aubry and Didier Fusillier were kind enough to invite me to Lille, the offer was too good to turn down. By handing over the Tripostal to me, a 6000m2 space, they gave me the opportunity to present both the artists who have been part of my career along the way and those who are part of the current programming at my gallery." Emmanuel Perrotin
Artists exhibited:
Chiho Aoshima, Ivan Argote, Daniel Arsham, Mark Barrow, Hernan Bas, Anna Betbeze, Jes Brinch, Sophie Calle, Maurizio Cattelan, Peter Coffin, Martin Creed, Johan Creten, Matthew Day Jackson, Wim Delvoye, Eric Duyckaerts, Elmgreen & Dragset, Kate Ericson & Mel Ziegler, Leandro Erlich, Lionel Estève, Tom of Finland, Daniel Firman, Mark Flood, Bernard Frize, Giuseppe Gabellone, Gelitin, Dominique Gonzalez-Foerster, Thilo Heinzmann, John Henderson, Gregor Hildebrandt, Noritoshi Hirakawa, Damien Hirst, (IFP) Information Fiction Publicité, Wendy Jacob, Sergej Jensen, Bernard Joisten, Pierre Joseph, JR, Yeondoo Jung, Jesper Just, KAWS, Jean-Pierre Khazem, Bharti Kher, Kolkoz, Klara Kristalova, Ange Leccia, Pierre Le-Tan, Guy Limone, Adam McEwen, Ryan McGinley, Mariko Mori, Farhad Moshiri, Olivier Mosset, Gianni Motti, Mr., Takashi Murakami, Kaz Oshiro, Jean-Michel Othoniel, Philippe Parreno, Paola Pivi, Henrik Plenge Jakobsen, R.H. Quaytman, Terry Richardson, Germaine Richier, Claude Rutault, Michael Sailstorfer, Andre Saraiva, Aya Takano, Tatiana Trouvé, Piotr Uklanski, Chris Vasell, Xavier Veilhan, Pieter Vermeersch, Jean-Luc Vilmouth, John Waters, Pae White, Kenji Yanobe, Sun Yuan & Peng Yu and Peter Zimmermann.