KLARA KRISTALOVA "UNDERWORLD" – GALERIE PERROTIN – NEW YORK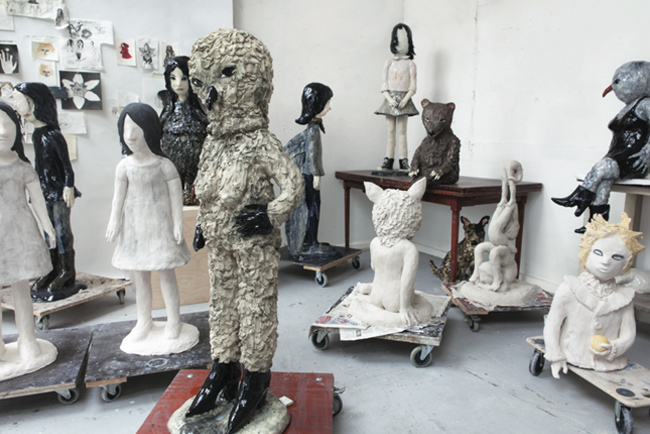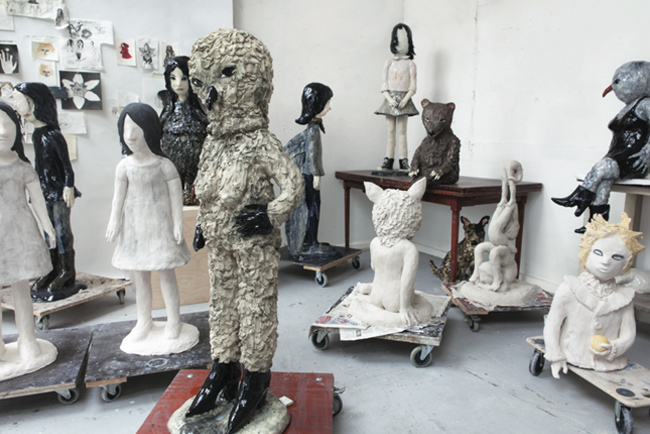 KLARA KRISTALOVA "Underworld"
February 27 – April 12, 2014
Opening Reception: Thursday, February 27, 6-8 PM
Galerie Perrotin
909 Madison Avenue, New York
There is something fascinating about circuses, not the big productions kind, but the small family type that travel around the countryside. They aren't perfect but you get a sense that they really try; the kind of atmosphere were strange things can happen but we are still close to ordinary life. – Klara Kristalova
Galerie Perrotin, New York is pleased to present "Underworld", its first solo exhibition by Klara Kristalova in New York and the artist's fourth solo show with Galerie Perrotin.
Klara Kristalova constructs a dark, odd, and yet familiar world. The characters that inhabit her universe are peculiar, alone, quiet, perhaps lost, as if they have just escaped from a cruel tale, waiting for a passer-by to stop and indicate the way. Made from glazed ceramics, Kristalova's figures carry a raw, vulnerable, human feel to them. Drawing from Nordic storytelling and traditional myths, Kristalova manages to convey basic human emotions such as fear, love, sadness and guilt, which emerge from her work like memories from our own childhood.
For her first exhibition at Galerie Perrotin, New York, Kristalova presents a series of new characters who form an ambiguous circus cast: performing acrobats, a bird with a girl's face, a boy with mosquito wings, a magician's daughter. How they ended up together is for us to guess though don't be fooled by their seemingly innocent look. As with "Double Face", they all carry their own enigma of good and evil. Perhaps they deserve their fate; perhaps they are unaware of their own condition. Kristalova crafts their portraits at a specific moment of their mysterious lives, providing us with a few elements before the curtain drops and the show begins, leaving us to write the rest of our their narrative.
Kristalova was born in former Czechoslovakia in 1967 and moved to Sweden with her parents when she was only a year old. She studied at the Royal University College of Fine Art in Stockholm and lives in Norrtälje, Sweden. Recent exhibitions include the Göteborgs Konstmuseum, Sweden (2012), Bonniers Konsthall, Stockholm (2012), San Francisco Museum of Modern Art (2011) and SITE Santa Fe, New Mexico (2009), among many others.
The exhibition "Underworld" will be on view at Galerie Perrotin, 909 Madison Avenue, New York, NY 10021, Monday to Saturday (10am-6pm) and will be presented at the same time as another solo exhibition by Klara Kristalova, "Big Girl Now" at Lehmann Maupin, 201 Chrystie Street, New York, NY 10002, from February 27 – April 26, 2014.