GUEST, DOUGLAS HENDERSON – ELISA MONALDI | SAN MARINO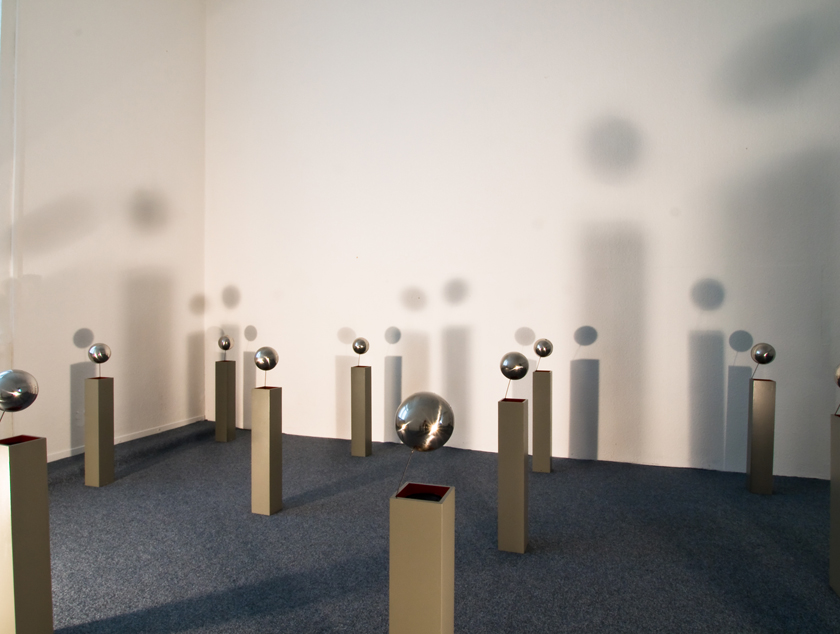 GUEST
DOUGLAS HENDERSON – ELISA MONALDI
DECEMBER 17 – JANUARY 24 2011
vernissage Friday, December 17, 6.00 p.m.
San Francesco Museum (via Basilicius, San Marino)
San Marino Modern and Contemporary Art Gallery
The San Marino Modern and Contemporary Art Gallery is glad to announce, with the double personal exhibition dedicated to Douglas Henderson and Elisa Monaldi, the beginning of the third exhibition of the GUEST series.
The project, organized by the Modern and Contemporary Art Gallery and curated by Massimiliano Messieri, offers the Sammarinese artists the opportunity to relate and converse with as many artists of different nationalities who have been active for years internationally. Two are its significant functions, one is that of investigating on making art in San Marino and the other is that of joining the international circuits. The project is supported by the militant critic Valerio Dehò, who in every bi-personal exhibition works side by side with a young Sammarinese critic, on this occasion Francesca Buonfrate. The third exhibition of the Guest series confronts the Baltimore sound artist and composer Douglas Henderson with the Sammarinese Elisa Monaldi, two artists who use installation as the expressive instrument of their poetics. Douglas Henderson presents several sound installations of large dimensions which reveal the concept of space-time. The manipulation of time and space produced by Henderson's works gives birth to psycho-auditory events which are different for every user, recalling not a specific place but an imaginary dimension of the ancient world. To paraphrase Resnik, this is a journey the purpose of which is that of finding a place, of imagining a space which can lend the body or be the body which allows lost thoughts to meet again. Elisa Monaldi presents a series of installations in ceramic and wood. With these pieces the Sammarinese artist draws our attention to the familiar everyday objects. She shows us how the matter turned into object can help us understand the current change in contemporary societies. Quoting Waddington, the biologist, the evolutionary characters which are rather insensitive to the environmental changes can be called stable, while those which are rather sensitive can be called labile.
GUEST
Douglas Henderson – Elisa Monaldi
December 17 – January 24 2011
San Francesco Museum (via Basilicius, San Marino)
San Marino Modern and Contemporary Art Gallery
Curated by Massimiliano Messieri
Critical essays by Valerio Dehò and Francesca Buonfrate

For information:
Modern and Contemporary Art Gallery
Scala Bonetti, 2 – 47890 San Marino
tel. 0549.885414 – info.museidistato@pa.sm
GUEST
DOUGLAS HENDERSON – ELISA MONALDI
17 DICEMBRE  – 24 GENNAIO 2011
vernissage venerdì 17 dicembre, ore 18.00
La Galleria d'Arte Moderna e Contemporanea della Repubblica di San Marino è lieta di annunciare con la doppia personale dedicata a Douglas Henderson e Elisa Monaldi, la terza mostra della rassegna GUEST.
Il progetto, organizzato dalla Galleria d'Arte Moderna e Contemporanea e curato da Massimiliano Messieri, offre l'opportunità agli artisti sammarinesi di relazionarsi e dialogare con altrettanti artisti di diversa nazionalità attivi già da anni a livello internazionale. Due le sue significative funzioni, quella di indagine sul fare arte a San Marino e di raccordo con i circuiti internazionali. Il progetto è supportato dal critico militante Valerio Dehò, affiancato in ogni bi-personale da un giovane critico sammarinese, in questa occasione Francesca Buonfrate. La terza mostra del ciclo Guest mette a confronto l'artista-compositore di Baltimora Douglas Henderson con la sammarinese Elisa Monaldi, due artisti che usano come mezzo espressivo della loro poetica l'installazione. Douglas Henderson presenta alcune installazioni sonore di grandi dimensioni, nelle quali si intuisce il concetto di cronotopo. La manipolazione del tempo e dello spazio prodotta dalle opere di Henderson producono eventi psico-uditivi differenti per ogni fruitore, richiamando alla mente non un luogo preciso, ma una dimensione immaginaria del mondo arcaico. Parafrasando Resnik è un viaggio il cui fine è quello di trovare un luogo, di immaginare uno spazio che possa prestare il corpo o essere il corpo che permette ai pensieri smarriti di ritrovarsi. Elisa Monaldi presenta alcune installazioni in ceramica e legno. Con queste opere l'artista sammarinese punta l'attenzione verso gli oggetti quotidiani a noi familiari. Ci mostra come la materia trasformata in oggetto possa aiutarci a capire il cambiamento in atto nelle società contemporanee. Sottolineando il biologo Waddington, i caratteri evolutivi che sono relativamente insensibili ai cambiamenti ambientali si possono chiamare stabili, mentre quelli relativamente sensibili si possono chiamare labili.
GUEST
Douglas Henderson – Elisa Monaldi
17 dicembre – 24 gennaio 2011
Museo San Francesco (via Basilicius, San Marino)
Galleria d'Arte Moderna e Contemporanea della Repubblica di San Marino
A cura di Massimiliano Messieri
Testi critici di Valerio Dehò e Francesca Buonfrate
Per informazioni:
Galleria d'Arte Moderna e Contemporanea
Scala Bonetti, 2 – 47890 San Marino
tel. 0549.885414 – info.museidistato@pa.sm