THE MUSEUM LUDWIG | COLOGNE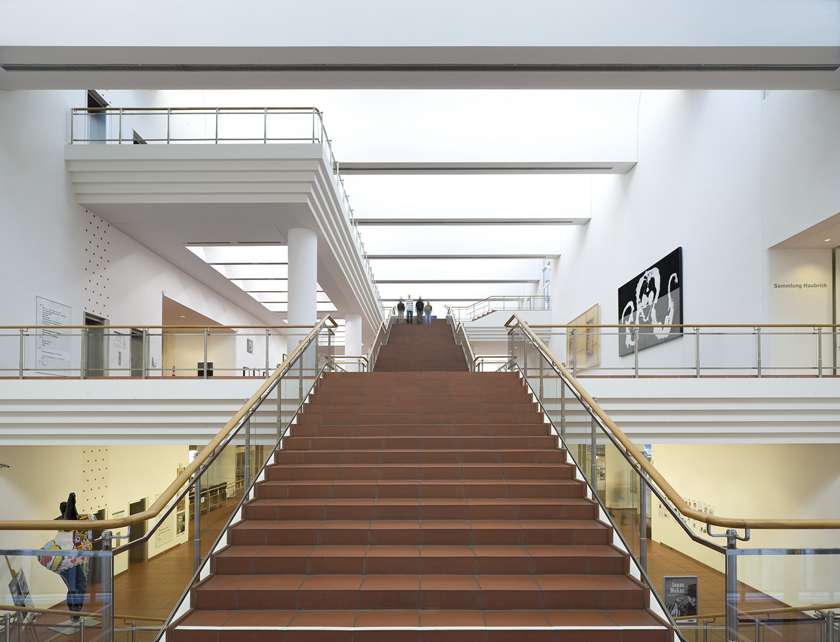 The Museum Ludwig
Heinrich-Böll-Platz  – 50667 Köln
www.museum-ludwig.de –  info@museum-ludwig.de
The Museum Ludwig is one of Germany's most important museums for 20th century art and contemporary art. It was founded in 1976 when Peter and Irene Ludwig presented the City of Cologne with 350 works of modern art. These works predominantly consist of American Pop Art paintings, objects, and sculptures (e.g. by Lichtenstein, Rosenquist, Warhol, and Wesselmann). In this genre the Museum Ludwig boasts the most significant collection outside the USA. A collection of Russian Avant-garde art spanning the years between 1905 and 1935 (Gontcharova, Larionow, Exter, Popova, Malevich, Rodchenko) also came to the museum. In 1986 the Museum Ludwig, together with the Wallraf Richartz Museum, obtained a building of its own situated between Cologne Cathedral, the Rhine river and the central train station. Cologne architects Peter Bussmann and Godfrid Haberer designed the building, which also houses the Philharmonic Hall.

The collection of Cologne lawyer Dr. Josef Haubrich (1889-1961) became part of the Museum Ludwig as well. Immediately after World War II Haubrich had presented the City of Cologne with his collection of Expressionist paintings (Erich Heckel, Karl Schmidt-Rottluff, Ernst Ludwig Kirchner, August Macke, Otto Mueller) and other exponents of Classical Modernism (Marc Chagall, Otto Dix).
In 1994 Peter and Irene Ludwig donated a significant part of their Picasso collection (90 works) to the City of Cologne which made it necessary for the Wallraff Richartz Museum to move to a building of its own. On 31 October 2001, on the occasion of its re-opening, Irene Ludwig donated a further 774 works by Picasso to the Museum Ludwig. Consequently the Museum Ludwig now owns the third largest Picasso collection worldwide, after Barcelona and Paris. It comprises a representative cross-section of all of the artist's creative periods, covering all genres, materials, and techniques.
1977 saw the start of the photographic collection, very early on for a contemporary art museum. The museum managed to purchase around 1000 photographs from L.Fritz Gruber, the initiator of the photokina fairs. As a result, several icons of 20th century photography became part of the museum's collection. In addition, important loans and donations were received, among them industrial photography by A. Renger-Patzsch and photographic works by Russian avant-garde artists. With the Agfa Collection the Museum Ludwig owns an internationally renowned collection on the history of 19th century photography.
Also in the 1970s, the Museum Ludwig began to collect video and film works. As early as 1974 the first 16mm films, among others by Bruce Nauman, Richard Serra, Joan Jonas, and ten further artists were purchased. Since then the museum has continuously expanded its collection. Since 2000 the Museum Ludwig has made a special point of collecting and presenting works representing the technical media in the context of contemporary art. The substantial acquisitions, e.g. of works by Aernout Mik, Renee Green, and Mike Kelley can be seen in this context.