JOEL SHAPIRO – MUSEUM LUDWIG | COLOGNE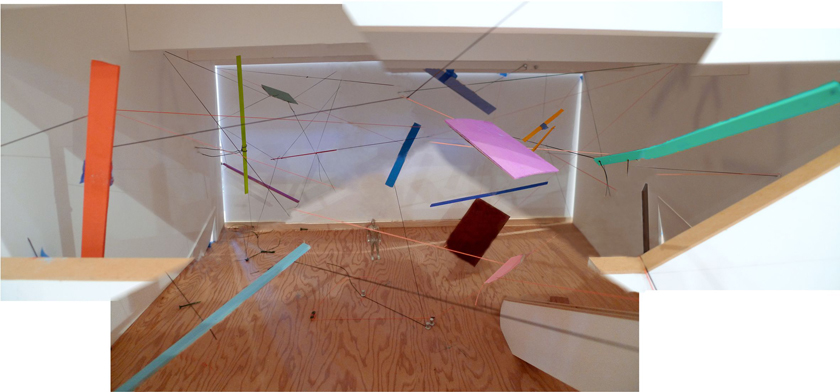 Joel Shapiro
February 26 – May 29, 2011

Museum Ludwig
Heinrich-Böll-Platz  – 50667 Köln
www.museum-ludwig.de
– 
info@museum-ludwig.de
Fifteen free-hanging, colored wooden beams help to generate a new feeling for what space and sculpture can be. American sculptor Joel Shapiro (*1941) will create an installation of new and preexisting works for the Museum Ludwig's big Oberlichtsaal. The pieces will be interwoven into a new structure in the gallery space. Primarily known for his figurative oeuvre in Germany, the Museum Ludwig will inaugurate Joel Shapiro's exceptional exhibition on Friday, February 25, 2011.
Freely floating or barely visible and suspended from ceiling or floor on thin wires, Shapiro's works move in space, thereby transforming the gallery itself into an equally immense and airy sculpture. The picture varies with each step, as borders, dimensions, and colors change. The artist toys both with perception and the construction of space, while his works are not exclusively tied to this one room. Despite all his connections to modernist and minimalist traditions, he produces surprising (work)-constellations and totally new spatial perceptions. When dealing with materials and also in his relationship vis-à-vis space, the recurring issue is transformation. He addresses alteration and termination of supposedly established attributions. Although reduced to basic geometric forms and made of painted wood, the works in the show develop an almost flowing ease and space-dissolving movement.
Shapiro's concept is reminiscent of the Russian constructivists: they attributed the highest priority to experiencing space within their art production. Key terms like construction and dynamics as well as their interplay were pivotal to their expansive, voluminous oeuvre. Yet, even as Shapiro plays with this formal heritage, he transgresses it with ease, freeing it from its utopian charge and leaving material and form their space.
Born in New York in 1941, Joel Shapiro studied Fine Arts at New York University from 1964-69. In 1976 and in 1980, he represented the United States at the 37th and the 39th Venice Biennale. His works were also included at documenta 6 and documenta 7. Shapiro lives and works in New York.
Contact
Valeska Schneider
Press and Public Relations
Heinrich-Böll-Platz, D-50667 Cologne, Germany
Phone +49(0)221 – 221 – 23491
Fax +49(0)221 – 221 – 24114