SCHAULAGER VERNISSAGE – FRANCIS ALÿS: FABIOLA | BASEL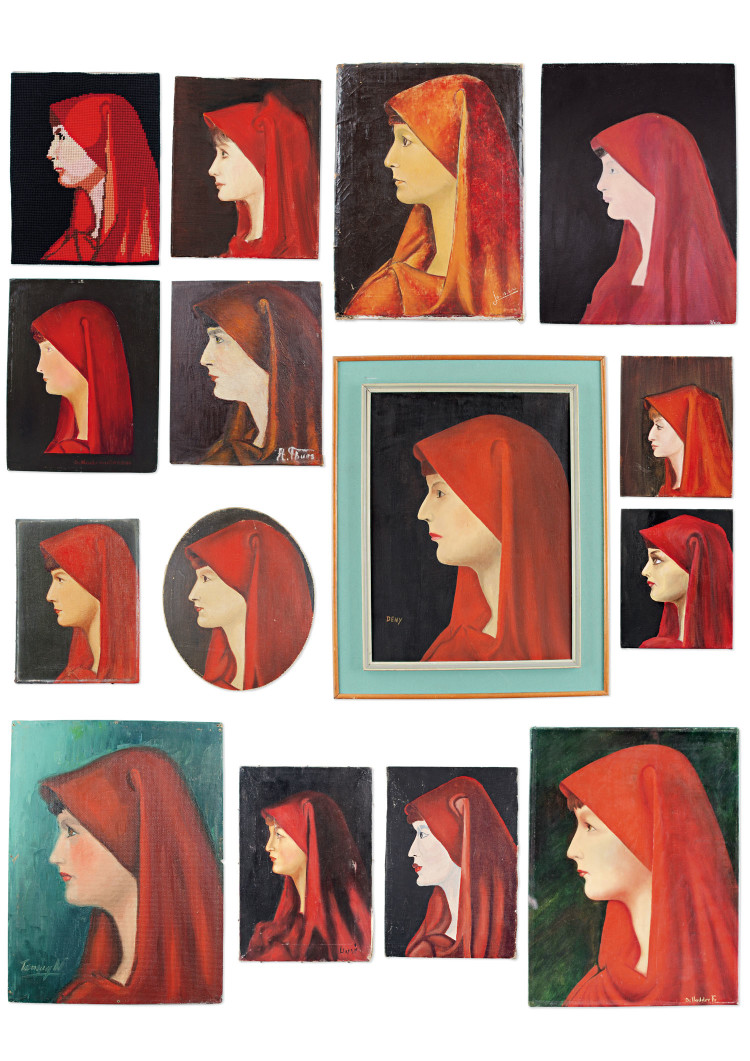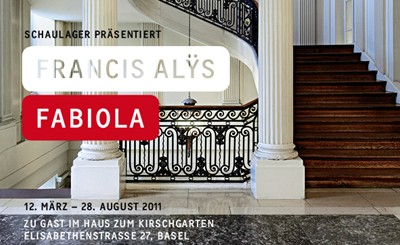 SCHAULAGER
Schaulager, Ruchfeldstrasse 19, CH – 4142 Münchenstein/Basel
T +41 61 335 32 32, F +41 61 335 32 30, www.schaulager.org
LAURENZ FOUNDATION
Vernissage
Friday, 11 March 2011, from 6.30 p.m.
Haus zum Kirschgarten, Elisabethenstr. 27, Basel
Download fab_e_allg_info
Schaulager is breaking new ground by undertaking an unusual project. For the first time we are staging an exhibition outside the Schaulager building in Münchenstein, as guests at Basel's most prestigious showroom of bourgeois domestic living, the Haus zum Kirschgarten.
An unparalleled project by the internationally celebrated artist Francis Alÿs is to be realised there; Alÿs will be integrating his collection of over 370 images of Saint Fabiola into this protestant, upper class domestic environment to create a unique artistic intervention.
Thanks to Schaulager's international collaboration with Dia Art Foundation, New York, and Historisches Museum Basel it has been possible to create a singular exhibition, which can only be seen in Basel.
Hours
Tuesday, Wednesday, Friday, 10 a.m. – 6 p.m.
Thursday, 10 a.m. – 7 p.m.
Saturday, 1 p.m. – 5 p.m.
Sunday, 10 a.m. – 5 p.m.
Special hours
15 March closed
16 March, 10 a.m. – 1 p.m.
Good Friday, 22 April closed
Easter an Easter Monday, 24 and 25 April, 10 a.m. – 5 p.m.
1 May and 1 August closed
Hours during Art Basel
Mon, 13 June and Tue, 14 June, 10 a.m. – 6 p.m.
Wed, 15 June, 12 noon – 6 p.m.
Thu, 16 June – Sun, 19 June, 10 a.m. – 6 p.m.
Ausstellungseröffnung
Mit einem aussergewöhnlichen Vorhaben betritt das Schaulager Neuland. Zum ersten Mal wird nicht im eigenen Haus in Münchenstein ausgestellt sondern als Gast in Basels ehrwürdigen Schauräumen bürgerlicher Wohnkultur.
Im Haus zum Kirschgarten wird ein einzigartiges Projekt des international gefeierten Künstlers Francis Alÿs realisiert: erstmals integriert er seine Sammlung von über 370 Bildnissen der Heiligen Fabiola als Intervention in eine protestantisch-bürgerliche Wohnumgebung.
Dank der internationalen Zusammenarbeit des Schaulagers mit der Dia Art Foundation, New York und dem Historischen Museum Basel ist eine einzigartige Ausstellung zustande gekommen, wie sie nur in Basel zu sehen ist.
Freitag, 11. März 2011, ab 18.30 Uhr
Haus zum Kirschgarten, Elisabethenstr. 27, Basel
Öffnungszeiten
Dienstag, Mittwoch, Freitag 10 – 18 Uhr
Donnerstag 10 – 19 Uhr
Samstag 13 – 17 Uhr, Sonntag 10 – 17 Uhr
Sonderöffnungszeiten
15. März geschlossen
16. März 10 bis 13 Uhr
Karfreitag, 22. April geschlossen
Ostern und Ostermontag, 24. und 25. April 10 bis 17 Uhr
1. Mai und 1. August geschlossen
Öffnungszeiten während der Art Basel
Mo, 13. und Di, 14. Juni 10 – 18 Uhr
Mi, 15. Juni 12 – 18 Uhr
Do, 16. bis So, 19. Juni 10 – 18 Uhr
SCHAULAGER
Schaulager, Ruchfeldstrasse 19, CH – 4142 Münchenstein/Basel
T +41 61 335 32 32, F +41 61 335 32 30, www.schaulager.org
LAURENZ-STIFTUNG