FAR WEST, CURATED BY ANTONIO MANFREDI – CAM | CASORIA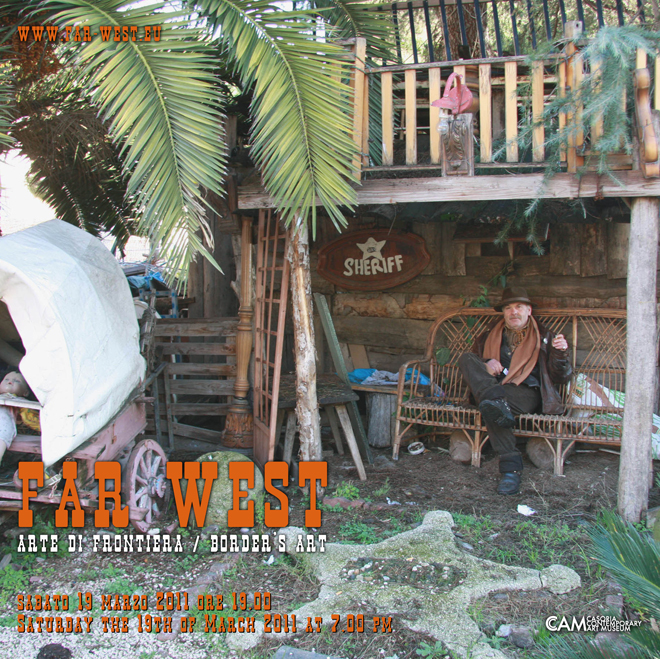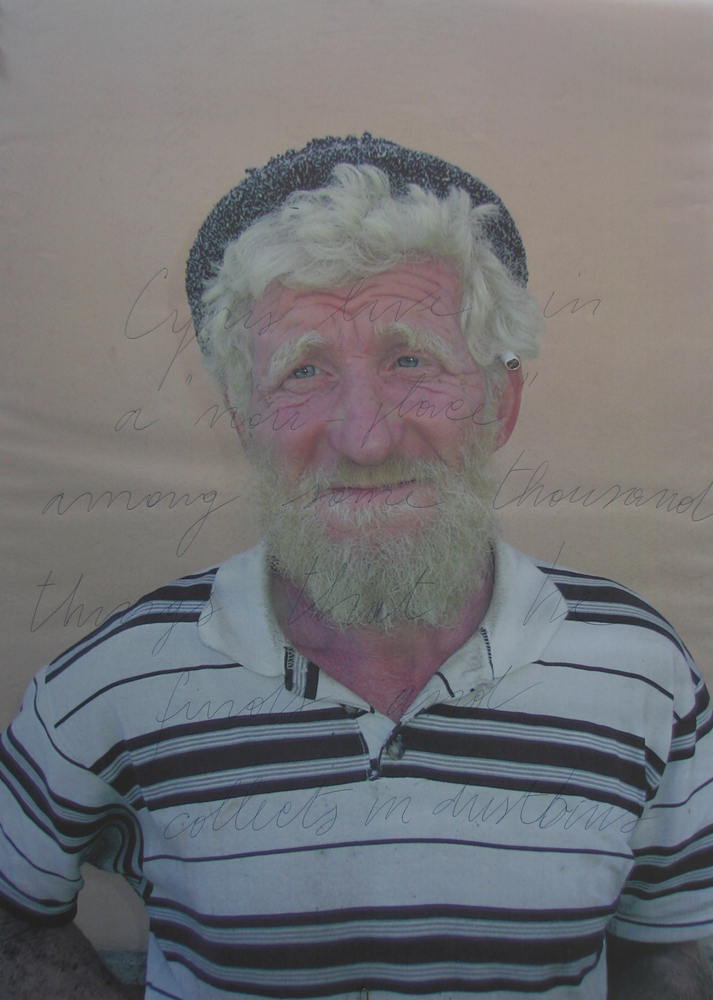 FAR WEST
Curated by Antonio Manfredi
Opening on Saturday the 19th of March 2011 at 7.00pm
19 March | 24 April 2011
Artists: Salvino Campos | Sebastiano Deva | Di Guida&Vargas | Peppe Esposito | Alessandro Falco | Luciano Ferrara | Lello Lopez | Nicola Mette | Letti sfatti | Patrizio Trampetti |  Musical Village | Wine&Foto.
From March the 19th to April the 24th 2011, CAM Contemporary Art Museum in Casoria (NA), space for alternative research, presents Far West, the latest biting exhibition, curated by Antonio Manfredi, realizing a social analysis in-between irony and objectivity. Here the Far West is the borderline of the Neapolitan suburbs or the urban downtown of the many International metropolis, world suburb and separate reality, where the background becomes an exclusive experience. But the Far West also represents the prototype of an hard-won conquest, a new promised land, expressing a strong cultural liveliness, notwithstanding the unfavourable social and environmental conditions. From the art of sorting it out to the contemporary art, hinting to solitude but to the delicate beauty of life lived on the border, too. In the exhibition Far West degradation becomes inspiration for those choosing to get the fascination of a border country and turning it into a piece of art. The Far West is also the place where roles reverse, where the sheriff, guardian of the law merges with bandits, where the "madams" influence the city life from the brothels of the power, where the women-object blackmail with the help of guns the established order, like in the installation of Nicola Mette, with certain references to the actual political situation. It is the lack of law in an extreme territory to lead the performance of Sebastiano Deva. From the advertising posters hanging in the streets of Naples parte a request to support a proposal of law: death sentence to Camorra people. Deva gets to the final act through a direct and irrefutable language with a reference to a website revealing the artistic project here at CAM concluding. A strong and resolute provocation.
In the Far West exhibition, the investigation on the city peripheries travels also through the denouncing lyrics of the Province Rock by Letti sfatti e Patrizio Trampetti. In the chorus song on Naples, "Questa città" (This city), written in cooperation with Erri De Luca (narrator voice, avatar protagonist of the video and author of one of the tales from the book coming along the song, previewed at CAM), a landscape of sufferance and redemption emerges. Same release  longed by "Vincenzo", the sweet protagonist of the movie of Alessandro Falco (awarded in Barcelona and for the first time screened in Italy at CAM), the story of a young boy from the province dreaming to flee from the oppressive degradation of Naples periphery riding his moped. Different, though as well meaningful, is the silent escape of the Pozzuoli tramp in the video-installation proposed by Lello Lopez, which tale with no words leads to an oniric dream born out of neglect and degradation. The quest for a shelter, a personal space to relief the soul from the difficult Far West, appears in the poetical photography of the Brazilian Salvino Campos, whose religiousness is the only way to recover from sufferance. Of course, an ironical meaning of the description of the urban context and of the people populating it is not missing. The sharp and polemical installation of the two artists Di Guida&Vargas chooses to display a sarcastic awareness of the social situation, while another video-installation shows  native Americans upon contemporary feathered horses and a sceriff that built his identity in his Far West, setting up a wooden ranch in a park of the Parco Verde of Caivano, province of Naples. But what is our role? What is the role of museum visitors? Sheriff or cowboy? Peppe Esposito's work, plays on the identification, through the mirror, with the image of the gunman and raises a question about the legal acts that we do really. The man in the mirror, the sheriff, always acts properly or unconsciously gets caught in the web of illegality? Pubblic ostentation of garbage and impudent jubilation of charm, the Parthenopean territory is observed through the work of the photographers Luciano Ferrara and the gruppo Wine&Foto exhibiting the contradictions of an area sometimes abandoned to itself but not resigning to its troubles.
During the opening the musical performance of Letti sfatti and a dance performance of MUSICAL VILLAGE, directed by Davide Esposito and Ilaria Maglione, will take place.
Antonio Manfredi_ CAM's art director
Far West_Border's art is a still image on the duel to death between real and art. This is the reality of world peripheries and of degraded territories appearing pervaded from an everlasting greyness.
The curator idea takes off from the the analysis of a place becoming metaphor for a social feeling and belonging to a tangle of lives in which the individual looks for a space for his own expression. The periphery of the Far West lays on the imbalance of conscience suffocated in the narrow, piled up housing, in physical and mental impossibility to flee through creative resistance. In these crumbling cement regions the gaze looks for colour, tunes of emotion and there it lays, where art seizes beauty, the lyricism of a gesture and the poesy of a moment. The urban dimension reveals its ambivalent condition: disarming decadence and melting-pot of creativity through works of art becoming signs of a perception which is completely artistic. The distance between the elements disappears as soon as reality becomes art and communicates through different languages. The direct intervention of artists on reality turns into its modification meaning the refusal of a cultural emptiness, at CAM the filters of artistic view disappear to leave the pace to the voice of dissent. In the Far West the public denunciation of the blackmailing wears the colours of the Italian flag using seductive guns. Into the city streets a direct challenge to the observer opens through media messages turning the urban space into a widen museum. From irony to provocation, the exhibition Far West analyzes the contemporary social, political and environmental context taking a hint for a deep reflection.
CAM – Casoria Contemporary Art Museum Via Duca D'Aosta 63/A  – 80026 Casoria (Naples) – Italy
Tel/Fax: +39 0817576167    www.casoriacontemporaryartmuseum.com
Press office & PR CAM: Graziella Melania Geraci +39 3349399870 cam.pr@hotmail.it
FAR WEST
Arte di frontiera
a cura di Antonio Manfredi
inaugurazione sabato 19 marzo 2011 ore 19.00
19 marzo | 24 aprile 2011
Artisti: Salvino Campos | Sebastiano Deva | Di Guida&Vargas | Peppe Esposito | Alessandro Falco | Luciano Ferrara | Lello Lopez | Nicola Mette | Letti sfatti | Patrizio Trampetti |  Musical Village | Wine&Foto.
Dal 19 marzo al 24 aprile 2011 il CAM Contemporary Art Museum di Casoria (NA), spazio alternativo e di ricerca, presenta Far West, la nuova pungente mostra, a cura di Antonio Manfredi, che volge verso un'analisi sociale in bilico tra ironia e oggettività. Il Far West è la terra di frontiera, la periferia napoletana o il centro urbano di una delle tante metropoli internazionali, sobborgo del mondo e realtà a sé, dove il vissuto diventa esperienza esclusiva. Il Far West rappresenta anche il prototipo di conquista faticata, di una nuova terra promessa che, a dispetto di condizioni ambientali e sociali non propizie, esibisce una forte vivacità culturale. Dall'arte di arrangiarsi all'arte contemporanea che strizza l'occhio alla solitudine, ma anche alla delicata bellezza di una vita vissuta ai margini. Nella mostra Far West il degrado diventa ispirazione per chi sceglie di cogliere il fascino della terra di confine per trasporlo in forma d'arte. Il Far West è anche il luogo dove i ruoli si ribaltano, dove lo sceriffo, tutore della legge si confonde con i banditi, dove le "madame" influenzano la vita cittadina dai bordelli del potere, dove la donna oggetto tiene sotto ricatto con un'arma, l'ordine costituito come nell'installazione di Nicola Mette, dai chiari riferimenti al momento politico attuale. È proprio la mancanza di leggi in una terra estrema che spinge all'azione performativa Sebastiano Deva. Dai manifesti pubblicitari stradali affissi lungo le vie di Napoli parte la richiesta di sottoscrivere una proposta di legge: la pena di morte per i camorristi. Deva arriva all'atto finale attraverso un linguaggio diretto e perentorio per poi rimandare ad un sito web che svela il progetto artistico che si conclude al CAM. Una provocazione forte e determinata.
L'indagine sulle periferie metropolitane viaggia, nella mostra Far West, anche attraverso i testi di denuncia del Rock di Provincia dei Letti sfatti e Patrizio Trampetti. Nella canzone corale su Napoli, "Questa città", scritta con la collaborazione di Erri De Luca (voce narrante, protagonista avatar del video e autore di uno dei racconti del libro che accompagna la canzone, presentati in anteprima al CAM), si delinea un paesaggio di sofferenza e di riscatto. Lo stesso affrancamento a cui aspira "Vincenzo", il tenero protagonista del film di Alessandro Falco (premiato a Barcellona e proiettato al CAM per la prima volta in Italia), la storia di un ragazzotto di provincia che, cavalcando il proprio motorino, sogna la fuga per sottrarsi al degrado opprimente dell'hinterland napoletano. Diversa, ma altrettanto significativa, è l'evasione silenziosa del barbone di Pozzuoli nella video-installazione proposta da Lello Lopez, il cui racconto senza parole ci immerge in un universo onirico che nasce dall'abbandono e dal degrado. La ricerca di un rifugio, di uno spazio personale che sia ristoro dell'anima dal difficile Far West, appare nella poetica foto del brasiliano Salvino Campos, in cui la religiosità è l'unico mezzo per lenire la sofferenza. Non manca ovviamente in mostra un'accezione ironica della descrizione del contesto urbano e dei personaggi che lo popolano. La tagliente e polemica installazione del duo artistico Di Guida&Vargas si immette sulla strada della sarcastica consapevolezza della situazione sociale, mentre un'altra video-installazione mostra le immagini di indiani su impennanti cavalli contemporanei e di uno sceriffo che nel suo Far West ha trovato la propria identità, costruendosi un ranch in legno nell'aiuola del Parco Verde di Caivano in provincia di Napoli. Ma qual è il nostro ruolo? Quale quello dei visitatori del museo? Sceriffo o cowboy? L'opera di Peppe Esposito, gioca sull'identificazione, attraverso lo specchio, con l'immagine del pistolero, e pone una domanda sugli atti realmente legali che compiamo. L'uomo riflesso, lo sceriffo, agisce sempre in modo corretto o inconsapevolmente rimane impigliato nella rete dell'illegalità?
Pubblico sfoggio di spazzatura e sfacciato tripudio di avvenenza, il territorio partenopeo viene osservato attraverso il lavoro dei fotografi Luciano Ferrara e del gruppo Wine&Foto che mettono in mostra le contraddizioni di un'area talvolta abbandonata a se stessa ma che non si rassegna ai propri mali.
La sera dell'inaugurazione vedrà momenti performativi nell'esibizione dei Letti sfatti e negli interventi del MUSICAL VILLAGE diretto da Davide Esposito e da Ilaria Maglione.
Antonio Manfredi, curatore e direttore del CAM

Far West è un fermo immagine sul duello all'ultimo sangue tra la realtà e l'arte. La realtà è quella delle periferie del mondo e dei territori degradati che sembrano pervasi da un grigiore perenne. L'idea curatoriale della mostra parte dall'analisi di un luogo che diventa metafora di un sentire sociale, di uno spazio vissuto da un groviglio di esistenze, in cui l'individualità cerca spazio per la propria espressione. La periferia del Far West è nello squilibrio della coscienza che si vede soffocata nelle anguste abitazioni ammassate, nel limite fisico e mentale da cui fuggire attraverso una resistenza creativa. In tali fatiscenti regioni di cemento lo sguardo vaga alla ricerca del colore, di un tono di emozione e lì si posa, dove l'arte coglie la bellezza, la liricità di un gesto e la poesia di un momento. La dimensione urbana appare nella sua condizione ambivalente: decadimento disarmante e crogiuolo di creatività per opere che sono segnali di una percezione totalmente artistica. Il divario tra gli elementi scompare quando la realtà diventa arte e comunica attraverso linguaggi differenti. L'intervento diretto degli artisti sulla realtà diviene trasformazione della stessa come rifiuto di un vuoto culturale, al CAM i filtri della visione artistica scompaiono per lasciare il posto alla voce del dissenso. Nel Far West la pubblica denuncia del giogo del ricatto, attraverso le armi ammaliatrici della seduzione, si veste dei colori della bandiera italiana. Nelle strade cittadine si apre una sfida diretta all'osservatore attraverso messaggi mediatici che trasformano lo spazio urbano in museo esteso. Dall'ironia alla provocazione la mostra Far West analizza il contesto politico sociale e ambientale attuale, traendone spunto per una riflessione profonda e meditata.
CAM – Casoria Contemporary Art Museum, Via Duca D'Aosta 63/A  – 80026 Casoria (Napoli) Italia Tel/Fax: +39 0817576167
Martedì-mercoledì-giovedì-domenica 10.00/13.00 sabato 17.00/20.00
www.casoriacontemporaryartmuseum.com – info@casoriacontemporaryartmuseum.com
Ufficio stampa & Pubbliche relazioni CAM: Graziella Melania Geraci +39 3349399870 cam.pr@hotmail.it