SUSAN HILLER – SPAZIO CULTURALE ANTONIO RATTI | COMO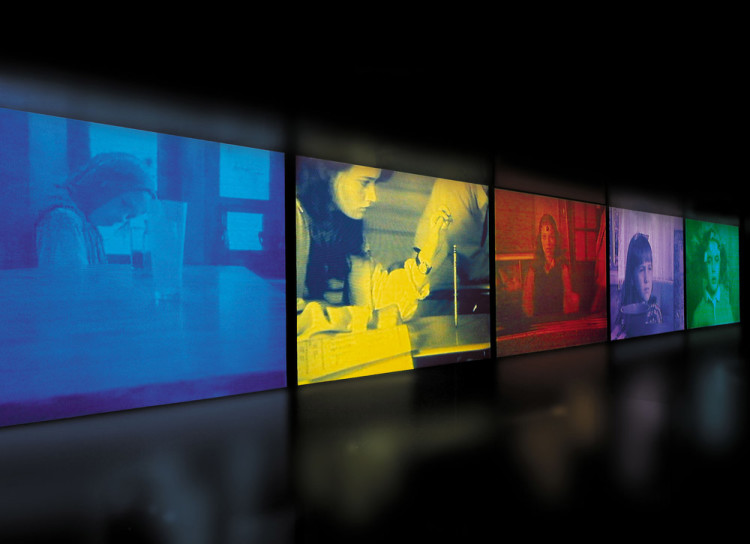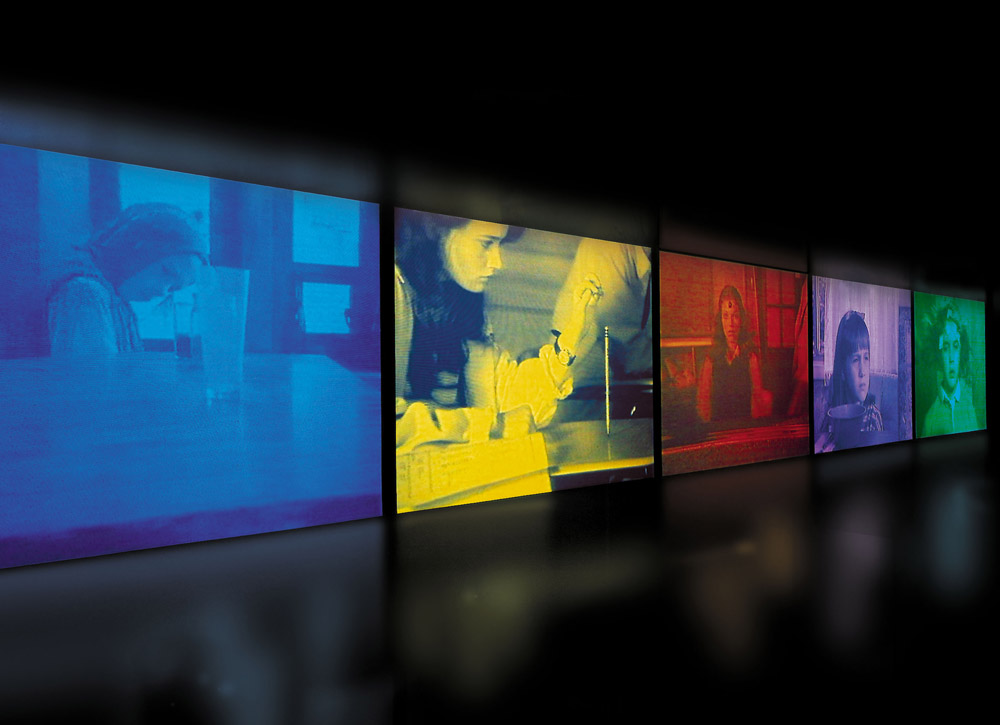 The Dream Seminar II
XVII Advanced Course in Visual Arts
28 June – 26 July 2011, Como
Visiting professor
Susan Hiller
14 July 2011
The Provisional Texture of Reality
open lecture by Susan Hiller
and
Opening of the Susan Hiller's personal exhibition
at Spazio Culturale Antonio Ratti
From June 28 to July 20 the Antonio Ratti Foundation hosts the XVII edition of its Advanced Course in Visual Arts. Entitled The Dream Seminar II, the course will have Susan Hiller as its Visiting Professor.
The course, directed since 1995 by Annie Ratti, is curated by Andrea Lissoni and Cesare Pietroiusti, and coordinated by Angela Maderna.
On July 14 Susan Hiller will give a conference entitled The Provisional Texture of Reality at the Foundation (Villa Sucota) at 7pm. It will be followed by the opening of the artist's solo exhibition, at Spazio Culturale Antonio Ratti, which can be visited from Tuesday to Sunday, 4-8 pm until September 8, 2011.
Susan Hiller's exhibition is centred on the impressing and fascinating 5-channel installation PSI Girls (1999), showed in Italy for the first time and installed specifically for the space of the Church of San Francesco.
PSI Girls presents five brief loop sequences of girls with paranormal telekinetic powers, depicted while concentrated in producing the movement of an object with the strength of their mind. The sequences are taken from five famous films (The Fury by Brian De Palma, 1978; The Craft, by Andrew Fleming, 1996; Matilda, by Danny De Vito, 1996; Firestarter by Mark Lester, 1984, and Stalker, by Andrei Tarkowsky, 1979), whose colours were altered by Susan Hiller. The artist transformed each film in a blue, yellow, red, purple and green monochrome. The original audio of the films was replaced by a single soundtrack, taken from the record of a gospel choir of St. George's Cathedral of Charlotte, North Carolina, USA.
The colours slide from one sequence to another in a casual way, and are projected in the surrounding environment, thus producing a constant alteration of the perception of the surrounding space. The alternation of sound and silence, together with the moving colours and the length of the single sequences, creates the hypnotic effect of a performative work that is constantly changing. This work immerses the viewer in a iridescent perceptive flux, and offers many possibilities of being seen and interpreted: from the representation of the "alienated" condition of the teenager, to that of the feminine identity; from the use of fonts to the artist's possibilities of championing and manipulation, from a possible reflection on power, to that of the production of the contemporary imagery of the gender movie.
These images oscillate between different dimensions that go from the dreamlike experience, between alienation and activity, to a field of seduction from the latent erotism of the sequences, and even to a more contemplative dimension.
The Aura: Homage to Marcel Duchamp (2011), a photographic installation conceived by the artist for the exhibition that accompanies PSI Girls, contribute to set the Church of San Francesco in an obscure, mysterious, disturbing, but perhaps revealing environment. The exhibition opens way to a dialogue between art, illusion, magic and alteration of perception, themes close both to the great tradition of history of art of late Modernity, and n with the instances explored by Susan Hiller during the workshop The Dream Seminar II.
Susan Hiller was born in the USA in 1949 and has lived and worked in Britain since 1970s, when she became known for an innovative artistic practice excavating the overlooked or ignored aspects of our culture. She has adopted and combined media in ways radical for their time and she is acknowledged as an important influence on younger generations of artists.
Hiller cites Minimalism, Fluxus, aspects of Surrealism, anthropology and feminism as influences on her unique practice. She juxtaposes knowledge derived from anthropology, psychoanalysis and other scientific disciplines with materials generally considered unimportant, like postcards, wallpaper, popular movies and stories of UFO sightings, balancing the familiar and the unexplained and inviting the viewer to participate in the creation of meaning. She collects and uses images, objects and sounds to create new contexts, incorporating traces of memory, history, and personal allusions. Her practice often investigates subconscious processes, including dreaming, reverie, automatic writing and improvised vocalizations. Privileging the repressed, forgotten or unknown, Hiller analyses, recontextualizes and confers status on what lies outside or beneath recognition.
Solo exhibitions of Susan Hiller's work were held at Tate, London; Castello di Rivoli, Turin; Moderna Museet, Stockholm; Joy Art Gallery, Beijing; Kunsthalle, Basel; Kunst-Raum des Deutschen Bundestages, Berlin; Museu Serralves, Porto; Fondacion Mendoza, Caracas and other public institutions.
Hiller has explored the intersections of memory, history and the unacknowledged in a number of publications. Her talks and interviews have been collected in two books: The Provisional Texture of Reality (JRP Ringier, 2008) and Thinking about Art: Conversations with Susan Hiller (Manchester University Press,1996). She is the author of The JStreet Project (DAAD and Compton Verney Trust, 2005) and After the Freud Museum (Bookworks,1995; reprinted 2000).
Course Info
XVII Advanced Course in Visual Arts
Title: The Dream Seminar II
Visiting Professor: Susan Hiller
Dates: 28 June – 26 July 2011
Location: FAR, Villa Sucota, via per
Cernobbio 19, Como:
Web: www.fondazioneratti.org
Corso Aperto
Opening: 2 July, 6 pm
Dates: 2 – 22 July 2011
Location: Villa Sucota, via per Cernobbio 19, Como
Lectures
Jan Verwoert
Journeys Into the Zone of Sentience
4 July, 7 pm
Susan Hiller
The Provisional Texture of Reality
14 July, 6.30 pm
Alexei Penzin
Sleep and Subjectivity in Capitalist Modernity
21 July, 7 pm
Location: Villa Sucota, via per Cernobbio 19, Como:
Susan Hiller's solo exhibition
15 July – 7 September 2011
Opening: 14 July, 8 pm
Opening Hours: Tues-Sun; 4-8 pm
Location: Spazio Culturale Antonio Ratti
(ex-San Francesco), Largo Spallino 1, Como
Press office
Teresa Saibene
ph. +39 031233211
ufficiostampa@fondazioneratti.org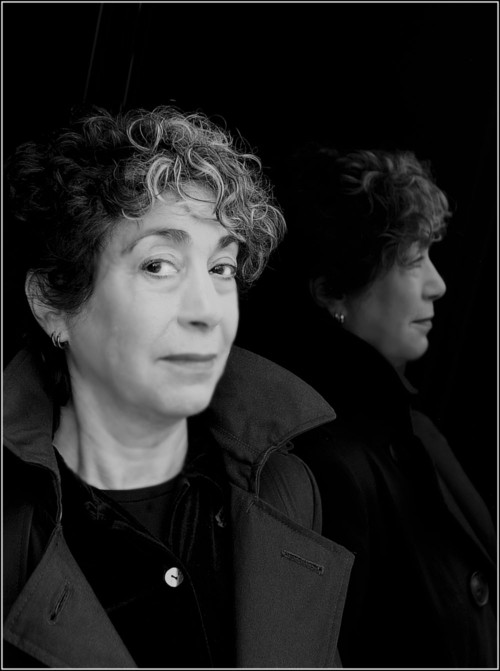 The Provisional Texture of Reality
conferenza di Susan Hiller
14 luglio 2011 ore 18.30
Fondazione Antonio Ratti – villa Sucota
Vai per cernobbio 19, Como
a seguire
Mostra personale di Susan Hiller
inaugurazione 14 luglio ore 20
15 luglio – 8 settembre 2011
Spazio Culturale Antonio Ratti
Largo Spallino 1, Como
(ex-chiesa di San Francesco)
nell'ambito di
The Dream Seminar II
XVII Corso Superiore di Arti Visive
28 giugno – 26 luglio 2011, Como
Visiting Professor Susan Hiller
Dal 28 giugno al 20 luglio si svolge la XVII edizione del Corso Superiore di Arti Visive della Fondazione Antonio Ratti dal titolo The Dream Seminar II, che quest'anno vede come Visiting Professor Susan Hiller.
Il Corso, diretto dal 1995 da Annie Ratti, è a cura di Andrea Lissoni e Cesare Pietroiusti, con il coordinamento di Angela Maderna.
Il 14 luglio, alle ore 18.30, si terrà la conferenza di Susan Hiller dal titolo The Provisional Texture of Reality, presso la sede della Fondazione Antonio Ratti. A seguire, verrà inaugurata la personale di Susan Hiller, presso lo Spazio Culturale Antonio Ratti in Largo Spallino, 1 a Como (ex-chiesa di San Francesco).
La mostra sarà visitabile fino all' 8 settembre 2011, da martedì a
domenica, dalle 16.00 alle 20.00.
La mostra di Susan Hiller è incentrata sull'imponente ed affascinante installazione a cinque canali dal titolo PSI Girls (1999), presentata per la prima volta in Italia ed appositamente riallestita per gli spazi della Chiesa di San Francesco.
In PSI Girls cinque brevi sequenze in loop di ragazze dotate di poteri paranormali – la telecinesi – sono colte nell'atto di concentrarsi e innescare il movimento di un oggetto con la sola forza della mente. Le sequenze sono estratte da cinque celebri film (The Fury di Brian De Palma, 1978, The Craft, di Andrew Fleming, 1996, Matilda di Danny De Vito, 1996, Firestarter di Mark Lester, 1984 e Stalker di Andrei Tarkowsky, 1979), di cui Susan Hiller ha alterato i colori – trasformando ciascuna in un monocromo blu, giallo, rosso, viola e verde – e rimosso l'audio originario, sostituito da un'unica colonna sonora proveniente dalla registrazione di un coro gospel della St.George's cathedral, di Charlotte, North Carolina, USA.
I colori scivolano da una sequenza all'altra in ordine casuale, riverberando nell'ambiente e producendo un'alterazione costante della percezione dello spazio circostante; l'alternanza di suono e di silenzio, combinati con i colori in movimento e la durata delle singole sequenze, produce l'effetto ipnotico di un'opera performativa e in perenne metamorfosi. Immerso in un flusso percettivo cangiante, lo spettatore si trova a confronto con un'opera che si offre a molte possibilità di lettura e di considerazioni: dalla rappresentazione della condizione "aliena" dell'età dell'adolescenza a quella dell'identità femminile, dall'uso delle fonti alle possibilità di campionamento e di manipolazione da parte dell'artista, dalla sua riflessione sul potere a quella sulla produzione dell'immaginario contemporaneo del cinema di genere.
Il tutto in una condizione che oscilla da una dimensione più propriamente onirica ad una straniata ed attiva, da una estatica e sedotta dall'erotismo latente delle sequenza, ad una contemplativa e lisergica.
The Aura: Homage to Marcel Duchamp (2011), l'installazione fotografica concepita appositamente dall'artista per la mostra e che accompagna PSI Girls, amplifica ulteriormente la tensione emanata dai fantasmi di antiche credenze religiose che compaiono alterati nella contemporaneità e contribuisce ad immergere l'intera Chiesa di San Francesco in un universo oscuro, misterioso, perturbante ma forse anche rivelatorio. La mostra dà così forma ad un dialogo fra arte, illusione, magia e alterazione della percezione in assonanza sia con la grande tradizione della storia dell'arte della tarda modernità, sia con le istanze proposte ed esplorate da Susan Hiller durante il workshop con i giovani artisti The Dream Seminar II.
Susan Hiller è nata negli Stati Uniti nel 1940, vive e lavora in Inghilterra dagli anni settanta quando acquisì un grande riconoscimento grazie alla sua ricerca di approfondimento degli aspetti della nostra cultura considerati marginali e largamente ignorati. L'utilizzo radicale e innovativo di diversi media nelle sue opere l'ha resa un punto di riferimento per le giovani generazioni di artisti.
Secondo Susan Hiller il Minimalismo, il movimento Fluxus, alcuni aspetti del Sur-realismo, l'antropologia e il femminismo hanno influenzato la sua pratica artistica individuale. Hiller accosta la conoscenza che deriva dall'antropologia, la psicanalisi e altre discipline scientifiche con materiali generalmente considerati di poca importanza, come cartoline, carta da parati, film di cassetta e storie di avvistamenti di UFO, creando un equilibrio fra il familiare e l'inspiegabile e invitando l'osservatore a prendere parte alla produzione del significato dell'opera.
L'artista raccoglie e utilizza immagini, oggetti e suoni per creare nuovi contesti, incorporando tracce di memoria, storia e allusioni personali. La sua pratica esplora spesso i processi subconsci, compresi il sogno, la fantasticheria, la scrittura automatica e le produzioni vocali improvvisate. Privilegiando il represso, il dimenticato, lo sconosciuto, Susan Hiller analizza, ricontestualizza e conferisce uno status a ciò che giace al di fuori o al di sotto del riconoscimento culturale.
Mostre personali di Susan Hiller si sono tenute a: Tate, Londra; Castello di Rivoli, Torino; Moderna Museet, Stoccolma; Joy Art Gallery, Pechino; Kunsthalle, Basilea; Kunst-Raum des Deutschen Bundestages, Berlino; Museu Serralves, Porto; Fondacion Mendoza, Caracas e altre istituzioni pubbliche.
Hiller ha esplorato le intersezioni di memoria, storia e dimensione dello sconosciuto in diverse pubblicazioni. Le sue conferenze e interviste sono state raccolte in due libri: The Provisional Texture of Reality, edito da JRP Ringier nel 2008 e Thinking about Art: Conversations with Susan Hiller, edito da Manchester University Press nel 1996. E' autrice di: The J.street Project edito da DAAD e Compton Verney Trust, 2005 e After the Freud Museum, edito da Bookworks Press nel 1995, ristampato nel 2000.
Informazioni
XVII CSAV – Corso Superiore di Arti Visive
Titolo: The Dream Seminar II
Visiting Professor: Susan Hiller
Date: 28 giugno – 26 luglio 2011
Sede: Villa Sucota
Web: www.fondazioneratti.org
Corso Aperto
Inaugurazione: 2 luglio ore 18
Date: 2 – 22 luglio 2011
Sede: Villa Sucota, via per Cernobbio 19, Como
Conferenze
Jan Verwoert
Journeys Into the Zone of Sentience
4 luglio, ore 19.00
Susan Hiller
The Provisional Texture of Reality
14 luglio, ore 18.30
Alexei Penzin
Sleep and Subjectivity in Capitalist Modernity
21 luglio, ore 19.00
Sede: Villa Sucota, via per Cernobbio 19, Como
Personale di Susan Hiller
Date: 14 luglio – 8 settembre 2011
Inaugurazione: 14 luglio ore 20.00
Orari: da martedì a domenica, dalle 16.00
alle 20.00
Sede: Spazio Culturale Antonio Ratti (ex San Francesco), Largo Spallino 1, Como
Comunicazione
Teresa Saibene
tel. +39 031233211
ufficiostampa@fondazioneratti.org