THE YES FOUNDATION / STICHTING JA ~ ARTNIGHT 2011 IN DEN BOSCH, THE NETHERLANDS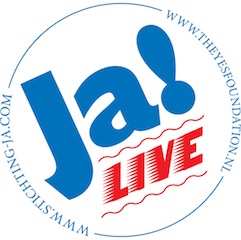 On September 17th during the Artnight 2011 in Den Bosch, will be launched the YES FOUNDATION!
From 10pm to 12pm a large group of international artists will one by one show up what they've got! They will perform through a skype connection wherever they will be at that moment!
The YES FOUNDATION is a joint-venture of art-initiatives HUP:, Tæt and Arti Capelli Gallery.
Concept and organization: Klaas Burger, Marleen de Puydt, Stefany Karghoti, Michiel van de Weerthof, Mieke van Schaijk, Rieneke de Vries (NL, BE, CY).
Guest curator: Cecilia Freschini (IT, CN).
Venue: Tæt, Schilderstraat 3-5-7, Den Bosch, the Netherlands.
Participants artists:
Daniel Eatock (UK)
Theo Tomson (NL)
Gerald van der Kaap (NL)
Bert Mebius (NL)
Marco Bernacchia (IT)
Liuba (IT, NY)
Francesca Romana Pinzari (IT)
Hervé Constant (FR, GB)
Alessandro Rolandi (IT, CN)
Yasser Ballemans (NL)
Folkert Joore (NL)
Mark van den Heuvel (NL)
Domenique Karl Himmelsbach de Vries (NL)
Jaap Blonk (NL)
Simon Kentgens (NL)
Wineke Gartz (NL)
Paul Geelen (NL)
Gilly van Zanten (NL)
JeanPaul Jennen (NL)
Robert Lombarts (NL, MAR)
Ergenc Korkmazel (CY)
Sina Khani (NL, IR, DE)
Martijn Gort (NL)
Margriet Kemper (NL)
Vincent en Jyoti (NL)
Toni van Tiel (NL)
Jan Schellink (NL)
Elke Verplanke (NL)
Michael Karr (NL)
Willem Claassen (NL)
Utku Tavil (TR)
Michiel Huijben (DE)
Jak Peters (NL)
Thomas de Kroon (NL)
Zwentibald van Blokland (NL)
Alessandro Gioiello (IT)
Rico Sneller (NL)
Chantal Meier (NL)
Annemarije Vlasblom (NL)
Marisa Rappard (NL)
Nobuko Hayashi (JP)
Rei Kakiuchi (JP)
Tunctunctunc (TR, NL)
Valentina Roselli (IT)
Paolo Turco (IT)
The Bounty KillArt (IT)
Nicus Luca (IT)
Aaltje van der Molen (NL)
Paul van Dijk (NL)
Dico Kruijsse (NL)
Monique Hendriksen (NL)
Ronald Bal (NL)
Chris Brans (NL)
Emile Miedema (NL)
Girolami Marri (IT, CN)
Reinaart Vanhoe (NL, BE)
Germen Zoer (NL)
Michiel van der Zanden (NL)
Riet Wijnen (NL)
Irene van de Besselaar (NL)
Claar Plattèl (NL)
Sebastiaan Noort (NL)
Dennis Amatdjais (NL)
For more infos:
http://www.theyesfoundation.nl/
http://www.stichting-ja.com/
Cecilia Freschini
Contemporary Art Research
www.ceciliafreschini.com
IT Mobile +39 348 7960074
CN Mobile +86 135 2169010