RONCHINI GALLERY EXPANDS INTO NORTHERN EUROPE WITH THE OPENING OF NEW LONDON GALLERY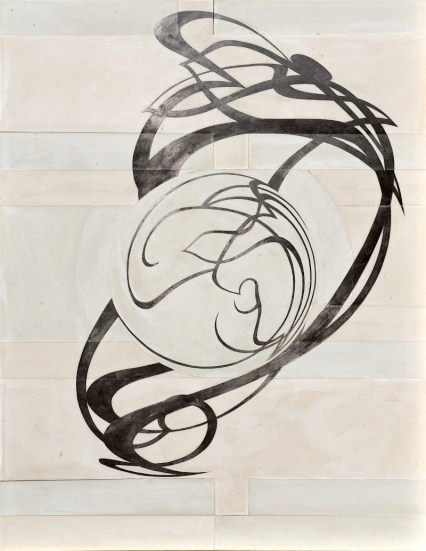 Ronchini Gallery Expands into Northern Europe with the Opening of New London Gallery
22 Dering Street, Mayfair, London, 16 February 2012
Since its inception in Umbria, Italy, Ronchini Gallery has been dedicated to exploring pioneering movements at the forefront of Italian contemporary art practice whilst also representing an international spread of artists. Subscribing to the highest standards of curatorship and scholarship the gallery provides a rigorous context in which its artists can be viewed. Opening a second gallery space at 22 Dering Street, London, 16 February, 2012, Director Lorenzo Ronchini explains the move into Northern Europe: "A gallery in London opens a lot of doors for Ronchini Gallery. People have asked if it is a daunting prospect but I would be more afraid to remain only in Italy and not make progress. Ronchini Gallery has always been about progression".
The inaugural show at the new Mayfair space, Italian Beauty is presented in collaboration with Studio La Città and Curator Marco Meneguzzo. It is a series of exhibitions that signify Ronchini's commitment to developing a broader understanding of Italian contemporary art in Northern Europe, featuring works by leading Italian contemporary artists Guilio Paolini and Domenico Bianchi alongside Italian architect and design pioneer Giò Ponti.
Italian Beauty is a curatorial project with the critical aim to investigate the idiosyncrasies of Italian art from the mid-twentieth century onwards, by comparing three or more artists from different generations, joined by a common thread. The title Italian Beauty refers to the level of research into and interest in the shape, completeness, and the unity that characterised Italian art in the past century.
The first show investigates the importance of production as an influence on the creative process. Bianchi's low level interference, abstract work with wax and Paolini's studies into the act of exhibiting are contextualised by Ponti's statement as he was awarded the Grand Prix at the Paris Expo 1925 "industry is the style of the 20th century, its mode of creation"'. The works in the exhibition highlight a shared emphasis on the mode of creation as opposed to subject matter and also contrast the artists' disparate techniques and varied concerns with the relevance of art history and classical influence.
Using melting wax as his primary medium, Domenico Bianchi avoids imposing a predictable physical outcome and reveals a beauty inherant in natural processes and materials. Bianchi emerged in the eighties at the same time as the Neuova Schola Romana (The New School of Rome) building upon foundations lain by Spacialism and the subsiquent Arte Povera movement, which removed distinctions between techniques, cut dependence on the past and focussed attention on primary and essential materials such as wood, water and stone.
Often linked to the Arte Povera movement due to his involvement with influential artists and shows of the early movement, Giulio Paolini subscribes to a different dogma, drawing heavily on art history and twenty years' archiving memories captured in photography, collage and plaster casts. With an open, cyclical approach Paolini creates works that investigate the purpose of art and how the viewer interacts with it, focussing here on the act of exhibition, seen by Paolini as fundamental to the experience.
Giò Ponti was an Italian Architect, industrial designer, craftsman, poet, painter, publisher and polymath who from the nineteen twenties to the late seventies had a profound effect on the history of design and architecture in Italy and subsequently the world. He founded Domus magazine and designed many landmark buildings including the Pirelli Tower, Milan. Through his ceramic and furniture designs he defined a role model for industrial design excellence that proved that decorative sensibilities were not incompatible with modern ideals of quality mass production, and played an important role in the perception of Italy as a world leader in contemporary design.
Three very different artists connected by one aim, to make works in the self sufficient language of art. Works that dot not rely on the subject to provide value and are instead are a beautiful coherent phrasing of the language of art.
About Ronchini Gallery
Ronchini Gallery was founded by Lorenzo Ronchini in Umbria, Italy in 1992, expanding into Northern Europe with a gallery opening in Mayfair, London, February 2012.
Ronchini Gallery also incorporates a successful publishing arm which produces artist monographs and critical texts by respected art critics including; Achille Bonito Oliva, Luca Beatrice, Arturo Schwarz, Bruno Corà, Marco Giacomelli, Kenneth Baker, Alberto Fiz and Lòrànd Hegyi.
Ronchini Gallery has evolved from a family passion for collecting. Paterfamilias Adriano Ronchini was an early supporter of Arte Povera and Minimal Conceptualist artists in the Seventies; collecting works by Luciano Fabro, Alighiero Boetti, Daniel Buren, Joseph Kosuth, Frank Stella and Michelangelo Pistoletto.
Collecting has remained a private passion for Lorenzo Ronchini, who learnt alongside his father from a young age. With his father's encouragement, Lorenzo opened the first Ronchini Gallery in 1992 building upon foundations laid through twenty years of private collecting. With a principal focus on Italian art from La Nuova Scuola Romana (The New School of Rome) and the leading exponents of Viennese Actionism, to this day Lorenzo Ronchini retains an unblinking future-focus on progressive movements.
About the artists
Domenico Bianchi (b. 1955)
Bianchi lives and works in Rome. Solo exhibitions have included Slewe Gallery, Amsterdam (2009); MACRO: Museo d'Arte Contemporanea di Roma (2008); Stedelijk Museum, Amsterdam (1994); "OPERA ITALIANA: sala espositiva", 45th Venice Biennale (1993). Group shows have included Museo Cantonale d'Arte, Lugano (2011); Venice Biennale (2011, 1986, 1984); Museo National Centro de Arte Reina Sofia, Madrid, (2004); P.S. 1 Contemporary Art Center, New York (1999).
Giulio Paolini (b. 1940)
Paolini lives and works in Turin. Solo exhibitions have included Accademia di Belle Arti Giacomo Carrara, Bergamo, Italy (2005); Fondazione Prada, Milan (2003); Istituto Italiano di Cultura, Paris (2002); Stedelijk Museum, Amsterdam (1980) and The Museum of Modern Art, New York (1974). Group Exhibitions include Mamco – musée d´art moderne et contemporain, Geneva (2009); Biennale of Sydney (2008); Tate Modern, London (2000); The Museum of Modern Art, New York (1984) and Venice Biennale (1978).
Giò Ponti (1891 – 1979)
Giò Ponti lived and worked in Milan. Greatest architectural and design achievements include the Denver Art Museum (1972); interior design of Hotel Parco dei Principe, Rome (1964); Alitalia Offices, New York (1958); 'Superleggera' chair for Cassina (1957) and Pirelli Tower, Milan (1956). Ponti was also heavily involved in ADI (Association of Industrial Design) and in the organisation of Triennale Exhibition, Monza and Milan (1933). Awards include 'Grand Prix' at the Paris expo for his artistic directorship of of Richard-Ginori, the ceramics manufacturer (1925); Art Prize of the Accademia d'Italia; an Honorary Doctorate, Royal College of Art, London; a Gold Medal from the Académie d'Architecture in Paris and was awarded Commander of the Royal Vasa
Order in Stockholm all in 1934. Ponti was also professor at the Faculty of Architecture at the Milan Polytechnic (1936 – 1961).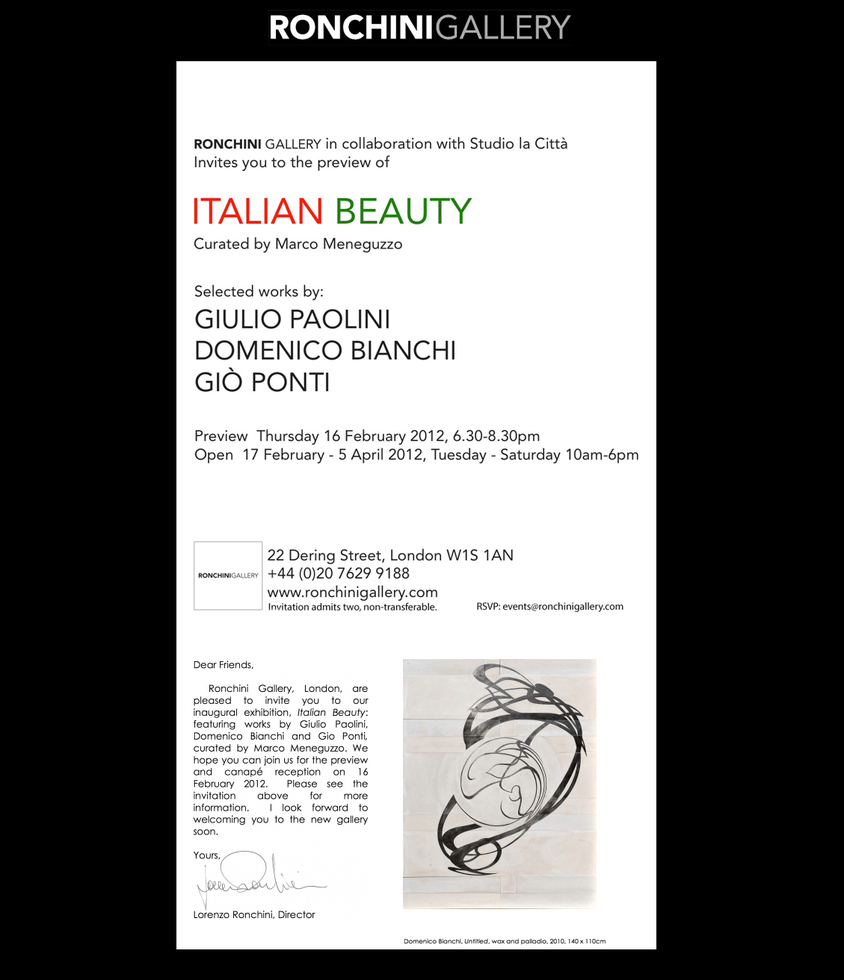 Exhibition Facts
Press Preview: 16 February 2012
Exhibition Dates: 17 February – 5 April 2012
Opening Hours: Monday-Saturday 10am-6pm
Location: 22 Dering Street, London, W1S 1AN
Tel: +44 (0) 20 7629 9188
For press information and images please contact:
Sophie da Gama Campos or Toby Kidd at JB Pelham PR
Tel: +44 (0) 208 969 3959
Email: sophie@jbpelhampr.com or toby@jbpelhampr.com