POSTIGNANO ART PROJECT – CASTELLO DI POSTIGLIANO – SELLANO (PG)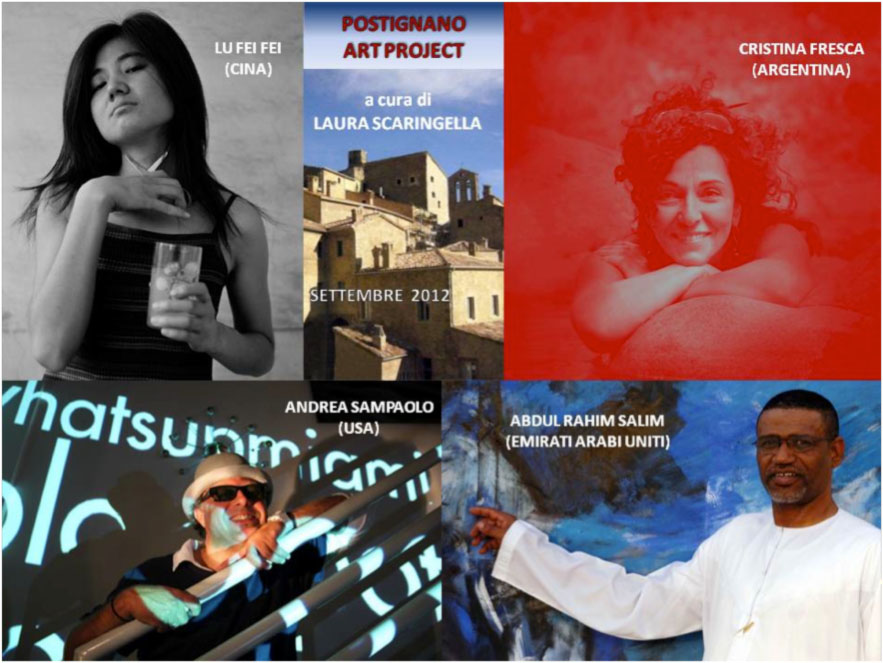 POSTIGNANO ART PROJECT
Home for international artists
1st Edition
Postignano Castle – Sellano (PG)
September 2012
One of the most lovely village in Umbria, the Postignano Castle (Sellano, Perugia), lived again after some avant-garde renovation works lasted many years, proposes an eventful season A castle on the horizon which offers cultural adventures of a lifetime peculiarity.
The Castle of Postignano, between history and modernity, is Postignano Art Project – home for international artists, a place devoted to having talks between the past – the old glories of the village buried in nature – and the contemporaneity with its talent, till the end of September.
The project sees four international artists in action in the village throughout September, revitalized with a strong presence into contemporaneity and a programme full of cultural events that bring life to different places in the Castle, giving its guests the emotion to participate to a real work of art. An exhibition will be the end of the residence that will involve different environments of the village and it will be the basis for the Castle of Postignano's "Permanent Collection".
With an idea of doing the Castle not only a place of  top quality stay, but even a centre for contemporary artistic production, in step with what happens in institutional places or cultural centres for quite a while, above all world class and in Italy as well, more and more often  to-day. Necessary conditions will be developed so that the contemporary artistic language can come into the world and develop, becoming an important formative opportunity in time, both for the artist himself and for those that will visit its spaces or the other initiatives within the programme "A Castle on the Horizon" every day.
The artists in such a specific context represent a moment of cross-cultural meeting and also a way of  interchange between people and places; it is the occasion in which the relative relations, experiences and the different cultures get mixed up with a personal practice within the host region.
The artists selected for this first edition, everybody with a sound curriculum of professional recognition, are: Lu Fei Fei from Beijing (China), Cristina Fresca from Buenos Aires (Argentina),
Abdul Rahim Salim from Dubai (Arab Emirates) and Andrea Sampaolo from Miami (USA).
The curatorial selection has highlighted not only the geographic distances (Asia, USA; Latin America, the Persian Gulf) but also has emphasized the poles apart cultural differences.
It has been favoured some tendency of the modern art for researches and artist pathways such as the photographic-digital studies (Lu Fei Fei and Cristina Fresca) and matter-action abstraction (Abdul Rahim Salim and Andrea Sampaolo).
Presentation of artists and works made during the residence
and concert of baroque music
On Saturday September 15th 2012  at 5 P.M.
Art direction: Massimo Scaringella
Operational direction: Laura Scaringella
For further information please inquire
Postignano Castle Tel. +39 0743 850216 – comunicazione@castellodipostignano.it www.castellodipostignano.it

LU FEI FEI
Born in Beijing during1980 , where she lives and works.
The artist meets I Gao Brothers during 1996; she becomes model and assistant up to 2000; she starts off as an artist of her own from such a year on. Her works, privileging the photographic-digital and performative studies, express a research where modern China's tensions and dynamics of cultural and social development intertwine with an international and unavoidable modernity. A study that favours a sensitivity linked to nature and to the becoming of mankind in which the environmental impact, social subject deeply felt all over China, lays the basis for an aesthetic research that goes with an ecological and economical sustainable world starting off with one's own lifestyle.
CRISTINA FRESCA
Born in Buenos Aires during 1962, where she lives and works.
Graduate at the National School of Fine Arts in Buenos Aires she showed several personal and collective exhibitions both national and international. She works mainly with digital photography, her achievement develops into thin, fragile and delicate images of dreams that ask the audience actively. Cristina Fresca makes a photo story that is revisited by history and with an open end as a  thinking on the uncertain future, with the images that follow one after the other into a stream of transparencies and articulating separate times, from which she get a clear vision of the present-day.
ABDUL RAHIM SALIM
Born in Dubai during 1955, he lives and works at Shariah (United Arab Emirates).
He is a sculptor and a painter and after his studies in Egypt at Cairo University he begins to show in his country, where he is considered one of  the international artist more interesting of the current cultural landscape. He privileges an abstract painting where the colour, his bleus, reds, yellows and blacks shape a vibrant and warm surface in which the freedom of look has no limits. The spreading of colours shape figures and landscapes whose light gives a strong cognition of harmony and poetical aesthetics.
ANDREA SAMPAOLO
Born in Rome during 1966, he lives and works in Miami.
Ended the artistic studies he dedicates himself to various and different researches like visual installations and performances, but often digressing  on design, fashion and music. In his international activity of twenty years he shows many places around the world. During last years he intensified his pictorial research, with particular reference to his Miami stay, whose study is clearly centred around new languages synthesis and where the colour represents both the creative action and a hard expressive drive.
.-.-.-.
POSTIGNANO ART PROJECT
Residenza per artisti internazionali
Ia edizione
Castello di Postignano – Sellano (PG)
settembre 2012
Il Castello di Postignano (Sellano, PG), uno dei borghi più belli dell'Umbria, tornato a vivere grazie ad un'opera di restauro d'avanguardia durata molti anni, propone la stagione di eventi Un Castello All'Orizzonte, che offre avventure culturali uniche nella loro peculiarità. Tra storia e modernità, il Castello di Postignano è fino al 30 settembre Postignano Art Project – residenza per artisti internazionali, luogo di elezione per il dialogo tra il passato – l'antica bellezza del borgo immerso nella natura – e la contemporaneità, con i suoi talenti.
Il progetto vede per tutto il mese di settembre quattro artisti internazionali all'opera nel borgo, rivitalizzato con una forte presenza nel contemporaneo e un programma fitto di eventi culturali che animano i vari luoghi del Castello, regalando ai suoi ospiti l'emozione di fare parte di una vera opera d'arte. La residenza terminerà con una mostra che vedrà coinvolti vari ambienti del borgo e che rappresenterà la base per la "Collezione permanente" del Castello di Postignano.
Il tutto con l'intenzione di fare del Castello di Postignano non solo un luogo dove vivere un soggiorno di alta qualità, ma anche un centro di produzione artistica contemporanea, in linea con quanto accade da tempo in luoghi istituzionali o centri culturali, soprattutto a livello internazionale, ma oggi sempre più spesso anche in Italia. Si svilupperanno le condizioni necessarie affinché il linguaggio artistico contemporaneo possa nascere e prodursi, diventando col tempo un momento formativo importante sia per l'artista stesso che per coloro che visiteranno quotidianamente i suoi spazi o le altre iniziative nell'ambito del programma "Un castello all'orizzonte".
La presenza degli artisti in un preciso contesto, rappresenta  non solo un momento di aggregazione interculturale ma anche un  modo di interscambio tra soggetti e luoghi; è l'occasione in cui le rispettive relazioni, le esperienze e le variegate culture  si mescolano scambievolmente con una esperienza diretta sul territorio ospitante.
Gli artisti prescelti per questa prima edizione, tutti con un curriculum di solido riconoscimento professionale, sono: Lu Fei Fei proveniente da Pechino (Cina), Cristina Fresca da Buenos Aires (Argentina), Abdul Rahim Salim da Dubai (Emirati Arabi) e Andrea Sampaolo da Miami (USA). Con una scelta curatoriale che  ha voluto evidenziare non solo le distanze geografiche (Asia, Usa, America Latina, Golfo Persico) ma anche  marcare differenze culturali molto distanti tra loro. Mentre, per le ricerche e il percorso artistico si è pensato di privilegiare alcune linee di tendenza dell'arte attuale come le ricerche fotografico-digitali (Lu Fei Fei e Cristina Fresca ) e l'astrazione materico-gestuale (Abdul Rahim Salim  e Andrea Sampaolo).
Presentazione degli artisti e delle opere prodotte durante la residenza
e concerto di musica barocca
sabato 15 settembre 2012 alle ore 17
Direzione Artistica: Massimo Scaringella
Direzione Esecutiva: Laura Scaringella
Info: Castello di Postignano – Tel.+39 0743 850216 comunicazione@castellodipostignano.it www.castellodipostignano.it
LU FEI FEI
Nata nel 1980 a Pechino, dove vive e lavora.
L'artista incontra I Gao Brothers nel 1996 per cui diventa modella e assistente fino al 2000, anno in cui inizia la propria carriera d'artista. Le sue opere, privilegiando la ricerca fotografico digitale y performativa  esprimono una ricerca in cui si intrecciano le tensioni e le dinamiche dello sviluppo culturale e sociale della Cina attuale  in relazione ad un'ineluttabile modernità internazionale. Una ricerca che favorisce  una sensibilità legata alla natura e al divenire dell'uomo in cui l' impatto ambientale, tema sociale molto sentito in Cina, pone le basi di una ricerca estetica che accompagni un mondo ecologicamente ed economicamente sostenibile a cominciare dallo stile di vita di ognuno di noi.
CRISTINA FRESCA
Nata nel 1962 a Buenos Aires,  dove vive e lavora.
Laureata alla Scuola Nazionale di Belle Arti di Buenos Aires ha presentato  dal 2002 varie mostre personali e a numerose mostre collettive nazionali e internazionali. Attiva principalmente nella fotografia digitale il suo lavoro si sviluppa in sottili, fragili e delicate immagini di sogni che interpellano attivamente lo spettatore.  Cristina Fresca costruisce una narrazione fotografica dalla storia rivisitata e dal finale aperto come riflessione di un incerto futuro, con le immagini che si succedono in un affluire di trasparenze e articolando distinti tempi, da cui ricava una lucida visione del presente.
ABDUL RAHIM SALIM
Nato a Dubai nel 1955, vive e lavora a Sharjah (Emirati Arabi Uniti)
Sculture e pittore, dopo gli studi in Egitto all'Università del Cairo, inizia a esporre nel suo paese, dove è considerato uno degli artisti, internazionalmente riconosciuto, piu' interresanti del panorama culturale attuale. Privilegiando una pittura astratta dove il colore, i suoi blu, rossi, gialli e neri, formano una superficie vibrante e calda dove la libertà dello sguardo non ha limiti. Dove la stesura dei colori forma figure e paesaggi in cui la luce da una cognizione  forte di armonia e di estetica poetica.
ANDREA SAMPAOLO
Nato a Roma nel  1966, vive e lavora a Miami
Terminati gli studi artistici, si dedica a varie ricerche differenti come installazioni visive e perfomance, ma sconfinando spesso tra design, moda e musica e che nella sua ventennale attività a livello internazionale lo portano a esporre in una pluralità di luoghi. Negli ultimi anni ha intensificato, in particolar modo nel soggiorno a Miami, la sua ricerca pittorica dove è chiara la sua ricerca di sintesi dei nuovi linguaggi e dove il colore rappresenta non solo il gesto creativo ma anche una forte spinta espressiva.