ART PARIS ART FAIR 2013 RESULTS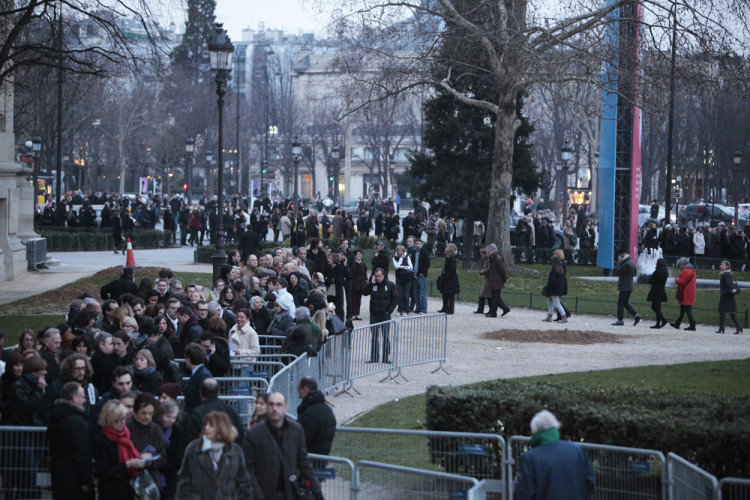 Art Paris Art Fair 2013
A successful and dynamic edition that confirms Art Paris Art Fair's position as the leading event for modern and contemporary art in Paris in the spring that dares to be different
Despite the Easter holiday week-end and Siberian temperatures in the French capital, along with the economic and financial challenges facing the art market, Art Paris Art Fair brought together 144 galleries from 20 countries. It closed on Monday 1st April in an atmosphere that was both dynamic and serene.
Profoundly renewed and more international than ever, the 2013 edition of the fair was successful on several counts:
Entries: This year saw 53,257 visitors to the fair, marking an 11% increase over last year with an exceptional peak of 13,847 guests for the opening night. A large number of groups of friends of museums visited the fair such as La Maison Rouge, the Maison Européenne de la Photographie, the Nice Museum of Contemporary art (MAMAC), most of the leading museums of the French capital including the Young American Friends of the Musée d'Orsay.
The programme of private visits for VIP guests was oversubscribed with enthusiasts lining up to join the "Springtime in Paris" programme that was launched in 2012. The galleries reported having made many new and high quality contacts among not only French collectors but others from Belgium, Switzerland, Britain, Turkey, Lebanon and the USA. Naturally, with Russia as guest of honour, the fair also attracted a large number of visitors from there.
Content: Visitors to the fair praised the quality of the presentations and what gallery owner Nathalie Obadia described as the "artistic airiness" of the fair.
The geographical spread was impressive with galleries from Nantes to Sarajevo, Dubai and Ljubljana as well as the range of work with Africa represented by Revue Noire, art brut at Ritsch Fitsch and Christian Berst, Middle Eastern work at Tanit, Imane Farès and Claude Lemand, Indian artists at Hervé Perdriolle, and of course Russia, this year's guest of honour. Reserved for young galleries, the "Promises" section provided a large dose of freshness to the event, while the Artdesign platform, the Artcurial art book sector and the 2013 Canson prize brought added dimensions.
Participants noted that the quality of the fair had reached a new level compared to last year. "It is now the not-to-be missed event of the Spring," said a member of the management team."
And it now has its own well defined identity as being a European fair that searches off the beaten track and looks to wards the East."
In this respect, featuring Russia as country of honour this year turned out to be exceptional with a century of Russian creation on show. The fair turned the spotlight onto an art scene that is as yet little known.
Visitors were able to discover, or rediscover, several emblematic figures such as Edik Steinberg, Igor Makarevich, Erik Boulatov, Igor Chelkovski and Mikhail Roginsky as well as a number of established artists such as Andrei Molodkin, Vlad Monroe (who died tragically two days before the opening of the fair) and Olga Chernysheva.
Also on show were some of the rising stars of the contemporary scene such as Pavel Pepperstein, Yevgeny Fiks and the Recycle Group whose monumental work "Façade" was installed at the entrance of the Grand Palais.
Sales: Overall, these were satisfactory. On the modern front, Galerie Claude Bernard sold some 15 pieces by Russian non-conformist Edik Steinberg worth between € 5,000 and € 25,000.
Galerie Alain Margaron let go of 14 drawings by Fred Deux and Dado costing between € 2,000 and € 11,000 while Hungary's Kalman Maklary Fine Arts gallery sold 18 surrealist pieces for an average price of € 7,000. For his first time at Art Paris Art Fair, Claude Lemand did well selling 12 drawings by Dia Al Azzawi to a single collector. On the contemporary side, business was brisk at Daniel Templon, Nathalie Obadia, Paris Beijing, Galerie Particulière, Michel Soskine and Da-end. Galerie Bodson-Emelinckx sold out entirely with works by Simon Schubert, Evol Roa and Albano Afonso whose four editions of the diptych in the series «Paradise 2012» went for € 25,000 each.
Some of the young galleries in the"Promises" section did very well, notably Vincent Sator who sold 20 works by
Alexei Vassiliev and Yan Heng with prices ranging from € 1,000 to € 10,000. Among the nine galleries in the Artdesign section, Domeau & Pérès gallery was singled out for the IDEAT magazine prize for the "Edmond, lit de repos 2013" piece by Eric Jourdan. The gallery sold a Marc Newson bed for € 21,000 as well as several of Pablo Reinoso's "Jyn & Jon" chairs costing € 2,900 each.
Art Paris Art Fair 2014 will be held at Grand Palais from 27th to 30th March 2014 with China as guest of Honour.
Art Paris Art Fair wishes to thank its partners:
AFP through its AFP services division, Air France, Artcurial Librairie d'Art, Comité Professionnel des Galeries d'Art, Diptyque, Electrolux, Fonds Canson® pour l'Art et le Papier, France Culture, IDEAT, IESA, Figaro Magazine, Officiel Art, Love Organic, Paris Première, RMN, Ruinart, SNE Syndicat national de l'édition-Arts & Beaux Livres, State Street Bank, Télérama,The Good Life magazine, The International Herald Tribune and Turon Travel.
Art Paris Art Fair management team
General Directors: Julien & Valentine Lecêtre
Fair Director: Guillaume Piens
Director of Communications and partnerships: Catherine Vauselle
Press Relations: 2 e BUREAU
Sylvie Grumbach, Martial Hobeniche, Flore Guiraud
Tél : +33(0)1 42 33 93 18 artparis@2e-bureau.com