PERFORMANCE/C&C GALLERY. THE FOOD ITSELF. 31 OCT. LONDON – FILIPPOS TSITSOPOULOS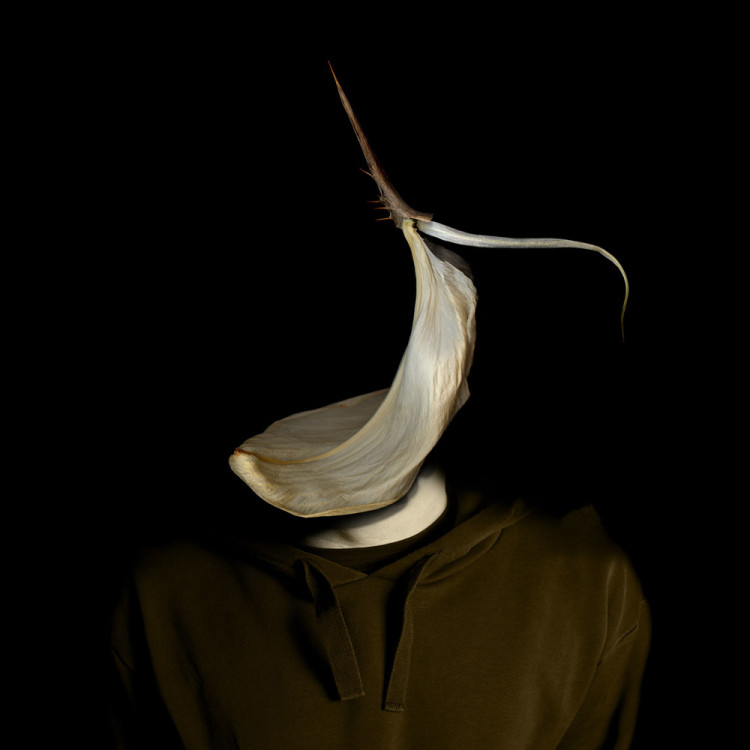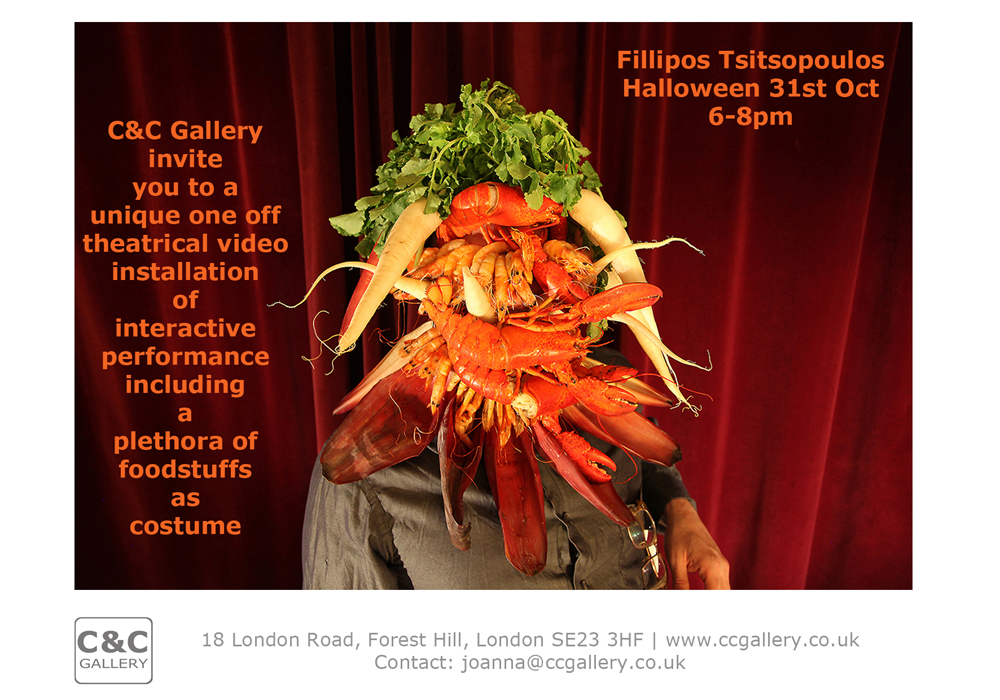 Performance/C&C Gallery
THE FOOD ITSELF
31 Oct. London
Filippos Tsitsopoulos 2013
1. THE PROJECT
In a unique space that contains a restaurant and an art gallery, a table extended from the restaurant passing through its walls and finish just in the exhibition space of the gallery, where at the end of this long table we will find "The Food" sitting and waiting for us to come in and share a theatrical dinner performance.
Theatre, mask, food are personified objects in the author s face and body. In this performance the audience can sit, share foods, and thoughts, reflexions, eating and talking at the same table, with "The Food"***, theatrically presented here, as a metaphor or digestion and comprehension of ideas. Food for thoughts, food for joy.
The Food itself  is accompanied by other forms of food though, theatrical representations of the artist face, filmed with masks made from living elements mainly from fishes, sweets, vegetables and spikes from flowers, meat, potatoes ect, in a form of video portraits where the artist, will hold dialogues with his fragmentized self in the screens in a unique performance and video installation event.
"The Food" in person represents here, the soul conductor and entertainer who comes to join us in this Halloween night (the night that most of people are transformed to a masquerade performed self), in C&C Gallery. The relation between real art and performed art, restaurant food art, and art gallery, having the Food as leading theatrical figure, is remind us something of the Italian 16 Century parties mixture, made for amuse. Culture made for amuse.
And also the funny and critic/comic/dramatic shape of carnivalesque theatre.
"The Food" can speak, can perform, can play theatre, can be life, can pretend its own theatrical death. At the same time the actor/performer is taking the role of "The Food itself" like "mimetic symbol" and also like the man who is hiding behind a "food dress" like "precise point". Both meanings belongs to modern theatrology history en essay of how an actor can behave himself on stage.
The overall impact will be one of absurdity. Confusion. Uncertainty.
The text of the performer says"… We struggle with language. We are defined by language. We use language. Food is language. We are abused by language." Food for language. Food for hiding feelings. Food as mask.
Is necessary to create this flexible mask, between the performer, his theatrical self and the audience, to dress this face with it, although if that means to construct a lie from the truth, which is your own face, and with this new "face – lie" start, by telling the truth. There will be distortion. Corruption. Not everything will make sense.
There will be disease and decay. There will also be beauty, honesty and joy. Despite an acknowledgement of futility and despair.
The ultimate message for this work will be hope. Hope in humanity. Hope in the world. And faith in the Art.
***The performer who acts as "The food itself", is full of meat, vegetables and fishes, calamari, prawns of all kinds. A grotesque and tender caricature cartoon figure of the 16th century.
"The Food Itself"
Video installation and live performance event by Filippos Tsitsopoulos and Canvas and Cream, C&C Gallery London 31 of October 2013.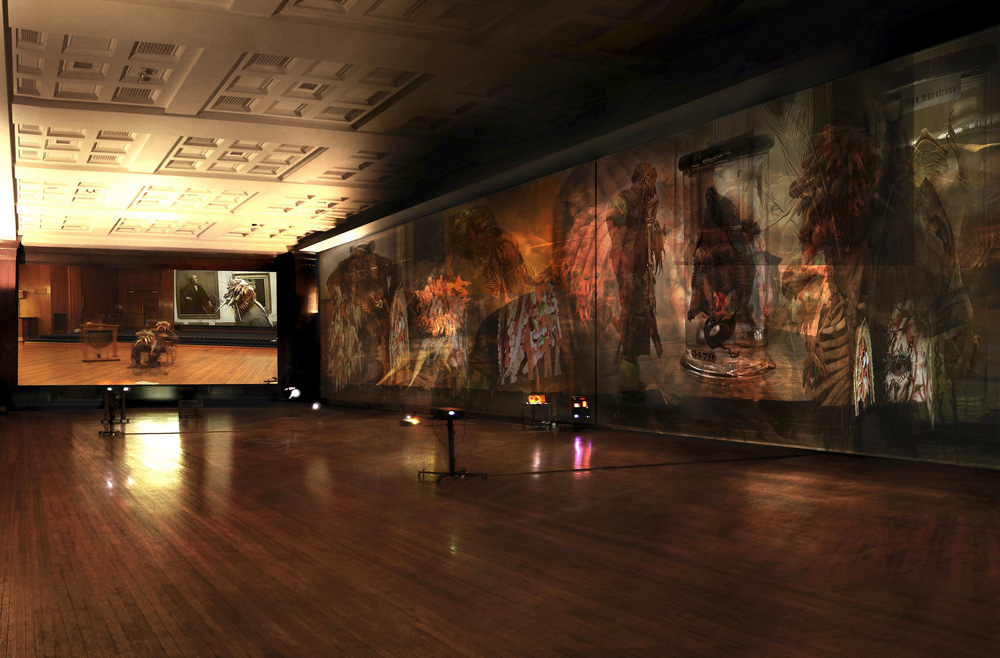 Project exhibition and performances:
The Bright World of Nothing – Art Hobler gallery Zurich 2014, March-April 2014
The Cabinet of Curiosities of Mr. Bonsai. – Hunterian Museum London Cur. Soz. Goudouna, July 2012
Paradise is the new Hell – Batagianni Gallery Athens March-April  2013
4th Biennial of Thessaloniki Cur. Denys Zacharopoulos, November 2013
Theatrical costumes for faces September – the Empire project Gallery Istanbul November 2013
Theatricality and Grimaces competition – Bluecoat Liverpool January 2014
The food itself-performance – Canvas and Cream Gallery London October 2013,
The food itself-theatrical play and actors-food lovers and artist is under support of Lottery Fund and British Art Council – Camp and Furnace Liverpool, December 2013 – Freies Museum berlin, May 2014
2.  CV.
FILIPPOS TSITSOPOULOS
Filippos Tsitsopoulos is a painter, installation, video theatre and performance media artist who has worked in the field of interactive theatre installation art exploring the limits of performance as well as in painting since 1990. His practice engages the spectator/participant to a new theatre or rather a system of including theatre as a catalyst of our daily life Concepts that belongs to the theatre, traditional theatre, modern theatre are applying to visual arts observing the effects that these concepts can produce in the "image" as plasticity behaviour. With the use of self made masks made from living materials and animals or plants is constructing parallel equivalents that enclose and juxtaposing temporally disproportionate
elements.
http://www.youtube.com/watch?v=jOIEhfX4lXw
http://www.youtube.com/watch?v=mh74-lBf9s4
His video installations have been exhibited in a numerous exhibitions and art fairs and events
Since 2003, Filippos has been working as an artist/researcher/ performer producing performative works
and video installations as/ "Goya Prophet der Moderne" in Alte Nationalgalerie, Berlin 2005, /"Les Bourgeois de Calais"- Performance. Neue National Galerie. 2007 Berlín/project "Jelly and Sugar" at Círculo de Bellas Artes 2004 – "Craze" at Círculo de Bellas Artes 2007 / Madrid "ASHES PERFORMANCE", CAM Museum ARTWAR, DOCUMENTA 13 Kassel Performance Department, 13 Location- 2012, /"Feldeinsamkeit". BONE 14. Festival für Aktionskunsk in Bern. Cur. Norbert Klassen. Bern 2011, / "Just a Laugh, Just a Cry". Vídeo instalación. FACT. Liverpool 2011 "The Monoloque of St Whale the Bomber"2009. Video installation and performance Casa Encendida Madrid/ Marat-Sade" Performance.
Festival Óptica. Casa Encendida. Madrid 2011, / "The Madrigal of the Explosion of the Wise Whale" 2010.
Freies Museum. Berlín/"Metabolism of forms"- HUNTERIAN Museum Performance, 23 July 2012 LONDON Cur. Sozita Goudouna, / Sacrificio- PELEGRINATIO 2012 Cur. Fernando Castro Florez Valencia, / "Theatricality of Edmund Trauma Berg"- Video performance in two screens TEMPUS ARTI 2012, Flanders Belgium/"Cheap like wow". UAMO 08- 09-12. Cur. Johannes Blank. Munich./ "Digital Media 08","09″,"10″. La Nau. Valencia, Cur Toni Calderon /CIRCA art fair 07- 08 – 09. Galería Altamira. Puerto Rico, / Liverpool Biennial. A Foundation. Liverpool 2004, 2008/ "Project CRAZE". Tempus Arti 2009 with curator Jan Hoet. Flandes, Belgium/ Benaki Museum 2008 with Cur. Denys Zacharopoulos/ Macedonian museum of Modern Art Thessaloniki with Denys Zacaropoulos/ Collaboration with galeries and Art fairs as Dolores de Sierra Gallery 2004, 2006, 2010 Madrid/ Salvador Diaz, Camen la Calle, Atm Contemporary, DNA gallery, The Empire gallery, Art Hobler gallery, Kir Royal gallery, ARCO Art fait from 1999 -2010 with Carmen la Calle, ART.ES in Arco Fair 2006.
Art Athina 2002- 2008 Batagianni gallery. In Athens is represented by Batagianni gallery 2004, 2005, 2008, 2011/ HK Hong Kong Art fair Fair with Dolores de Sierra 2004-2010. In 2004, with Jannis Markopoulos, co-founded Philosophy art, in Berlin holding with him as artistic working group numerous exhibitions worldwide.
Filippos Tsitsopoulos is represented by: Batagianni gallery/ http://www.batagiannigallery.com/ – Athens, Kir Royal Gallery http://www.kirroyal.es/ – Valencia, The Empire Project http://theempireproject.com/lang-EN/exhibitions/upcoming  -Istanbul, Art Hobler Gallery http://www.arthobler.com/ – Zurich,  Atm galleria Altamira http://www.galeriaaltamira.com/  -Gijon, Studio.Ra Contemporanea http://www.studiora.eu/ – Roma
Saatchi online:
http://www.saatchionline.com/filippostsitso
Filippos is living in Liverpool. From his studio in Brompton Avenue as base, lances projects, exhibitions and workshops planning and performances. Tsitsopoulos is also part of the external collaborators of Educational Department of the Prado Museum in Madrid since 2005 in which teaches two quarters of study of drawing and art aesthetic with the theme "Irony in Art" in the Prado Museum still. "Irony in Art" was his research theme during his Doctorate studies in Fine Arts in Complutense University of Madrid from 1990- 1996. He studied painting in Aristoteleion University of Thessaloniki in the Faculty of Fine Arts from 1985-1990.