JAN FABRE – GALERIE DANIEL TEMPLON – BRUXELLES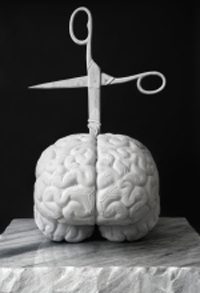 JAN FABRE
Galerie Daniel Templon
Do we feel with our brain and think with our heart ?
22 avril –  31 mai 2014
Vernissage : le jeudi 22 avril de 17h30 à 20h30
Galerie Daniel Templon, 13 A rue Veydt – 1060 Bruxelles
Croix réfléchissante, 2013, marbre de Carrare, 190 x 110 x 120 cm
Pour sa première exposition en galerie à Bruxelles, l'artiste Jan Fabre met en scène une installation inédite de sculptures en marbre blanc de Carrare. La projection en avant-première de la vidéo Do we feel with our brain and think with our heart ? constitue le point de repère de cette présentation consacrée aux mystères du cerveau humain.
Fervent défenseur du dialogue entre les différents champs de la connaissance, Jan Fabre s'intéresse et étudie la neurologie depuis plus de dix ans, en collaboration avec des scientifiques. Do we feel with our brain and think with our heart ? se concentre sur le dialogue de l'artiste avec le neurobiologiste italien Giacomo Rizzolatti, responsable d'une découverte majeure : celle des neurones miroirs, à l'origine de l'empathie.
En humaniste romantique, l'artiste poursuit dans le marbre ses recherches sur le cerveau, contrepartie physique de l'intellect et siège de la créativité. L'imitation et l'empathie, la spécificité de l'homme par rapport à l'animal, les états émotionnels et cognitifs humains sont autant de thèmes de réflexion. Jan Fabre met a nu lobes, veines et artères et se livre à des associations surprenantes avec des objets, fruits ou aliments impliqués dans les expériences de Rizzolatti. Les dessins spécialement crées pour l'occasion explorent d'autres possibilités poétiques de l'organe, plongé dans un monde de références à l'histoire de l'art.
« Les cerveaux que nous présente Jan Fabre sont la synecdoque de tout être humain imaginable. La représentation des cerveaux est extrêmement réceptive : nous pouvons y projeter tout individu, à commencer par nous-mêmes » rappelle Jo Coucke.
Né en 1958 à Anvers, Jan Fabre est reconnu depuis la fin des années 1990 pour son œuvre d'homme de théâtre, de plasticien et d'auteur. Il s'intéresse depuis 1976 à l'art de la performance, et se lance en 1980 dans la mise en scène et la chorégraphie. Depuis, il a réalisé une trentaine de pièces mêlant danse et théâtre, dont la radicalité déclenche régulièrement la polémique, comme Je suis sang (2000) ou L'Orgie de la Tolérance (2009).
Dessinateur invétéré, Jan Fabre crée des sculptures, modèles et installations qui font vivre ses grands thèmes de prédilection tels que la métamorphose ou l'artiste comme guerrier de la beauté. Parmi ses expositions personnelles les plus marquantes ces dernières années on peut citer celle du Museum voor Hedendaagse Kunst à Anvers en 2006 et du Musée du Louvre en 2008. Récemment, l'artiste a fait l'objet d'expositions au Kröller-Müller Museum d'Otterlo au Pays-Bas (Hortus/Corpus, 2011), au Kunsthistorisches Museum de Vienne et au Musée d'art moderne de St Etienne (Jan Fabre. Les années de l'heure bleue, 1986 – 1991, 2011), au Palais des Beaux Arts de Lille (Hommage à Jérôme Bosch au Congo, 2013/4) et au Pinchuk Art Center de Kiev en Ukraine depuis février 2014.
Le catalogue trilingue français/néerlandais/anglais de l'exposition, avec des textes de Bart Verschaffel et Melania Rossi, sera disponible à partir du 22 avril 2014.
Adresse : Galerie Daniel Templon, 13 A rue Veydt – 1060 Bruxelles. Horaires : du mardi au samedi de 11h à 18h
Contacts presse :  Bruxelles Virginie Devillez brussels@danieltemplon.com – tel + 32 2 537 13 17
Paris  Victoire Disderot  victoire@danieltemplon.com – tel +33 1 42 72 14 10/ ligne directe +33 1 71 41 70 49