FRIEZE ART FAIR 2011 | LONDON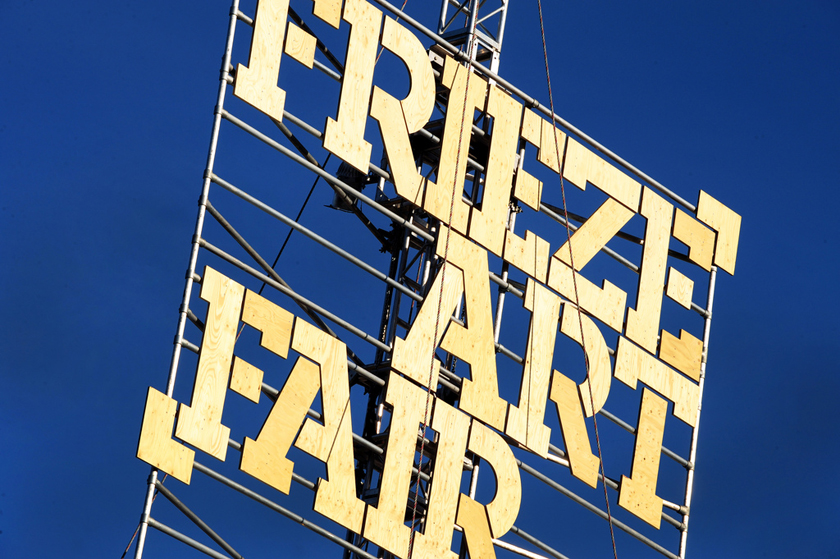 Frieze Art Fair 2011
13–16 October 2011
Regent's Park, London – Tel: +44 (0)20 3372 6111
http://www.friezeartfair.com/
http://www.friezefoundation.org/
Download: Frieze Art Fair Announces New Architects for 2011 – Press Release
Download:  08/02/11 New supporter for Frieze Projects and the launch of the EMDASH Award
The ninth edition of the leading international contemporary art fair takes place in London's Regent's Park from 13–16 October 2011. The fair is sponsored by Deutsche Bank. 173 of the world's leading galleries representing 33 countries will present new work by over 1,000 of the world's most innovative artists.
Frieze Projects
Frieze Projects is a unique programme of artists' commissions realised annually at Frieze Art Fair. This year the Projects are curated by Sarah McCrory and are supported by the Emdash Foundation.
The artists commissioned to create these eight site-specific works for Frieze Art Fair are: Bik Van der Pol, Pierre Huyghe, Christian Jankowski, Oliver Laric, LuckyPDF, Peles Empire, Laure Prouvost and Cara Tolmie.
This year's programme incorporates a number of unique viewpoints throughout the fair that will demand a shift in viewers' perception.
The Emdash Award
The winner of the Emdash Award 2011 is the video and performance artist Anahita Razmi, who is based in Stuttgart. Razmi will present a new commission that intends to draw attention to how Tehran's skyline was recently used by protestors after the Iranian presidential election. She will use choreographer Trisha Brown's 1971 work Roof Piece, which took place on 12 different rooftops over a ten-block area in downtown New York, as its point of departure. The work will be presented as a video installation at Frieze Art Fair.
Frieze Film
Frieze Film is a programme of artist films screened to coincide with Frieze Art Fair. This year it is curated by Sarah McCrory and includes five commissioned films that will be shown in the auditorium at the fair and will be previewed in a new post-watershed Channel 4 arts slot during the week of Frieze Art Fair from Monday 10 October to Friday 14 October.
The artists commissioned to make new work for Frieze Film are: Ed Atkins, Lutz Bacher, Anthea Hamilton, Judith Hopf and Katarina Zdjelar.
Frieze Talks
John Bock, Daniel Buren, Adam Curtis, Alison Knowles and Taryn Simon, are all part of the international line-up of highly respected artists, filmmakers, curators and cultural commentators taking part in Frieze Talks 2011.
Frieze Talks is a daily programme of keynote lectures, panel debates and discussions that take place in the auditorium at Frieze Art Fair. It is presented by Frieze Foundation and programmed by the editors of frieze magazine, Jennifer Higgie, Jörg Heiser and Dan Fox.
Sculpture Park
The Sculpture Park offers a rare opportunity to see a significant group of international work that is addressed on a public scale. Presented in the wonderful setting of the English Gardens of Regent's Park, the Sculpture Park is located a short walk to the east of the entrance to the fair. The Sculpture Park is free to the public.
This year's Sculpture Park presents work by some of the most acclaimed international sculptors. These include new works by Thomas Houseago and Claudia Fontes, as well as pieces by Tom Friedman and Kiki Smith.
The Stand Prize
The third year of the Frieze Art Fair Stand Prize, sponsored by Champagne Pommery, will be judged by: Tom Eccles (Director, The Centre for Curatorial Studies at Bard College, New York); Karola Kraus (Director, MUMOK, Vienna); Stéphanie Trembley (Independent Curator, Beaux Arts magazine, Paris). A prize of 10,000 GBP will go to the most innovative gallery stand at the fair. The prize will be awarded at 4pm at the fair on Wednesday 12 October.
The Outset/Frieze Art Fair fund to Benefit the Tate Collection
This unique partnership between Outset, Frieze Art Fair and Tate, based on the generosity of Outset, a charitable foundation focused on supporting new art, enables Tate to buy important work by emerging artists at the fair for the national collection. 83 works by 54 significant international artists have been collected since 2003.
The guest curators for the fund in 2011 will be: Adam Szymczyk (Director of the Kunsthalle Basel) and José Roca (Curator working out of Bogotá and Philadelphia, where he is currently Artistic Director of Philagrafika 2010; and Curator of Mercosul Biennial 2011).
Visitors
To learn more about Frieze Art Fair including maps and hotel information see http://www.friezeartfair.com
New public opening dates and hours:
Thursday 13 October, 12pm–7pm
Friday      14 October, 12pm–7pm
Saturday 15 October, 12pm–7pm
Sunday   16 October, 12pm–6pm
Tube
The Frieze Art Fair is less than five minutes walk from Regent's Park tube station. Baker Street and Great Portland Street tube stations are also close by.
Buses
2, 13, 18, 27, 30, 74, 82, 88, 113, 139, 189, 205, 274, 453 & C2.
.-.-.-.
Press Release: 5th May 2011
Frieze Art Fair 2011:
Details Announced
The Directors of Frieze Art Fair, Amanda Sharp and Matthew Slotover, have announced today the details of the 2011 fair. Frieze Art Fair is one of the world's most influential contemporary art fairs and brings an international focus to the dynamic contemporary art scene in London every October. Sponsored by Deutsche Bank for the eighth consecutive year, Frieze Art Fair is a carefully selected presentation of the most forward-thinking galleries from around the globe. The selected galleries will present outstanding work by over 1,000 of the world's most innovative artists. Frieze Projects, the fair's unique curatorial programme, is also an integral part of the fair and is supported in 2011 for the first time by the Emdash Foundation.
2011 saw more applications than ever to Frieze Art Fair and will see a total of 171 exhibitors from 33 countries. The dynamism of galleries from emerging territories such as Asia and South America is balanced by a strong European and American contingent. Additions to last year's participants include Galerie Chantal Crousel (Paris), Konrad Fischer Galerie (Dusseldorf), Johnen Galerie (Berlin), Yvon Lambert (Paris), The Pace Gallery (New York), Andrea Rosen Gallery (New York) and Donald Young Gallery (Chicago). Previous Frame exhibitors that are this year exhibiting in the main section of the fair are: Andreiana Mihail Gallery (Bucharest), Project 88 (Mumbai), Rodeo (Istanbul) and Micky Schubert (Berlin).
Frame, a section of the fair dedicated to galleries established less than six years ago and selected on the basis of a proposed solo presentation, features a number of galleries that have not previously benefitted from an international platform to show their work; 21 of the 25 galleries in this section are new to the fair. Notable this year is the strong Latin-American showing in this section with presentations including: Ignacio Liprandi Arte Contemporaneo (Argentina), showing Pablo Accinelli; Revolver (Peru), showing Ximena Garrido-Lecca; Casas Riegner Gallery (Columbia), showing Bernardo Ortiz. Frame is a place to discover artists for the first time; providing the opportunity to see and buy work from artists of all generations that are yet to gain a significant international reputation. The Frame galleries' selection has been advised by curators Cecilia Alemani and Rodrigo Moura. Frame is supported by Cos.
Co-directors Amanda Sharp and Matthew Slotover commented, 'This year we're excited to be working with architects Carmody Groarke, who have proposed an intelligent redesign of the fair. The geographical diversity of the gallery list attests to the art world's increasing globalisation, offering the opportunity to make discoveries as well as see work by some of the most significant artists working today. We're delighted by the continued support from Deutsche Bank, now in their eighth year as main sponsor of the fair. The Financial Times is our media partner for the second time and we are also pleased to have a new supporter for Frieze Projects, the Emdash Foundation, and the introduction of the Emdash Award this year.'
Pierre de Weck, Member of the Group Executive Committee and Global Head of Private Wealth Management, Deutsche Bank added: 'The vitality and range of art on view most clearly demonstrate why Deutsche Bank continues to be proud to sponsor Frieze Art Fair.'
Details of the curatorial programme Frieze Projects, Frieze Talks, Frieze Film and Frieze Education will be announced during the coming months. The recipient of The Emdash Award will be announced on 16 May.
In previous years Frieze Projects has presented new commissions by artists including Spartacus Chetwynd, Mike Nelson, Richard Prince, Paola Pivi and Nick Relph. Frieze Talks has included keynotes by John Baldessari, Dave Hickey, Yoko Ono and Bridget Riley. This year, Frieze Projects is curated by Sarah McCrory under the auspices of Frieze Foundation and supported by the Emdash Foundation.
The Outset/Frieze Art Fair Fund to benefit the Tate Collection continues in 2011, the ninth consecutive year of the collaboration. This unique partnership enables Tate to buy important works of art for the nation at Frieze Art Fair. The fund to date has raised over £900,000 and, as a result, 83 works by 53 significant international artists have been added to Tate's collection since 2003.
The Frieze Art Fair Yearbook 2011-12 will be available in September.
Press Contact:
Richard Scott
Relative MO
relativemo.com
tel: +44 (0)20 7749 4510
richard@relativemo.com
Frieze Contact:
Belinda Bowring
frieze.com
tel: +44 (0)20 3372 6135
belinda@frieze.com
For press images please visit:
flickr.com/photos/friezepress
Press accreditation opens on 1 June please visit:
friezeartfair.com/press
Position the cursor on the images to view captions, click on images to enlarge them.

Posizionare il cursore sulle immagini per leggere le didascalie; cliccare sulle immagini per ingrandirle.