YUKO SHIRASHI – KUKJE GALLERY – SEOUL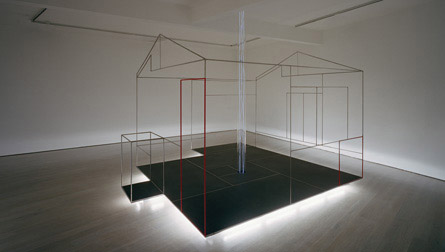 Yuko Shiraishi
Nov 20, 2012 – Dec 23, 2012
http://www.kukjegallery.com
Kukje Gallery is pleased to present Space Space, a solo exhibition by the London-based artist Yuko Shiraishi. In her first solo exhibition in Korea, Shiraishi highlights her ongoing interest in space and color as well as her exploration of architecture; the artist expertly combines these disparate interests in her paintings and installations.
Shiraishi works primarily as an abstract painter, exploring themes initially set forth in Minimalism. It was this formal vocabulary that formed the basis for her practice in the 1980s to 1990s, a major period wherein she juxtaposed colors on canvas to demonstrate the reciprocal relationship between the two tones by balancing light and hue. Beginning in the late 1990s, Shiraishi began to conduct various architectural experiments, exploring the intersection of color and plane. Since then her practice has evolved to include multimedia installations that activate space using both her attuned palette and subtle architectural interventions. While conventional minimalist paintings tend to focus on sleek finish and materiality, Shiraishi emphasizes the resonance between bodies of color and the relationship of the work to its surrounding space. This approach allows the artist to engage directly with the viewer.
Another important part of Shraishi's practice is her successful collaborations with diverse venues such as BBC Television, London, Stiftung Insel Hombroich Museum, Germany, Regent's Canal, London, and numerous hospitals in Japan and London. Stimulated by the challenge of working with these more institutional spaces, she has challenged the definition of painting as well as public art and in so doing engaged directly the tradition of Modernism. Indeed, the artist wishes to bridge the conceptual break between formalism and post-modern theory by expanding these fields of inquiry and confronting diverse vocabularies.
For this solo exhibition, the artist presents recent paintings as well as a major installation. The paintings contain overlapping geometric forms or horizontal monochromatic lines that cut across the canvas; by using a rectangular rather than a square canvas she clearly emphasizes these dynamic abstract forms. In a continuation of the artist's interests, the works explore concepts of space and the power of abstract line combined with color.
In this exhibition, Yuko Shiraishi has created an ambitious architectural installation that draws on her sensitive mastery of line and color. The ephemeral installation brilliantly captures the volume of an architectural form while remaining a meditation on light and space. The work, titled Space Elevator Tea House, is made from stainless steel tubes and plexiglass, creating an elegant and ghostly construction defined by profoundly spare lines reminiscent of a skeleton. The building replicates an early 17th-century traditional Japanese Tea House but also evokes a space age vehicle for travel. Inspiration for the project came from Arthur C. Clarke's novel Fountains of Paradise in which the transportation of people and objects into space is made possible on a rigid metal ribbon. (NASA scientists are currently seriously exploring space elevators as a mass-transit system for the next century.) Shiraishi has expanded the idea to incorporate architecture, as she considers the relationship between humanity and space – and between Japanese tradition and Western science. The work, installed in a darkened room with dramatic lighting beneath the teahouse, creates a profound atmosphere of contemplation and possibility.
Yuko Shiraishi (b. 1956) was born in Tokyo and moved to London, where she had her first solo exhibition at the Edward Totah Gallery in 1988. Since then she has shown her paintings and installations at galleries and museums worldwide including the Wilhelm-Hack-Museum, Germany (2007), Leeds City Art Gallery and Crawford Municipal Art Gallery, Cork (2003), Museum Wiesbaden, Germany (2002), Tate St Ives (1999) and the Ernst Museum, Budapest (1998). Her most recent gallery exhibitions were held at Annely Juda Fine Art, London (2009), Galerie Gisèle Linder, Basel (2010) and Shigeru Yokota Gallery, Tokyo (2011). Her work can be found in major international museums and private collections, including the Arts Council of Great Britain, the British Council, London,the British Museum, Ludwig Museum, Budapest, Hungary, the National Museum of Art, Osaka, Japan, and Max Bill—Georges Vantongerloo Foundation, Zumikon, Switzerland. The artist currently lives and works in London.