LIONEL ESTÈVE AND JOHN HENDERSON – GALERIE PERROTIN – HONG KONG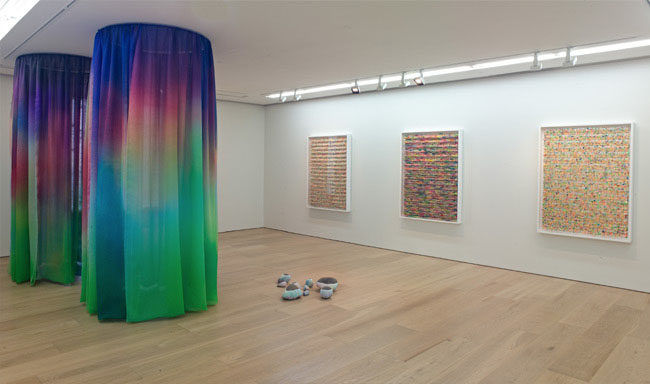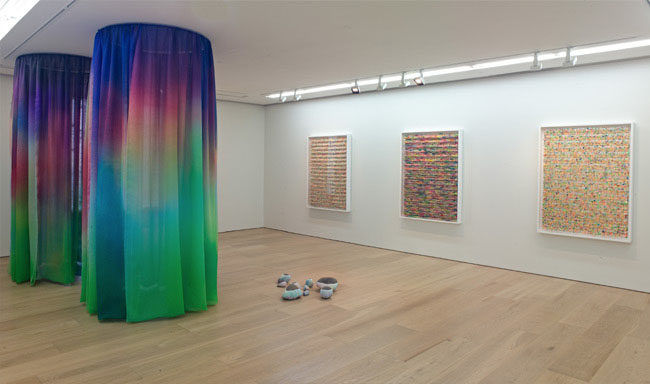 Lionel Estève "To the Rain"
Opening Friday 18 January 2013 / 6 – 8 pm
18 January – 2 March 2013
Galerie Perrotin, Hong Kong – www.perrotin.com
To the Rain. A wet image.
It's always after the event that I understand the deeper meaning of my work. Not that automatic writing is involved here: my intentions are clear, but with time it has occurred me that I make work for reasons that are different from what I imagined. Maybe it's better that way.
Today, it occurs to me that the common feature of the works shown at Galerie Perrotin in Hong Kong is an idea of landscape. They are often totally abstract, as in what I elliptically call the "fringed drawings." These consist of about ten painted and worked sheets layered on top of each other, then cut and set out so as to form a bas-relief. What is then shown is chaotic images with an overload of information which could be an illustration of the theory of parallel worlds, a kind of schizophrenic landscape. Visually just as disorienting, two columns of painted organza silk hang from the ceiling. The colours of this celestial landscape combine in a vibrant moiré effect. Visitors can also enter into it, as if entering a cabin. At the foot of the columns there is a small expanse of stones, half covered with colour, the trace of flooding, or perhaps a waterline when stones were immersed in liquid. And, to complete the description of the works on show, other stones, whose surfaces are embroidered with thread glimmer like minerals coated with some strange dew.
Different ideas of landscape exist in each of these works. Sometimes, all that remains is the undulation of light (that of the evening, of a foggy night, etc.), a décor made up of miniature islands where storms threaten. These landscapes are in the water, either by virtue of their creation or by what they evoke. Just as some artists have tried to depict music in their paintings, so here I have tried, among other things, to represent the state of wetness. Like the rest of my work, these pieces were made with the desire to achieve maximum anonymity, as regards to gender, period, nationality or place. Maybe they'll feel at home in Hong Kong. Lionel Estève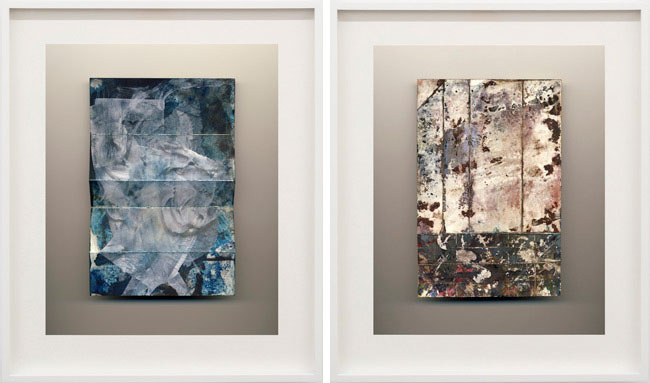 John Henderson "He's an interesting thinker"
Opening Friday 18 January 2013 / 6 – 8 pm
18 January – 2 March 2013
Galerie Perrotin, Hong Kong – www.perrotin.com
Galerie Perrotin Hong Kong is pleased to present "He's an interesting thinker", the gallery's first solo exhibition by John Henderson. The exhibition will run from 18 January through 2 March 2013.
Abstract painting and the performance of "the painter" serve as conceptual markers for Henderson as he navigates the gaps between the traditionally unique aura of self-expression and the anonymous space of serial reproduction as well as the intrinsic discrepancies between an artwork versus its documentation. Executed in varied media—sculpture, photography, video, and painting—Henderson's objects and images approach the practice of painting as a symbolic field, an activity co-opted and performed to address traditional conceptions of how artworks are made and received.
"He's an interesting thinker" focuses on two ongoing series of work: metal casts produced from gestural abstract canvases, and photographic images depicting painted-over photographs. Both series translate the direct physicality of the artist's studio activities into something akin to documentation, where the artist's initial painterly investigations are available only through what are essentially reproductions.
Henderson's series of cast metal paintings are produced at a foundry using a lost-wax casting technique. From the artist's own original paintings, sculptural surrogates are rendered in metals such as aluminum, bronze and brass. While the original paintings are subsequently destroyed, the casts remain as an afterimage, a conflation of Henderson's own studio labor and the outsourced labor of the foundry workers.
In the "Flowers", the photographic series on view, Henderson paints over 4×6 inch snapshot photographs using the leftover paint from his palette. The photographs are often intentionally folded or abraded at this stage. Henderson then processes the results using a digital scanner. These machine-produced images become the final artworks. The painted-over photographs are enlarged and placed against a soft gradient background with fictive drop shadows, a sort of simulated and idealized space. The materiality of the paint and the distressed, three-dimensional quality of the snapshot paper are simultaneously flattened and accentuated by the scanner, drawing focus on the constructed nature of the final images.
John Henderson was born in Minneapolis (USA) in 1984 and currently lives and works in Chicago. Recent solo exhibitions include "The man I wanted to marry before I found out about sex" at T293, Naples, Italy; "John Henderson" at the Museum of Contemporary Art, Chicago. Henderson's work was included in "Phantom Limb: Approaches to Painting Today" at the Museum of Contemporary Art in Chicago earlier this year. A solo exhibition of his work will open in February at Peep-Hole in Milan. He will be part of a collective exhibition at Galerie Perrotin in Paris in March 2013.