CONVEGNO NAZIONALE ATTUALITÀ DELL'ARTE ITALIANA DEGLI ANNI '90 – MUSEO DEL SOMARO – GUALDO TADINO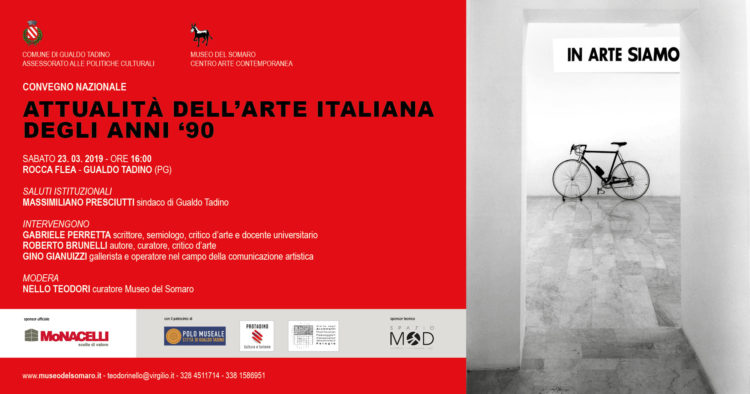 Municipality of Gualdo Tadino
Donkey Museum / Contemporary Art Center
NATIONAL CONVENTION
the relevance of Italian art of the 1990s
SATURDAY 23.03.2019 – 16.00
Rocca Flea – Gualdo Tadino (PG)
INSTITUTIONAL GREETINGS
MASSIMILIANO PRESCIUTTI MAYOR OF GUALDO TADINO
SPEAKERS
GABRIELE PERRETTA WRITER, SEMIOLOGIST, CRITICAL OF ART AND
UNIVERSITY TEACHER
ROBERTO BRUNELLI AUTHOR, CURATOR, CRITICAL OF ART
GINO GIANUIZZI GALLERIST AND OPERATOR IN THE FIELD OF VISUAL COMMUNICATION
MODERATOR
NELLO TEODORI CURATOR OF THE DONKEY MUSEUM / CONTEMPORARY ART CENTER
The generalized communication and the increasingly widespread affirmation of the language of new media are radically changing our artistic culture. There are numerous initiatives held and promoted in recent years and many perspectives that are assumed, from systematic criticism to celebratory apology.
On the other hand, this conference on the relevance of Italian art in the 1990s attempts to dislocate the issue, investigating above all the theoretical and operational assumptions that have allowed the diffusion of the new communicative style of art of the 1990s.
.-.-.-.-.-.
Comune di Gualdo Tadino
Museo del Somaro / Centro Arte Contemporanea
CONVEGNO NAZIONALE
Attualità dell'arte Italiana degli anni '90
Sabato 23.03.2019 – ore 16.00
Rocca Flea – Gualdo Tadino (PG)
saluti istituzionali
MASSIMILIANO PRESCIUTTI Sindaco di Gualdo Tadino
Intervengono
GABRIELE PERRETTA scrittore, semiologo, critico d'arte e docente universitario
ROBERTO BRUNELLI autore, curatore, critico d'arte
GINO GIANUIZZI gallerista e operatore nel campo della comunicazione visiva
Modera
NELLO TEODORI curatore Museo del Somaro / Centro arte contemporanea
La comunicazione generalizzata e l'affermarsi, sempre più capillare, del linguaggio dei nuovi media stanno mutando radicalmente la nostra cultura artistica. Numerose sono le iniziative tenute e promosse in questi anni e molteplici le prospettive che vi si assumono, dalla critica sistematica all'apologia celebrativa.
Questo convegno sull'Attualità dell'arte Italiana degli anni '90 tenta, invece, di dislocare la questione, indagando soprattutto quei presupposti teorici e operativi che hanno consentito la diffusione del nuovo stile comunicativo dell'arte degli anni '90.
Rileggendo in modo originale il pensiero e soprattutto le pratiche artistiche di quel decennio, emerge una dimensione ontologica contaminata e disseminata, in cui le nostre concezioni abituali dello spazio e del ruolo dell'arte contemporanea devono essere completamente riviste, nel senso dell'attualità di allora per adesso e nel senso del presente per allora. Chi sono stati i protagonisti di quegli anni? Proprio con loro abbiamo parlato di euforia e di crisi delle società artistiche, della questione dei contenuti e delle conseguenze, che già si vanno delineando sulla nostra vita sociale e nel mondo dell'attuale lavoro artistico, degli ostacoli allo sviluppo delle relazioni estetiche, di informazione on line, del rischio esclusione e della necessità di definire regole europee e mondiali per una rete nata libera, ma che ora è diventata uno sterminato campo di conquista.
Questo convegno si pone nello stesso tempo come un modello storiografico inusitato e come il bilancio di un'esperienza storica singolarissima e probabilmente ineguagliabile nella sua varietà e unità. La vocazione dialogante e storica di Attualità dell'arte italiana degli anni '90 si cimenta qui coi tempi lunghi di un decennio, con quella che oggi si chiama la macrostoria e che permette di privilegiare i tratti fondamentali e permanenti su quelli accessori e transeunti. Nessun decennio del '900 ci aveva mai dato, in Italia o altrove, una storia di questo genere e di questa latitudine, presupponente esperienze in campi così diversi, da quello disegnativo, pittorico, concettuale, orale, performativo, post-situazionista, politico, economico e soprattutto mediale.
E nessuno storico, se non una memoria espansa di analisi dei linguaggi artistici e linguistica dei media e che fosse insieme antropologia e semiologia, avrebbe potuto oggi concepire un disegno unitario di storia dell'arte sub specie sermonis, nei limiti di tempo segnati solo dalla pratica artistica degli anni '90. È messa qui a frutto storiograficamente l'esperienza dell'arte degli anni '90, che ha radici lontane e non è un tributo alla moda o alla teoria dell'artistar. Nel tempo che viviamo il cammino della lingua artistica degli anni '90 – e della società, delle sue ricerche, delle autostrade informatiche – non ci appare più smisurata e irreversibile. Con il decennio '90, si è presi in questa grande corrente, che si fa man mano più stretta e rapida e ci trasporta sul filo dei millenni. In un momento di crisi della storia, e non solo dello storicismo, questo convegno è una originale proposta storiografica a venire e una coraggiosa risposta a leggere meglio il presente.