THE RAINBOW – LONDON BIENNALE 2012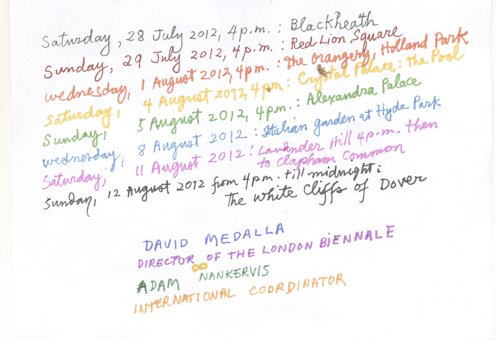 A project by David Medalla
Coordinated by Adam Nankervis
Performing The City Over The Rainbow
From Monochromes, to Multi-Colors, to Chromophobia
From Migrations, to Pollinations, to Colorations Synergia & Synaesthesia
Anyone – artist / art lover – (regardless of age, gender, artistic practice, sexual orientation, nationality, ethnic origin) can join the LONDON BIENNALE.
To join: one must make an arrow inscribed with the words LONDON BIENNALE 2012 and the person's name;
have three photos (or collages) with the arrow, incorporating  the image of the Eros Statue at Piccadilly Circus in London, and send the three photos to the following E-mails:
davidmedalla43@yahoo.com
man.museum@gmail.com
THERE IS NO FEE FOR JOINING. THE LONDON BIENNALE IS COMPLETELY FREE.
This year LONDON BIENNALE 2012 will have this theme: THE RAINBOW.
The events will take place in different parts of London and England during the last two weeks of July and the first two weeks of August 2012.
I will send you info about the different venues next month.
Every LONDON BIENNALE Artist is welcome to organise his/her artistic event: exhibition, performance, lecture, seminar, film/video show.
Every artist is completely responsible for his /her event: finding the venue, funding, invitation, publicity, documentation.
Several LONDON BIENNALE artists are organising 'POLLINATIONS' and 'SATELLITE EVENTS' in different parts of the world:
Italy, Germany, USA, China, France, and other places. Adam Nankervis, Director of MUSEUM MAN, is the international coordinator of the LONDON BIENNALE.
He is coordinating the different 'POLLINATIONS' and 'SATELLITE EVENTS'. I will make a list of the 'POLLINATIONS' –
the first of which is being organised by GRUPPO SINESTETICO in Montegrotto, Italy.
So far, the following persons are organising LONDON BIENNALE POLLINATIONS:
Jevijoe Vitug in Las Vegas, USA;
Diogo Teixeira in Macau, China;
M. DelaCruz Santos in Damascus, Virginia, USA;
Arvinder Bawa, Spain
London Biennale from the Camino de Santiago in Spain… where we had an impromptu Rainbow to celebrate the theme of the LB this year!!
David Medalla – May, 25, 2012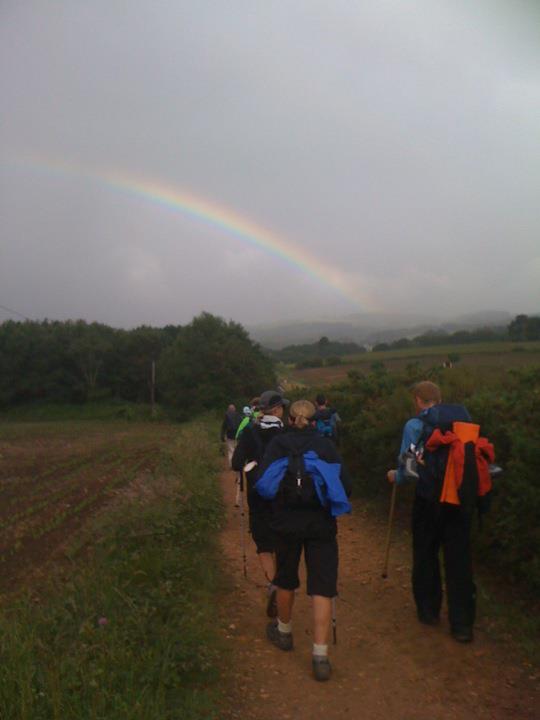 .-.-.-.
London Biennale: London Biennale: The Beginning
Text by David Medalla
http://london-biennale.blogspot.com/2012/02/london-biennale-beginning-david-medalla.html
.-.-.
Old London Biennale web pages can still be seen more or less intact from
http://www.marisol.co.uk/lobien06 and http://www.marisol.co.uk/lobien